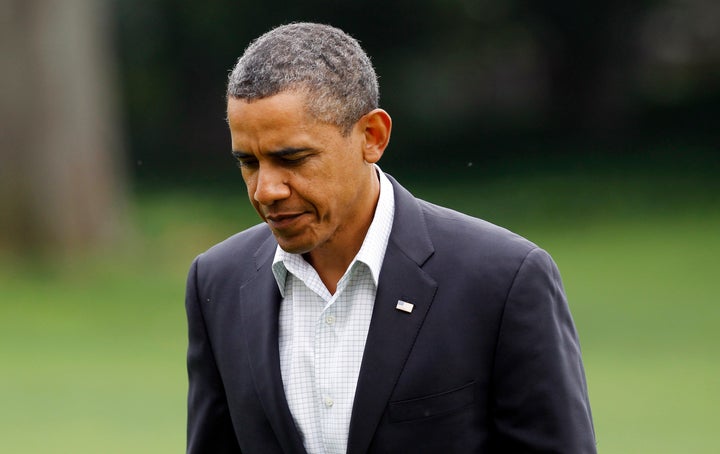 WASHINGTON -- Two new polls released on Tuesday confirm that the summer's debt ceiling debate along with the drumbeat of bad economic news have taken a toll, yielding all-time low ratings of both President Barack Obama and Republicans in Congress and suggesting real peril for Obama in 2012. Obama's ratings are now lower than those for Ronald Reagan and Bill Clinton at the same time in their presidencies.
The latest survey from the Washington Post and ABC News finds approval of Obama has fallen to 43 percent, while for the first time a majority (53 percent) disapproves. The results from the new NBC News/Wall Street Journal poll finds nearly identical results -- 44 percent approve and 51 percent disapprove. The low ratings confirm downward trends seen in most other public polls over the summer.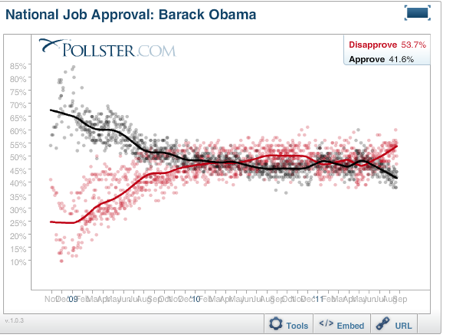 As the Washington Post notes, Obama's ratings are now worse than those of Reagan and Clinton at the same time in their first terms. Both won re-election despite "serious midterm setbacks" in their first terms, but by this stage both "had settled safely above the 50 percent mark" and "stayed in positive territory" throughout their re-election campaigns.
The two surveys also show plunging confidence in Congress. The NBC/Journal poll finds approval of Congress falling to 13 percent, just one point shy of the all-time low measured by that survey in October 2008. The ABC/Post survey shows approval of Republicans in Congress dropping from 34 to 28 percent since April, nearly matching the all-time low of 25 percent in July 2008.
These levels of disapproval coincide with plunging confidence in the economy and in the Obama administration's efforts to turn it around:
Both polls show only one American in five feels that the nation is "headed in the right direction," while both show roughly three out of four say that the country is "off on the wrong track."
Both surveys give Obama some of his weakest marks on the economy, with between 59 and 62 percent expressing disapproval of his handling of the economy or jobs.
The ABC/Post poll finds only 17 percent of Americans believe that Obama's economic program is making the economy better, while most say it is either having no effect (47 percent) or making the economy worse (34 percent).
The NBC/Journal poll shows just 22 percent believe that the economy is getting better, the lowest level of the Obama presidency. Most think it is either getting worse (30 percent) or will stay the same (47 percent) over the next 12 months.
Falling economic confidence stems in part from the unending news about stagnant job growth and an unemployment rate stuck at just over 9 percent. However, the two surveys yield evidence that the summer's debt ceiling debate also helped drive down confidence. The NBC/Journal poll, for example, finds just 6 percent with a favorable opinion of the way "the budget negotiation that took place in Washington was handled," while 71 percent have an unfavorable opinion.
The same poll also shows sharply declining confidence in Obama's leadership qualities and ability to achieve goals, a result consistent with findings from the recent Pew Research Center survey.
The only real silver lining for Democrats in the results is that Americans remain deeply divided when asked to choose between Obama and the Republicans. For example, the ABC/Post poll finds Americans divided on whether Obama or congressional Republicans can better handle the economy and job creation.
Similarly, the NBC/Journal poll finds Obama running five percentage points ahead of Texas Gov. Rick Perry (47 to 42 percent) among registered voters and just one point behind former Massachusetts Gov. Mitt Romney (45 to 46 percent). But the president's standing is slightly worse when the same poll asks not about specific opponents, but whether voters will support Obama or "the Republican candidate." On that question, Obama trails by four points (40 to 44 percent).
Obama's personal ratings do remain strong. In the NBC/Journal poll, for example, 70 percent say they like him personally (although nearly half of those who like Obama also say they disapprove of many of his policies). But the president's political position remains perilous. As Democratic pollster Peter Hart puts it simply to NBC News, "Obama is no longer the favorite to win re-election."
UPDATE: 4:52 p.m. -- The statement by the Washington Post that the job approval ratings of presidents Reagan and Clinton "had settled safely above the 50 percent mark" at this point in their presidencies is based on ABC News/Post polls conducted in 1983 and 1995. Polls conducted by the Gallup organization, however, show both presidents receiving ratings that fell just under 50 percent. According to Gallup.com, Reagan and Clinton had job approval ratings of 47 and 44 percent, respectively, 954 days into their first terms. The comparable Gallup rating for Obama was 42 percent (for the week of Aug. 29 to Sept. 4).

Popular in the Community