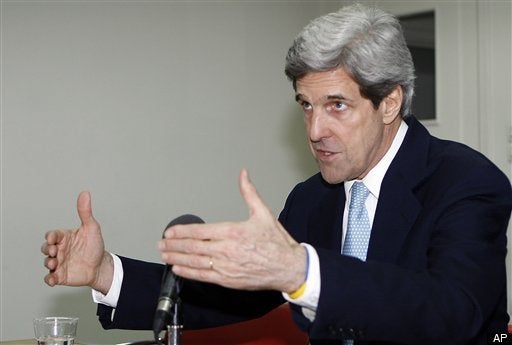 WASHINGTON -- Reports that President Barack Obama's upcoming budget will propose steep cuts in the government's energy assistance fund for low-income Americans ricocheted quickly on Capitol Hill Wednesday, spurring some intraparty squabbling.
Sen. John Kerry (D-Mass.) wrote a letter to Obama asking him not to drop funding for the Low Income Home Energy Assistance Program (LIHEAP) by about $3 billion.
"I understand that difficult cuts have to be made," the Massachusetts Democrat wrote. "But in the middle of a brutal, even historic, New England winter, home heating assistance is more critical than ever to the health and welfare of millions of Americans, especially senior citizens. I request that the administration preserve LIHEAP funding at least to the Fiscal Year 2010 funding at $5.1 billion when it submits its FY12 budget proposal to Congress."
The cuts, which were first reported by National Journal, appear to cut against the grain of previous administration policy. In 2010, Obama's omnibus budget resolution assigned roughly $5 billion in LIHEAP grants for 2011. The rationale was that at a time of acute economic crisis and rising commodity prices, a little federal assistance to those in need was politically defensible.
With that in mind, the proposed cuts offered the appearance of a president abandoning principle in hopes of winning fiscal conservative plaudits. A source familiar with the budget process, however, offered several clarifications to Wednesday's report. The cut, the source said, would be $2.5 billion in LIHEAP funding, not $3 billion. The proposed appropriation level will be $2.57 billion, which mirrors the Fiscal Year 2008 appropriation, not $2.8 billion.
And while it had been reported that the Recovery Act helped move LIHEAP funding from that FY08 level to more than $8 billion, the source said that was not the case. There was no LIHEAP funding in the stimulus, rather, there were funds for weatherization programs
Finally, the source said that "energy prices are now well below their levels in Spring 2008 when Congress decided to increase LIHEAP funding to $5.1 billion."
The latter point, designed to assuage critics who chastised LIHEAP cuts as draconian, is technically true. But the spring of 2008 is far from an ideal measuring point for energy prices, as it was the peak of a huge oil bubble that approached $150 per barrel. Currently, oil is hovering around $90 per barrel and expected to rise.
"We simply cannot afford to cut LIHEAP funding during one of the most brutal winters in history," Kerry wrote in his letter, which is reproduced below in full.
Support HuffPost
The Stakes Have Never Been Higher
Popular in the Community