WASHINGTON -- It takes just minutes to cross the bridge between downtown Washington and the impoverished, predominantly black neighborhood of Anacostia, but it might as well be a world away from the polished marble and well-heeled bustle of the capital. In Anacostia, trash-strewn streets are lined with abandoned buildings encircled by sagging barbed-wire fences. They stand as sad monuments to the human metrics of an area that has struggled for decades.
Unemployment hovers near 20 percent. The poverty rate approaches 40 percent. And for children -- the future of Anacostia, and of America -- it's even worse: One in two kids there lives below the poverty line.
So it was an apt setting in 2007 when presidential hopeful Barack Obama, vying for the Democratic nomination, spoke to some 200 neighborhood residents about the urgent need to combat poverty. "The moral question about poverty in America -- 'How can a country like this allow it?' -- has an easy answer: We can't," Obama said, outlining an ambitious plan to combat generations of blight in outposts such as Anacostia. "The political question that follows -- 'What do we do about it?' -- has always been more difficult."
As Obama seeks in his second term to become the transformational figure he has said he hopes to be, the president faces a tough task: balancing calls for austerity and fiscal prudence with the equally strong American instinct to respect the dignity of every soul, which means providing relief and a chance at self-respect to even the poorest.
For much of his first term, and particularly during last year's campaign, Obama was under attack from all sides for the record number of Americans -- more than 46 million -- in need. He was slammed by Republicans and Tea Party stalwarts who labeled him the "food stamp president," and by left-leaning advocates for the poor, who decried Obama's reluctance to make poverty a national issue.
The president's record is, of course, far more nuanced than these superficial criticisms would suggest. He inherited from his Republican predecessor an economy in shambles, and his emergency ministrations to the poor -- undertaken largely through his 2009 stimulus package -- are widely considered to have prevented millions more Americans from sliding into destitution.
Nonetheless, 44 percent of respondents to a HuffPost/YouGov poll conducted last week said they disapproved of the way Obama has handled the issue of poverty. Congress remains divided, meaningful job growth has proved elusive, and budgets are historically tight.
A White House official pointed to a list of programs implemented over the last four years that the administration says have benefitted the nation's poorest. In addition to the 2009 stimulus, these included Obama's Affordable Care Act, which will expand health coverage to millions of low-income Americans.
The official also emphasized some lesser-known initiatives, such as Promise Neighborhoods, which allows community-based programs to compete for funding. The programs feature a wraparound approach to raising kids by seeking to bolster factors such as health care and socioemotional development.
The official conceded, however, that the president hasn't brought poverty to the forefront of his agenda.
Many advocates for the poor said one of Obama's greatest opportunities to do right by the nation's poorest -- particularly as he embarks on a politically less-encumbered second term -- lies within reach: Just start talking about it.
"The president hardly talks about the poor at all," said Meizhu Lui, director emeritus of the Closing the Racial Wealth Gap Initiative at the Insight Center for Community Economic Development in Oakland, Calif. "So much of the focus has been on the middle class, because it sounds better on the campaign trail. But the problem is not just about the middle class. It's about the poor and how do we lift them. Poverty is a real issue and it's a shameful one."
On Anacostia's optimistically-named Good Hope Road, one nonprofit, Bread for the City, labors to improve the status quo. Inside the modest, grey-brick building, a mix of individuals and families gather in search of food, clothing, and medical and legal support.
Visitors to the facility are greeted by Sherita Evans, the intake and community resource coordinator. She estimated that the organization serves from 50 to 75 families daily. Many come looking for a meal, but Evans said providing food is the easy part.
"When people talk about poverty, they forget about the quality of life. They just talk about the necessities," Evans said. "What we do is work to improve the little nuances that really make a difference: birth certificates, identification, Social Security cards, applying for food stamps -- we have people that have been waiting for over 45 days just for a response for food stamps."
While the precision of such numbers is being continually refined, it remains clear that some 46 million Americans, or 15 percent of the population, are now considered at least nominally poor -- a record number reached during Obama's first term. Roughly the same number of people currently subsist on food stamps, an uptick of nearly 20 million people since Obama took office. Almost half of these impoverished Americans -- more than 20 million, according to the latest census data -- are considered "extremely poor," with incomes of less than half the official poverty threshold.
Children and minorities bear a disproportionate share of this struggle, and millions of Americans of all stripes earn incomes that put them, at best, near the statistical brink: Just one luckless turn -- a lost job, a severe illness -- will nudge them into poverty's swollen ranks.
But looking only at average monthly participation in the Supplemental Nutrition Assistance Program, or SNAP -- which Republicans used as a cudgel on Obama during the 2012 campaign -- it's also clear that a growing number of Americans were finding themselves in dire straits for nearly a decade prior to Obama's election.
After peaking at more than 27 million food stamp participants in 1994, that number fell steadily to 17 million participants until just after the election of George W. Bush, when the number began to balloon. By the time Obama took office in 2009 and the economy was tanking, participation rates were at 30 million. Among other things, the 2009 stimulus package pumped an additional $2 billion into the SNAP program.
While these benefits are not included in official tallies of household income and, in turn, poverty rates, most estimates suggest that the assistance -- along with a host of initiatives that included expanded unemployment insurance, a variety of tax cuts and investments in infrastructure -- prevented a very bad situation from getting much worse.
"I think the Recovery Act -- it was Obama's first big piece of legislation -- and it included huge benefits for low-income folks," said Elizabeth Lower-Basch, a policy coordinator and senior policy analyst with the Center for Law and Social Policy, a Washington-based research and advocacy organization focusing on low-income people. She pointed to the expansion of the child tax credit, additional funding for child care and job training, and new emergency funding for the Temporary Assistance for Needy Families program, or TANF, the nation's principal welfare program. "It was all in the context of a much bigger package," Lower-Basch said. "But these had real benefits for low-income people."
Of course, many advocates for the poor have also argued that the recession has shown programs like TANF, which makes benefits dependent on efforts to find work, to be woefully inadequate as a safety net when job opportunities are scarce. And in any case, longer-term solutions to the nation's poverty problem, they say, depend greatly on a more fundamental issue: jobs.
"There is no better social program for poverty reduction than a full-employment economy with good jobs," said Jared Bernstein, a fellow at the Center of Budget and Policy Priorities and a former economic adviser to Vice President Joe Biden, at a forum on poverty held in Washington last month. The forum, co-sponsored by the nonpartisan organization Spotlight on Poverty and Opportunity and the Brookings Institution, focused on the poverty challenges facing the Obama administration over the next four years.
"You can't work full time if there's no full-time work," Bernstein said.
Obama did propose an ambitious, $447 billion employment plan last year, funded almost entirely by eliminating certain tax loopholes enjoyed by those earning more than $200,000 a year. Many of the economic reviews of the proposal suggested that the plan had the potential to create millions of jobs, but it was met with swift and decisive opposition from Republicans in Congress.
Still, poverty advocates suggest that when the economy turns around, those at the very bottom of the economic ladder face a host of obstacles, from failing schools that leave poor students unprepared for the workforce, to epidemics of incarceration that leave millions of young men -- most of them minorities -- unable to obtain living-wage work, even after they've paid their debts to society.
The result of this and other disparities is that a disproportionate share of the poverty burden falls on black and Latino families. Of the 46 million U.S. residents below the poverty line, nearly 60 percent are minorities. This is despite the fact that all racial and ethnic minorities combined comprise just 37 percent of the U.S. population.
Meanwhile, the wealth gap between whites, blacks, and Hispanics is now wider than at any time since data on the topic has been gathered. A 2011 analysis by the Pew Research Center estimated that the median wealth of white households is as much as 20 times that of black households and 18 times that of Hispanic households. The median net worth for a black family, according to the Pew study, was just $5,600.
The absence of a dialogue on Capitol Hill about these issues suggests to some critics that lawmakers, including the president, have simply decided that middle class issues are the only ones worth talking about.
"The issue of poverty has not been on the table for discussion or policy-making for years now," said Rep. Emanuel Cleaver (D-Mo.), the former chairman of the Congressional Black Caucus. "The words 'poor' or 'poverty' are not even in the equation. No one -- and I mean no one -- uses the term 'poor' anymore."
Cleaver pointed to components of the Recovery Act that were aimed at low-income communities, but said he isn't holding out any hope that poverty will be at the top of anyone's agenda over the next four years.
"With all of the White House battles looming, I don't anticipate the president jumping out to get on a crusade against poverty," Cleaver said. "Even if that's one of the things he would like to do, because that's the reality -- that it's not going to go anywhere."
Whatever the next four years hold, those at work in Anacostia's trenches suggest that the bickering and paralysis on the issue of poverty in America must end.
At Bread for the City, Evans struggled to assist wave after wave of grinding need: The grandmother on a low fixed income who has become full-time guardian to hungry grandchildren; the single mother with no access to health care; and the ex-convicts trying hard to find living-wage employment where little -- or none -- is to be found.
In this context, Evans said mere conversations about poverty are of little value.
"People are so used to talking about the process, evaluating and analyzing -- I don't see enough doing," she said. "Congressional parties have a due obligation to look into their own backyards and reevaluate how families can continue to live under these circumstances ... and it's not just about one impoverished community east of the river."
This article is part of a series produced by The Huffington Post that closely examines the most pressing challenges facing President Obama in his second term. To read other posts in the series, click here.
Correction: A previous version of this article stated that Rep. Emanuel Cleaver was the chairman of the Congressional Black Caucus. He is the former chairman.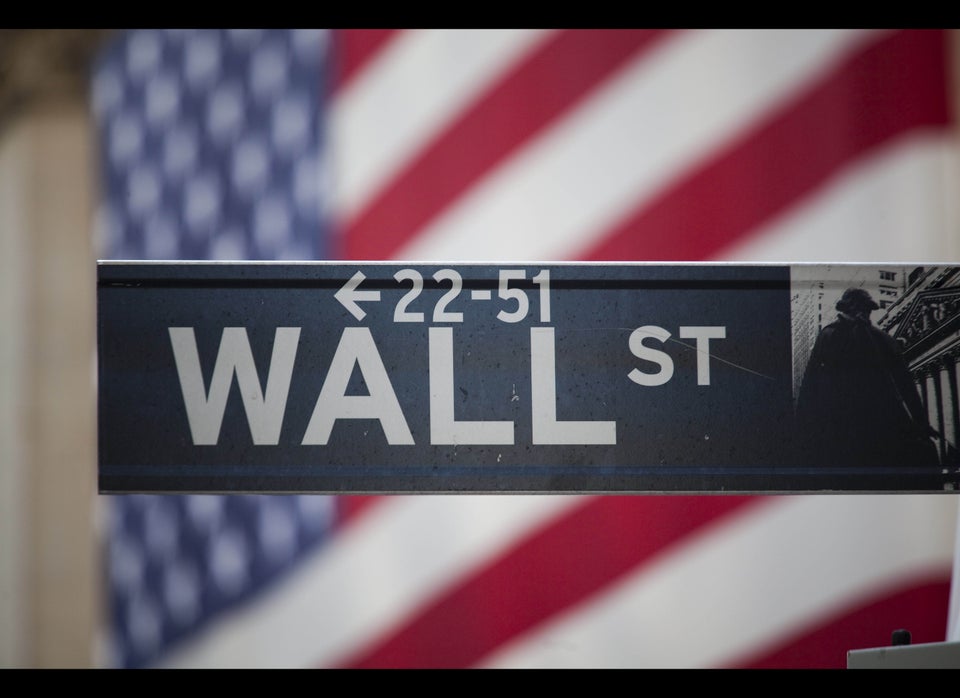 14 Facts Obama Doesn't Want You To Know
Popular in the Community