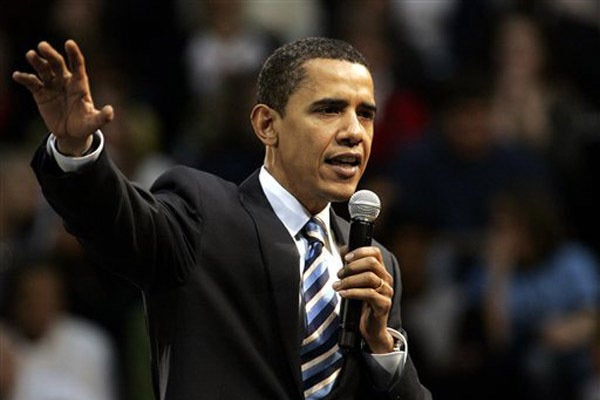 The Chicago Tribune reports that Barack Obama's is pushing this week for greater transparency in his campaign as part of a plan to launch a head-on attack against his opponent Sen. Clinton.
Sen. Barack Obama is trying to air his dirty laundry -- even some items that might appear just a little wrinkled -- as he prepares a full assault on Sen. Hillary Clinton over ethics and transparency.

On Saturday he invoked Robert F. Kennedy as he continued to try to distance himself from controversial statements made by his former Chicago pastor that are circulating on the Internet.

With a gap between campaign contests, Obama is trying to unload controversies. On Friday he held extended conversations with the Tribune and Chicago Sun-Times about his longtime relationship with indicted developer and fundraiser Antoin "Tony" Rezko.

The Illinois Democrat is also expected to make public his tax returns for several years before 2006, documents he previously has provided to the Tribune and other news organizations.
The plan seems to be yielding dividends, if the Tribune is to be believed. After sitting with the papers editorial board to answer every question asked about his relationship with Tony Rezko, the Chicago Tribune had this to say:
When we endorsed Obama for the Democratic presidential nomination Jan. 27, we said we had formed our opinions of him during 12 years of scrutiny. We concluded that the professional judgment and personal decency with which he has managed himself and his ambition distinguish him.

Nothing Obama said in our editorial board room Friday diminishes that verdict.

We said in that same editorial that Obama had been too self-exculpatory in explaining away his ties to Tony Rezko. And we've been saying since Nov. 3, 2006 -- shortly after the Tribune broke the story of Obama's house purchase -- that Obama needed to fully explain his Rezko connection. He also needed to realize how susceptible he had been to someone who wanted a piece of him -- and how his skill at recognizing that covetousness needed to rise to the same stature as his popular appeal.

Friday's session evidently fulfills both obligations. Might we all be surprised by some future disclosure? Obama's critics have waited 16 months for some new and cataclysmic Rezko moment to implicate and doom Obama. It hasn't happened....

...Barack Obama now has spoken about his ties to Tony Rezko in uncommon detail. That's a standard for candor by which other presidential candidates facing serious inquiries now can be judged.
Popular in the Community