 President Barack Obama visited an early education center in Decatur, Ga., Thursday to make his case for dramatically expanding pre-school access. After sharing a classroom with 16 young children -- one of whom asked, "Are you our teacher?" -- Obama elaborated on his State of the Union plan, saying it would give pre-K to every single American child.
"Let's make it a national priority to give every child access to a high-quality early education," Obama said Thursday. "Let's give our kids that chance." A brightly colored banner behind the audience read, "PRESCHOOL FOR ALL."
"The White House pre-K plan is very different from the signal the president sent in the State of the Union and the signal he's sending by visiting Georgia," Russ Whitehurst, a former federal education official who heads the Brooking Institution's education program, told The Huffington Post.
The Obama administration has billed this plan as "universal pre-Kindergarten," using the language of legions of advocates who argue that 'pre-K for all' is the best long-term economic investment America can make. But in reality, the White House plan is much more targeted to poor kids.
According to a blueprint circulated by the White House, the new program would only guarantee federal funding to states for the schooling of 4-year-olds from families that earn below 200 percent of the poverty line, or approximately 1.85 million kids. The new program would be part of a slate of services that support underprivileged children, expanding things like childcare, Early Head Start and the availability of home visits by nurses and social workers.
"The White House plan focuses on intensity ... for highly disadvantaged kids starting at birth," Whitehurst said.
The plan would only "incentivize" -- but not require -- states to extend these provisions to all students, regardless of income. "The federal dollars would be a cost-share arrangement with a state to serve low- and moderate-income children," said Roberto Rodriguez, a senior education advisor to Obama. "The more attractive state option and state match-rate would incentivize states to reach up and serve all children."
Why the subversive marketing?
"I know from having served in the federal government for eight years that the process around getting statements in the State of the Union is time consuming and byzantine," Whitehurst said. Whitehurst actually thinks the highly targeted plan makes more sense, because it would concentrate resources on kids who need it most instead of spreading it thinly among families who can afford to pay for childcare.
Coding the plan as "universal pre-Kindergarten," he said, might be more attractive to taxpayers weary of any new government plans. "If we're trying to convince the typical tax payer to support it, saying we want to tax you for your own and others' pre-K is less of a hard sell than saying you're going to pay for somebody else's kids," he said. "'Programs for poor kids' is a watch phrase."
In his speech, Obama stressed that pre-K expansion is part of a broader plan to provide more "ladders" into the middle class. "The kids we saw today that I had a chance to spend time with in Mary's classroom, they're some of the lucky ones -- because fewer than 3 in 10 4-year-olds are enrolled in a high-quality preschool program," Obama said Thursday. "Most middle-class parents can't afford a few hundred bucks a week for private preschool."
On a call with reporters, senior White House officials declined to provide further details about the program. It is unclear how much it will cost -- a question that concerns many lawmakers as the nation faces a potential sequestration of domestic programs. It is also unknown how, exactly, the federal-state "cost-sharing plan" will work, making it impossible for states to know their expected contributions.
White House advisors Celia Munoz and Rodriguez said further information would be available only after the administration unveils its 2014 budget request.
Before You Go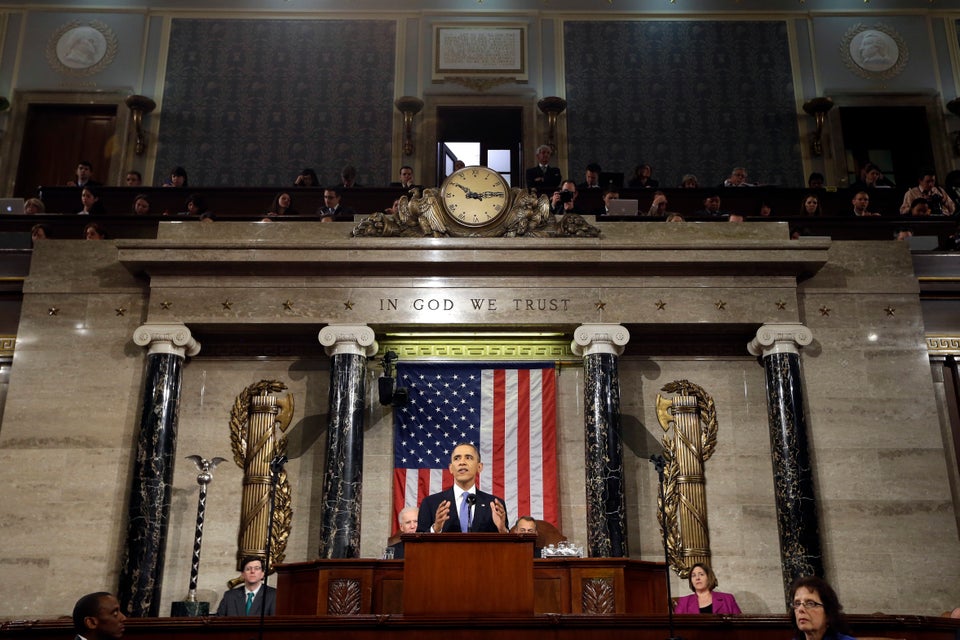 State Of The Union 2013
Popular in the Community