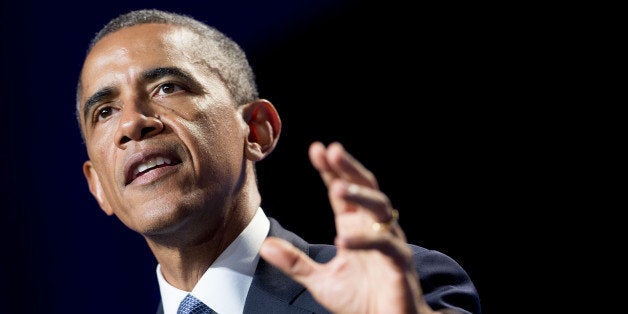 President Obama took another stab at the media on Tuesday, blaming it for spreading negativity and focusing too much on "phony scandals" rather than on the progress of the United States.
Speaking at the Democratic National Committee in New York City on Tuesday, Obama argued that the press was counteracting his mission and spreading "cynicism."
"The issues I'm fighting for, the issues that I will continue to fight for even after I leave this office, those issues are at stake," he said. "And we've got to be willing to fight for them. We've got to feel a sense of urgency about this at a time when, frankly, the press and Washington, all it does is feed cynicism."
Obama presented the audience with several optimistic facts regarding U.S. health care and the economy, before taking yet another dig at the press.
"Most of you don't know the statistics I just gave you," he continued. "And the reason you don't know them is because they elicit hope. They're good news. They shouldn't be controversial. And that's not what we hear about. We hear about phony scandals, and we hear about the latest shiny object, and we hear about how Washington will never work."
Obama's comments come just three days after New York Times reporter James Risen, who is currently being targeted by the White House to testify against one of his sources, accused the president of hating the press and threatening press freedom.
But Obama's verbal attack on the media Tuesday does not come as any big surprise. Last year, the president said that the media wrongly "tries to divide them and splinter" the American people. He has been increasingly critical of much of the foreign policy coverage in recent months, particularly as it relates to reporting on the crisis in both Ukraine and Syria. The Obama administration has been called one of the most secretive and least transparent administrations in history, with journalists calling it "significantly worse than previous administrations."
Popular in the Community