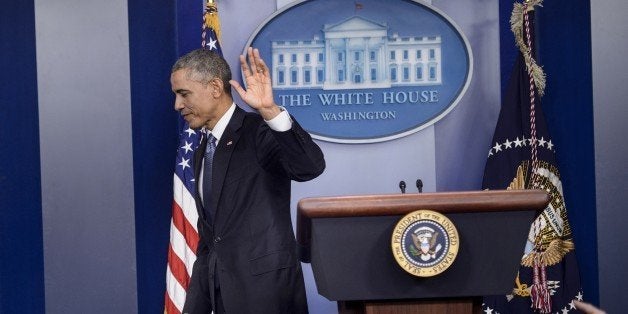 CJR looked at press briefings, conducted interviews with White House press secretaries and correspondents, and studied every official interaction between Obama and the press corps last year, all with the goal of shining a light on the president's complex relationship with the media. What CJR found was a "White House determined to conceal its workings from the press, and by extension, the public."
"[T]he media most responsible for covering the president and his inner sanctum are given little insight into how decisions are made or who influences those decisions, whether from inside or outside the White House," the study reads. "Evidence suggests that the relationship between the president and the press is more distant than it has been in a half century."
For years the media has accused the Obama administration of declaring a war on journalism. Most recently, the government's combative relationship with the press has been on display in its legal battle with James Risen, a New York Times reporter who refused to testify against a source accused of leaking him classified information.
But CJR doesn't let reporters of the hook, either. The study says the press has been held prisoner by the demands of social media, chasing clickable quotes rather than substantive information. The pervasiveness of social media got so out of hand, apparently, that White House press secretary Josh Earnest put an end to off-camera morning meetings in his office because journalists would use the opportunity to tweet every word he said.
"At press conferences, the overwhelming tendency is to ask about the day's headline or to look for the 'gotcha' question, instead of addressing long-term accountability issues," the study reads. "Reporters ask questions not to get information, but to get a reaction. And even with that strategy, they rarely succeed."

Popular in the Community