WASHINGTON -- President Barack Obama on Tuesday announced his delegates to the 2014 Winter Olympic Games in Sochi, Russia. And, in what may be a thumb in the eye to Russian President Vladimir Putin over his crackdown on gay rights, two of Obama's delegates are openly gay.
Billie Jean King, the tennis legend, and Caitlin Cahow, an Olympic medalist in women's ice hockey, are both part of the U.S. delegation. Both are out lesbians.
Another member of the U.S. delegation, figure skating Olympic medalist Brian Boitano, routinely declines to answer questions about his sexuality, saying "everybody's got their own path" to discovering who they are.
Others in the delegation include University of California President Janet Napolitano, the former Homeland Security secretary; U.S. Ambassador to Russia Michael McFaul; White House Deputy Chief of Staff Rob Nabors; Deputy Secretary of State William Burns, and speed skating Olympic medalists Bonnie Blair and Eric Heiden.
In what may be another slight to the Russian president, Obama, Vice President Joe Biden and first lady Michelle Obama will not attend the opening ceremony. This marks the first time since the 2000 Summer Olympic Games that a president, vice president, first lady or former president won't be part of the opening ceremony.
Putin has faced international criticism for his persecution of Russia's gay community. Over the summer, he signed a law banning the adoption of Russian-born children to gay couples. He also signed a law that bans public discussion of gay rights and relationships where children might hear it. Under that law, which considers such talk "propaganda," violators can be fined and foreigners can be deported.
UPDATE: Dec. 19 -- Boitano announced Thursday that he, too, is gay.
"I am many things: a son, a brother, and uncle, a friend, an athlete, a cook, an author, and being gay is just one part of who I am," he said in a statement.
CORRECTION: Michael McFaul was incorrectly referred to as a Russian Ambassador. He is the United States Ambassador to Russia.
Before You Go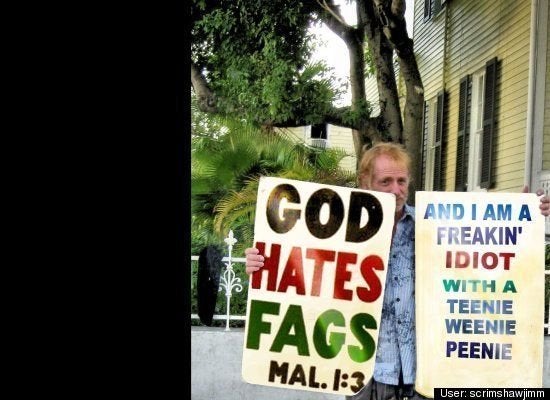 Anti-Gay Protesters Getting Owned
Popular in the Community