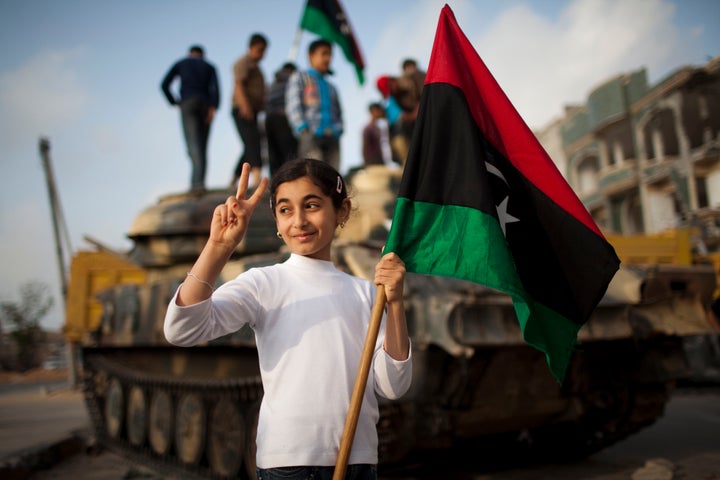 WASHINGTON -- At a time when the country couldn't be more fixated on cutting spending, a revolution taking place thousands of miles away is presenting U.S. leaders with a new dilemma: How much of a role should the U.S. play in rebuilding Libya?
If President Barack Obama's comments this week on the issue are any indication, don't expect much.
In a Monday statement delivered from Martha's Vineyard, where the first family has been vacationing all week, Obama sent a clear signal that he's not about to lead the United States into another round of nation-building. Instead, he repeatedly praised -- and punted responsibility to -- the international community at large for stepping in to counter the brutality of Libyan dictator Muammar Gaddafi and work with Libyan rebels to usher in a new era of democratic government.
"NATO has once more proven that it is the most capable alliance in the world and that its strength comes from both its firepower and the power of our democratic ideals," Obama said. "And the Arab members of our coalition have stepped up and shown what can be achieved when we act together as equal partners."
The president also emphasized that the transitional government in Libya is legitimate and said the Libyan people should be ready to take responsibility for it once Gaddafi goes. U.S. diplomats stand ready to help with that transition, he said, but the U.S. isn't going to be paying for it. Rather, the money will come from $1.5 billion in assets of Gaddafi's regime that were frozen earlier this year. The U.S. already reached out to the U.N. this week to unfreeze those assets, which would primarily be used for humanitarian assistance.
"Your revolution is your own, and your sacrifices have been extraordinary," Obama said to Libyans. "Now the Libya that you deserve is within your reach. Going forward, we will stay in close coordination with the [National Transitional Council] to support that outcome."
Middle East policy experts say Obama's speech sent a strong message to the international community that he's not planning on investing significant U.S. dollars or troops into Libya's transformation.
"He was basically saying that NATO and the U.N., they would be in the forefront of this," said Robert Danin, a senior fellow for Middle East and Africa Studies at the Council on Foreign Relations. "The message was the U.S. won't."
Danin said it could be tricky for Obama to keep the United States as hands-off as he might want. If the transition to a new Libyan government doesn't go smoothly and there becomes an obvious need for peacekeeping operations, it could cause "real tensions" with NATO if the U.S. doesn't provide troops or financial assistance, he said.
But it is ultimately Europe, he said, and not the United States that has a vital interest in Libya's stability, for two reasons: proximity and reliance on the country's vast energy resources. Obama regularly underscores that reality by touting that he hasn't sent any U.S. ground troops into Libya in the past several months as European forces take the lead.
"We've been fortunate that we've not lost any lives, therefore the American public is largely disconnected," Danin said. "I think that's why the president has worked so hard to keep the U.S. out of the forefront."
One lingering question is how long the U.S. will stay involved in Libya's reconstruction, even if just in a minor role. Past efforts at nation-building in Iraq and Afghanistan have now dragged on for nearly 10 years, and the White House is going to have to square its message of being a committed international ally with the reality that the American public is just plain weary of war.
White House spokesman Josh Earnest ducked that question during a Wednesday briefing.
"Well, one of the things that I would point out to you is -- certainly, one of the things that's been different about this effort is that there are no -- there's no American military presence, in terms of boots on the ground," Earnest said. "That's something that we remain committed to, and that does distinguish it from the situation that exists right now in Iraq."
Daniel Serwer, a professor at Johns Hopkins' School of Advanced International Studies and a scholar at the Middle East Institute, said the main thing the United States can and should do to speed up the transition process is put forward a new U.N. Security Council resolution that lays out the goals for post-war Libya.
"It's very important to frame the strategy," Serwer said. "But beyond that, the Europeans are literally linked to Libya by umbilical pipelines. ... They're the ones that have something to lose if things go to hell in a hand basket."
Serwer said he couldn't imagine a scenario in which the United States would be pressed to provide significant amounts of money. But he speculated there could be a situation in which U.S. ground troops would be needed.
"If there is a lot of fighting among the rebels and a humanitarian catastrophe ... I can picture a situation when there are American boots on the ground," he said. That scenario is only likely to play out "at the request of the Libyans and in a catastrophic situation -- a situation we should make every effort to avoid."
For the moment, the situation on the ground doesn't look great. Several conflict and international policy experts told The Huffington Post's Joshua Hersh on Wednesday that the NATO-led military effort is going quite badly, with the prospects for a smooth political process possibly getting worse. In addition, Obama has already run into resistance from Congress over his steps in Libya, which could foreshadow another round of obstacles if he seeks new resources to aid in the effort.
Capitol Hill has been virtually silent in the wake of recent Libya developments. Senior Democratic and Republican aides concede the issue is largely off their radar, in part because Congress has been out of session for the month. But even the handful of key lawmakers who have weighed in suggest there is little appetite for much investment.
Echoing Obama's sentiments, Senate Majority Leader Harry Reid (D-Nev.) put the onus on other countries to take the lead in assisting with Libya's transformation.
"As we approach a post-Gadhafi era, the international community will look to the leaders of the opposition to implement a peaceful transition to democracy," Reid said in a statement. "I look forward to working with my colleagues in Congress, President Obama and our allies to encourage that process."
House Foreign Affairs Committee ranking member Howard Berman (D-Calif.) reiterated the need to pull from Gaddafi's frozen assets to pay for the transition.
"The United States, the E.U. and the U.N. Security Council should now act together to support a democratic transition and begin transferring frozen assets to the Transitional National Council," he said in a statement.
Perhaps Rep. Barney Frank (D-Mass.) sums up the mood in Congress most bluntly.
"I don't see any significant role for America, nor is it our responsibility to make sure it's a functioning society from the outside, and we come to it with more baggage than anybody else," Frank told the Boston Globe.
"Plus," added Frank, "we can't afford it."
Popular in the Community