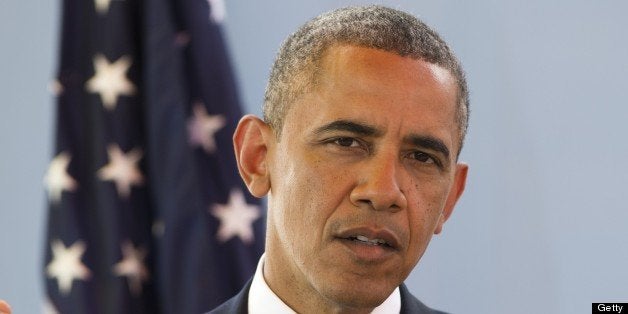 WASHINGTON -- Starting Friday, Congress is officially in recess for nine days. But don't expect President Barack Obama to use his authority to go around lawmakers and unilaterally appoint some of his stalled nominees.
"I wouldn't expect any recess appointments during this upcoming recess," a White House official told The Huffington Post.
The president may not be lining up any appointments, but that doesn't mean he's happy with the way his nominees are moving through the Senate. Republicans have been blocking key nominees for months, namely Richard Cordray as head of the Consumer Financial Protection Bureau, Gina McCarthy as head of the Environmental Protection Agency, and Tom Perez as head of the Department of Labor. Obama's three nominees for the D.C. Circuit Court are also facing major GOP obstacles.
The president was unusually aggressive when he announced his D.C. Circuit Court nominees earlier this month. In addition to putting them all forward at the same time, he used a Rose Garden speech to slam Senate Republicans for their "unprecedented" obstruction of his nominees and urged them to give his latest picks a vote.
"What I am doing today is my job," Obama said, standing alongside his nominees. "I need the Senate to do its job."
Tensions have also been escalating in the Senate. Senate Majority Leader Harry Reid (D-Nev.) has warned that he may be ready for a filibuster reform fight this summer if Republicans don't ease up in their obstruction of nominees, particularly when it comes to the nominees listed above. Senate Minority Leader Mitch McConnell (R-Ky.), meanwhile, says Reid is trying to intimidate Republicans and insists they have been fair with Obama's nominees.
To illustrate that point, McConnell's office emailed reporters Thursday night listing all the nominees that unanimously cleared the Senate that day with little fanfare, ahead of the recess. They included nominees for the Office of Management and Budget, the General Services Administration, the Consumer Product Safety Commission and the Nuclear Regulatory Commission.
"While all you hear from the other side is phony 'obstruction' claims, I wanted you to have a list of the nominees that cleared tonight," reads the email from McConnell's office.
But a senior Senate Democratic aide signaled Friday that Reid is still eyeing the possibility of a filibuster fight if something doesn't change.
Senate Republicans "don't get special credit" for moving those nominees because they were people "who were always going to get through," said the aide. "It doesn't change [Reid's] thinking one iota."
Calling all HuffPost superfans!
Sign up for membership to become a founding member and help shape HuffPost's next chapter