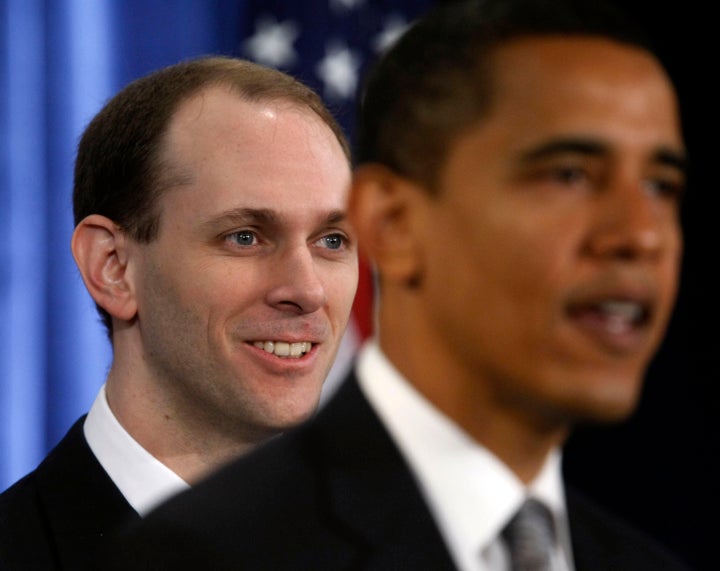 WASHINGTON -- Lost in this week's announcement that Austan Goolsbee, the chairman of the Council of Economic Advisers, would be leaving the White House in time of the beginning of the next school year was a telling footnote. While Goolsbee is returning to his teaching post at the University of Chicago, he will continue to advise Obama and, more significantly, will play a role in his reelection campaign.
The president personally asked Goolsbee to remain in that advisory role -- and for good reason. As top advisers note, among the cadre of officials who have served on Obama's economic team, few have the capacity to serve as an effective spokesman. Goolsbee, a top collegiate debater and frequent television presence, stands head and shoulders above the rest.
"There's no one who articulates our position better," said David Axelrod, the longtime Obama confidant and soon-to-be top reelection aide, in an interview with The Huffington Post. "[Goolsbee] has the broadest range: He can talk to very sophisticated economic audiences, and he can talk to general audiences because he has a gift for saying his ideas in a clear but colloquial way."
It is considered a truism within Democratic circles that the state of the economy will define the 2012 White House race. And while Axelrod insists that the election would "not be a referendum" on Obama's policies, but rather "a choice" between what the president offered and his counterpart's prescriptions, the trajectory of the recovery still inherently matters. With that context, much fretting has taken place over the recent spate of poor economic news: a worse-than-expected month of job growth and the likelihood that unemployment will remain above 8 percent, even until November 2012.
"One monthly job figures are more robust than expected and everybody goes tearing up the one direction, and the next month they're not as good and they go in the other," Axelrod said, referring to the negative reaction that greeted news of May's anemic jobs growth. "For the average person this is a meaningless discussion, what is meaningful is what they experience in their own lives."
"I don't think there's a formula to this," Axelrod added, when pressed on the oft-cited but somewhat misleading statistic that no president since Franklin Delano Roosevelt has won a second term when the unemployment rate on Election Day topped 7.2 percent. "Everyone knows the situation that we walked into, so I don't think there's a formula that says, 'If it's here, you win; if it is there you lose.'"
There are, indeed, no statistical equations for winning the White House. But as Democratic pollster Stan Greenberg is fond of saying, there are few more difficult tasks for a politician than telling voters the economy has gotten better when they may not personally feel such improvement. But that is essentially the assignment given to the Obama communications team and, by extension, Goolsbee. On Wednesday, Axelrod and former White House Press Secretary Robert Gibbs stopped by the offices of former Obama Communications Director Anita Dunn for, what one person described, as a "strategy session" on such issues with respect to the 2012 race.
What's complicating the already difficult task, however, is that the White House appears fully opposed to the notion that government spending might make things better. On Tuesday, the Office of Management and Budget put out a statement of administration policy, saying that a "jobs bill" authored by Senate Democrats to expand the reach of the Public Works and Economic Development Administration was too costly.
It was a remarkable effort to undermine Democratic Party leadership by the administration. And it led to some perturbed reactions, both on and off the Hill.
"They're tone deaf -- economically and politically," emailed one top Democratic operative.
Critics come in forms other than the nameless operative variety. On Wednesday morning, progressive pressure group MoveOn.org announced that it would be launching a major campaign to get Washington to wean itself off the idea the nation was broke and spending cuts were needed.
"It is very hard for ordinary people who are not on the political extreme to be heard with the present media environment and the lay of the land," said Van Jones, a left-wing activist and former White House green-jobs adviser. "That is what we are about to fix in a major way. It is not just Democrats. I think the entire D.C. establishment is about to get a huge wake up call in the austerity versus jobs question."
During the 2010 elections, Democrats felt it would be advantageous to hold even ceremonial votes contrasting their job-creation measures with the GOP's obstructionism. Those, clearly, didn't turn the dial.
This go around, however, the fault lines of the debate appear to be the size of the spending cuts and the scope of the tax breaks. Asked to respond to the perception that the White House had a "stand pat attitude" on the economy, Press Secretary Jay Carney noted that the president was pushing free trade agreements, a permanent research and development tax credit and responsible deficit reduction -- hardly the clarion call of a progressive-minded pol.
Goolsbee, for his part, dealt with these pressures on a regular basis -- both as part of a small group of advisers who charted out economic policy for the president and as a frequent source for the press. Associates say he remained on the same page as the president: philosophically committed to the idea that more stimulus spending would have been helpful but deeply skeptically that more could have been done politically to move Congress. Which is why he was, according to several sources, more than eager to continue to play a role on the campaign, so long as it was from his home base.

"He has been working for the president between campaign and White House for four plus years," said an administration official. "The typical time for a leave at University of Chicago is two years… he was ready to go back."
Popular in the Community