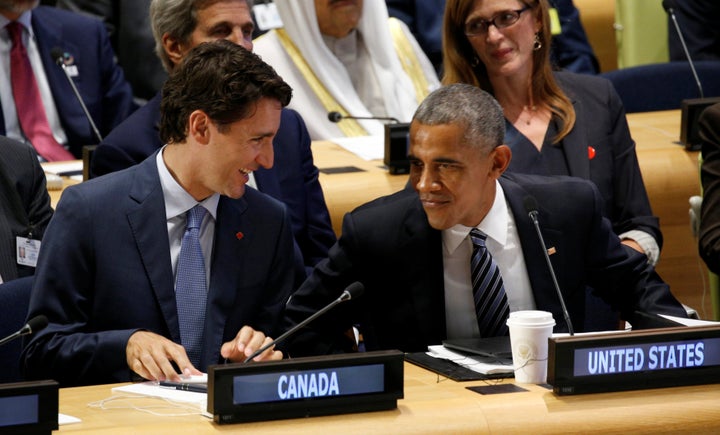 UNITED NATIONS ― President Barack Obama had more than words for desperate refugees during a Leaders' Summit that he hosted at the United Nations on Tuesday.
He announced that more than 50 nations and organizations have agreed to provide a combined $4.5 billion in financial assistance to groups helping refugees find work and education. That includes $1 billion from the U.S.
"I called this summit because this crisis is one of the more urgent tests of our time, a test of collective action," said Obama, speaking just hours after he delivered his final General Assembly speech as president.
Around the world, some 65 million people are displaced from their homes due to violence and persecution, more than at any time since World War II. Over 20 million of them are refugees, the vast majority of whom are now living in just 10 countries.
"It's a test of our international system where all nations ought to share in the responsibility," Obama said. "It's a crisis of our shared security, not because refugees are our threat but because refugees are often fleeing war and terrorism. They are victims."
Obama emphasized the need not to demonize refugees, implicitly hitting back against Republican presidential nominee Donald Trump's proposals to ban Muslim immigrants (including refugees) from entering the U.S. and to build a wall along the border with Mexico.
"If we were to turn refugees back, we would be reinforcing terrorist propaganda that nations like my own are somehow opposed to Islam. It's an ugly lie that must be rejected," the president said. "It's a test of our common humanity, whether we give into suspicion and fear and build walls."
The co-hosts for the Leaders' Summit included the U.N. General Secretary, Canada, Ethiopia, Germany, Jordan, Mexico and Sweden. Several of those countries have been struggling under the burden of hosting refugees. Germany, for instance, took in 1 million in 2015 alone.
Jordan's King Abdullah II, whose country has seen 2.5 million Syrian refugees pass through since 2011 and is currently hosting 1.5 million, stressed the need to work on a macro level in order to make progress on a micro level.
"We need to work as a team," Abdullah said at the summit. "Jordan's burden is skyrocketing."
Jordan has already handed out 28,000 work permits to Syrians this year and expects to offer more.
Swedish Prime Minister Stefan Löfven pledged to donate more funds and to increase refugee resettlement in his country. Sweden has already offered $625 million in humanitarian aid this year, he said.
"I promise you, we will all be better for it," Canadian Prime Minister Justin Trudeau said of welcoming refugees.
In his remarks, Obama also referred to the White House call for the private sector to step up. In total, 51 companies ― including Accenture, Airbnb, Citigroup, Facebook, Goldman Sachs, Google and IKEA ― have pledged to invest, donate or raise $650 million to go toward refugee education and employment.
"I am hopeful, especially after Obama's speech," Hussam Al Roustom, a Syrian refugee resettled in New Jersey last year who attended the summit, told The Huffington Post. "The speech was good, realistic and gave me hope about ending the Syrian problem. Hopefully words will be turned into action."
Although the United States has long considered itself a humanitarian leader, it has been slow to welcome the latest flood of displaced people. 
In September 2015, Obama pledged to increase the total number of refugees allowed to resettle in the U.S. to 85,000 ― up from 70,000 in the last three fiscal years ― and to reserve 10,000 of these spots for Syrians. Secretary of State John Kerry announced last week that the administration plans to set a goal of welcoming up to 110,000 refugees in fiscal 2017.
These increases are welcomed by refugee advocates, but the numbers represent only a drop in the bucket compared to what many other smaller countries are grappling with.
And there are some who feel that the back-to-back U.N. summits are just plain late.
Amnesty International "called for a meeting of world leaders two years ago," Sahil Shetty, secretary general of the human rights group, told The Huffington Post. "There are some credibility issues. We've got to be a bit more serious than this." 
Calling all HuffPost superfans!
Sign up for membership to become a founding member and help shape HuffPost's next chapter
BEFORE YOU GO
PHOTO GALLERY
World Leaders Speak At UNGA