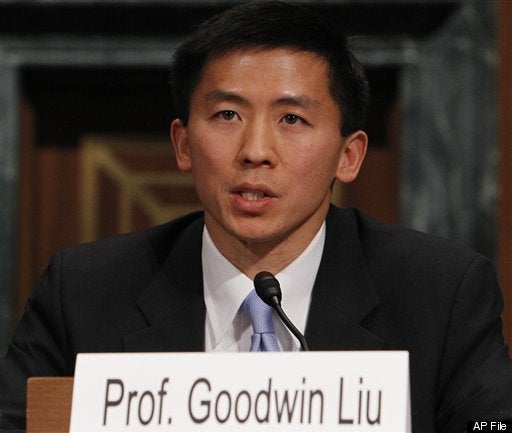 Not backing down from the fairly taxing battle to fill some of the vacant ranks of the judiciary, President Obama has formally renominated five judges whose candidacies were previously derailed by Senate Republicans.
The White House announced late Monday afternoon that the following nominees have been sent back to the Senate Judiciary Committee for new hearings:
Judge Robert Chatigny, who was originally nominated in February for a post on the U.S. 2nd Circuit Court of Appeals;
Judge Edward Chen, who was originally nominated in August 2009 for a post as a United States District Judge on the United States District Court for the Northern District of California;
Former Wisconsin Supreme Court Justice Louis J. Butler Jr., who was originally nominated in October 2009 to serve as federal judge for the Western District of Wisconsin;
Associate Dean and Professor of Law at the University of California Goodwin Liu, who was nominated in February for a seat on the Ninth Circuit Court of Appeals;
and Rhode Island lawyer John McConnell, who was nominated in March for a post on a Rhode Island district court.
Obama's decision to renominate these figures demonstrates that the White House is not just willing, but eager to spotlight the remarkably slow pace of its judicial confirmations. While the Senate did manage on Monday to confirm Jane Stranch, 71 to 21, to a seat on the Sixth Circuit Court of Appeals, an unprecedented number of nominees are still waiting a full Senate vote after being approved by the Judiciary Committee.
The administration has been left largely powerless to move Senate Republicans, save for somewhat-idle threats to keep Congress in session while individual nominations are debated. But they are finding more and more allies in their frustration from prominent judicial and political figures. On Monday, the American Constitution Society began circulating a letter signed by a group of former federal court judges appointed by both Democratic and Republican presidents, urging the Senate to take immediate action on languishing nominations.
As part of the renomination process each of these nominees will once more have to be confirmed by the Senate Judiciary Committee. According to the committee's website, that process will begin Thursday.
Calling all HuffPost superfans!
Sign up for membership to become a founding member and help shape HuffPost's next chapter