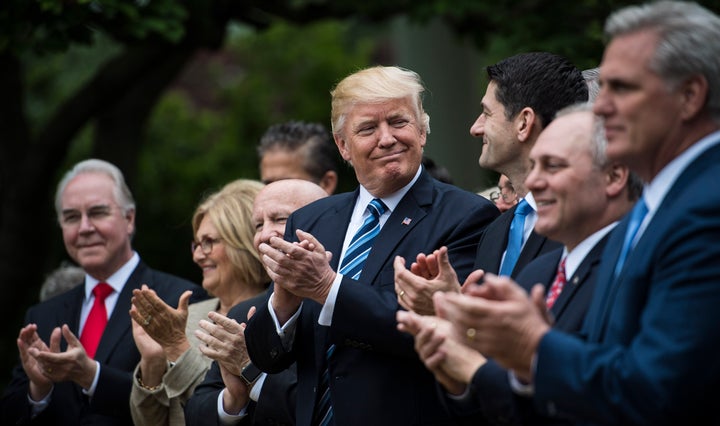 "We don't have to talk about this unbelievable victory — wasn't it unbelievable? So we don't have to say it again. But it's going to be an unbelievable victory, actually, when we get it through the Senate," Trump boasted, standing in front of beaming House members.
Since Obamacare's passage in 2010, Republicans had made repealing it their central campaign promise. If the country handed control of Congress and the White House to the GOP, they would finally dismantle it.
In 2016, they got their wish. But they still couldn't get the job done. The Senate never passed the House repeal legislation. Public opinion swung in favor of the law, and many of the House members who took the tough vote to advance repeal now find themselves on the defensive at home.
The uneasiness the GOP feels with Obamacare repeal is borne out by the money candidates and other groups are spending on TV ads. In the past, Republicans walloped Democrats on the air with ads mentioning Obamacare, according to an analysis by Kantar Media/CMAG for HuffPost.
But in the 2018 cycle, the numbers aren't quite as stark. Conservatives are still spending more on anti-Obamacare ads ― and airing more spots on the issue ― but Democrats aren't nearly as far behind as in the past.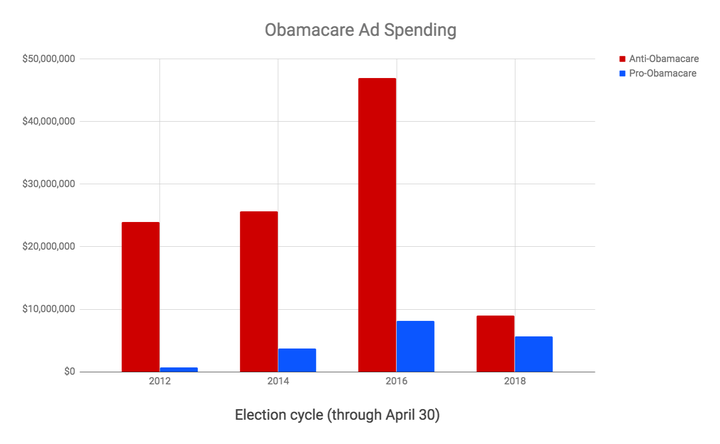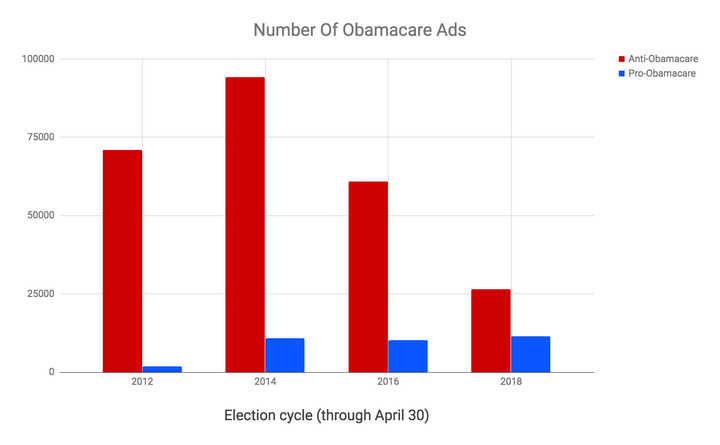 It's not just that Republicans are less interested in talking about the issue ― it's also that Democrats are finally feeling emboldened.
"We see health care as the defining issue of the 2018 midterms," said David Bergstein, spokesman for the Democratic Senatorial Campaign Committee. "The Republican health care agenda is incredibly toxic with voters of every political persuasion."
For the first time in an election cycle since Obamacare's passage, a majority of the public now approves of the health care law. Democrats now have a sizable advantage over the GOP on the issue, and candidates frequently bring up their support for Obamacare while meeting with voters.
Even though outright repeal appears to be off the table, there are still efforts to undermine the law. The big GOP tax bill eliminated the financial penalty for people who don't get insurance. Without that penalty in place, healthy people are less likely to buy insurance, causing premiums for those who keep insurance to rise.
At the same time, Republicans at both the state and federal levels are doing what they can to change the rules on the types of insurance available. These efforts may result in cheap but less generous plans for people in good health ― and more expensive premiums for people who want or need more comprehensive coverage, including those with pre-existing conditions.