WASHINGTON ― President Barack Obama on Tuesday said Donald Trump was "unfit to serve" as president of the country, asking top Republicans in Congress why they're still endorsing the real estate mogul even as they need to condemn his comments on a near-daily basis.
Trump's attacks on the family of a soldier killed in action in Iraq have unleashed the latest wave of rebukes from Republicans, including Senate Majority Leader Mitch McConnell (R-Ky.) and House Speaker Paul Ryan (R-Wis.)
Asked about the Republican nominee during a press conference, the president said Trump cannot run the country and it's time for top GOP leaders to rethink their support for him.
"The question I think that they have to ask themselves: If you are repeatedly having to say in very strong terms that what he has said is unacceptable, why are you still endorsing him?" Obama said, naming Ryan and McConnell. "What does this say about your party that this is your standard-bearer?"
Trump's gaffes aren't "episodic," Obama said.
"This is daily and weekly where they are distancing themselves from statements he's making," he said. "There has to be a point at which you say this is not somebody I can support for president of the United States."
Both Ryan and McConnell have repeatedly rebuked Trump for his proposed ban on Muslims entering the country (later changed to Muslims coming to the U.S. from "terrorist countries"), and his attacks on Judge Gonzalo Curiel over his Mexican heritage.
The two Republicans on Sunday had to distance themselves from their candidate again ― this time over comments Trump made about Khizr and Ghazala Khan, whose son was killed while serving in Iraq in 2004 when he moved towards a vehicle loaded with explosives to protect fellow soldiers.
Captivating the country during his speech at the Democratic National Convention, Khizr Khan took on Trump directly, asking him if he'd ever read the Constitution and telling him to visit Arlington Cemetery to see the names of those who have sacrificed for the U.S.
"You have sacrificed nothing," Khan said. In interviews over the weekend, Khan didn't let up, pleading with Ryan and McConnell to "repudiate" Trump.
The criticism didn't sit well with the former business mogul, who responded to the speech by going after Ghazala Khan, asking why she remained silent by her husband's side. Trump also said he'd made "a lot of sacrifices," but then failed to come up with a single example.
Despite the Republican leaders expressing support for the Khans, they did not revoke their endorsements of Trump. The fact that they haven't done so, Obama said on Tuesday, makes their denunciations "ring hollow."
While he doesn't doubt their sincerity, Obama said, there comes a point where you have to say "somebody who makes those kinds of statements doesn't have the judgment, the temperament, the understanding to occupy the most powerful position in the world because a lot of people depend on the White House getting stuff right."
This comes down to more than "policy disagreements" he added.
"I recognize that they all profoundly disagree with myself or Hillary Clinton on tax policy or on certain elements of foreign policy," Obama said of Republicans. "But you know, there have been Republican presidents with whom I disagreed with, but I didn't have a doubt that they could function as president."
Obama recalled his policy battles with Sen. John McCain (R-Ariz.) and former Massachusetts Gov. Mitt Romney when running against them in 2008 and 2012. Even then, he "never thought that they couldn't do the job."
"And had they won, I would have been disappointed, but would have said to all Americans, 'This is our president, and I know they're going to abide by certain norms and rules and common sense, will observe basic decency,'" he said. "But that's not the situation here."
"President Obama has been a failed leader who along with Secretary of State Clinton created a foreign policy that has destabilized the world and made it an unsafe place. He is the one who is unfit to be President and Hillary Clinton is equally unfit," Trump said in a statement.
Trump went on to claim that Obama and Clinton "released criminal aliens" into the country, despite Obama's deportation numbers being higher than recent presidents. He also accused the president of sending jobs overseas. Last month, Trump applied for temporary visas to bring in foreign workers for his Mar-a-Lago Club and Trump National Golf Club in Florida, claiming he couldn't find enough Americans to work there, according to Buzzfeed News.
This story has been updated with a statement from Donald Trump.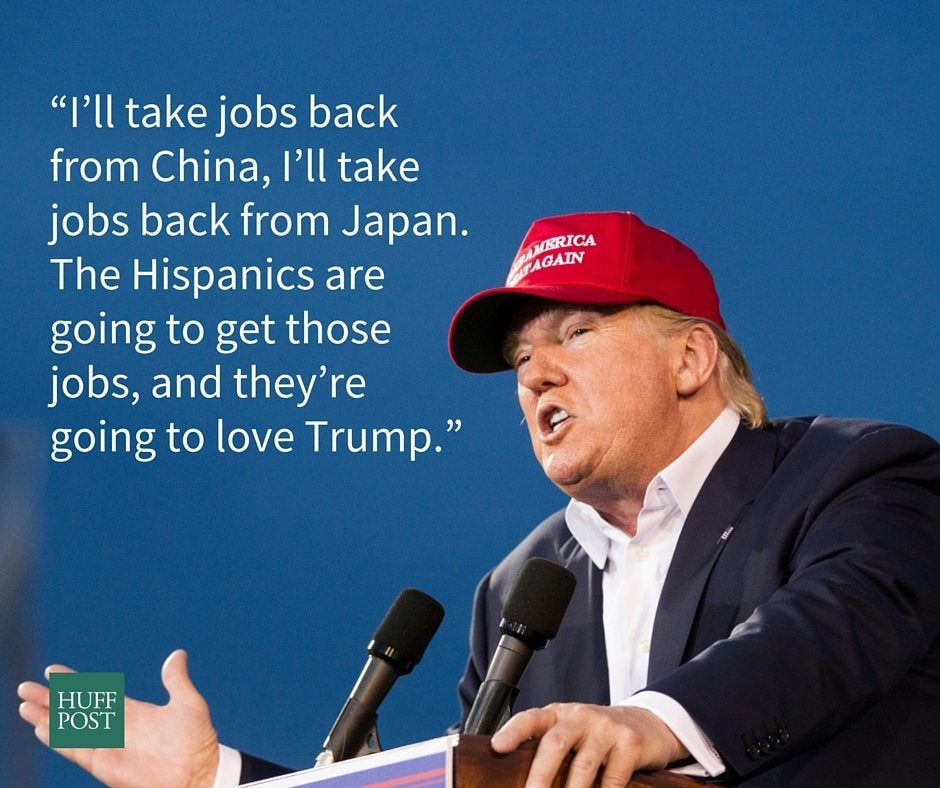 9 Other Absurd Things Donald Trump Has Said About Latinos
Popular in the Community