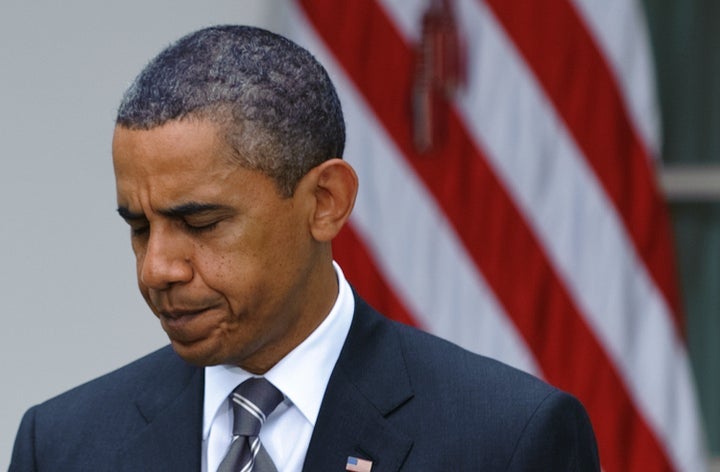 WASHINGTON - Republican strategists and pollsters said the dismal jobs report Friday was a blow to President Obama's hopes of building momentum going into the 2012 election, in part because it will exacerbate negative attitudes toward Obama already seen among independents who voted for him in 2008.
If this trend of weak economic results continues, the strategists said, it could deflate turnout among independents who might consider voting for Obama again in 2012.
"I kind of saw today's economic numbers to be kind of the first opportunity to start turning things around and start that drum beat that the economy is doing better, when in fact it went the wrong direction," said Ed Goeas, president of The Tarrance Group, a Republican polling firm.
According to Goeas, presidents historically have needed several consecutive months of positive economic news heading into a general election battle to convince most voters that the country is headed in the right direction.
"Time basically is running out for the administration," he said.
Goeas is the top pollster for Rep. Michele Bachmann's (R-Minn.) presidential campaign, but appeared at a breakfast with reporters hosted by the Christian Science Monitor Friday morning to talk about a focus group he conducted in Philadelphia last month, in conjunction with similar groups in Virginia, Florida and Colorado.
The focus groups were conducted by Resurgent Republican -- a conservative survey and focus group organization that models itself on Democracy Corps and is publicly fronted by former Bush White House adviser Ed Gillespie.
Resurgent said that 26 of the 41 participants in the four focus groups "approve of [Obama's] job performance," while 12 disapproved and 3 were unsure. All said they were undecided on who they plan to vote for in 2012.
Gillespie and Goeas emphasized that they did not encounter enthusiasm for Republicans among the independents as much as they saw growing dissatisfaction with Obama that centered around the economy and continued high rates of joblessness.
"These voters, while undecided ... my sense is they're pretty wed to president Obama," Gillespie said. "There's disappointment, there's frustration, but I'd be surprised if the 26 of them who approve of him today end up voting for the Republican nominee. That said, I do think one of the things that's emerging here is this notion that [Obama] may be in over his head. These independents who voted for him -- they don't blame him for the economy -- but at the same time, they're not kidding themselves that he made it any better."
"They're not ready to join with Republicans saying he made things worse, but there's no doubt that they recognize that he hasn't made it better and he seems kind of passive about it," he continued. "I think what they'll be looking for is someone who can go in and do the job and not be in over their head."
Goeas said that in an election cycle where conservatives are united by the idea of defeating President Obama, apathy and disappointment among self-described independents who supported or are sympathetic to Obama will replicate the "enthusiasm gap" that dominated last fall's midterm elections.
The Philadelphia voters Goeas spoke with "had voted for [Obama] ... and they had stepped away from him."
"I saw the stepping away to be a big issue as opposed to stepping toward the Republicans," he said. "I think the issue becomes the intensity issue. If they don't start seeing ... positive about Obama, they very easily could sit at home."
"Having -- in a northeastern, independent, union, Democrat-leaning voter -- a lack of intensity I think spells real problems for the Obama reelection campaign," Goeas stated. "The question becomes is he going to be able to win back their confidence and get their intensity, motivate them to get out the vote."
Obama himself said in remarks at the White House Friday that "we still have a long way to go and a lot of work to do to give people the security and opportunity that they deserve."
Gillespie also said that Rep. Paul Ryan's (R-Wis.) budget and his plan to overhaul Medicare were far from voters' minds.
"We were a little surprised that the Medicare issue did not resonate," Gillespie said. "We think Democrats have oversold the extent to which that is a problem for Republicans."
Resurgent's report on their focus groups also said that the Medicare issue was not as galvanizing for conservative voters.
"When compared to discussing President Obama's job performance or increasing the debt ceiling, the intensity among the Republican and Tea Party voters dissipated somewhat," the report concluded.
Popular in the Community