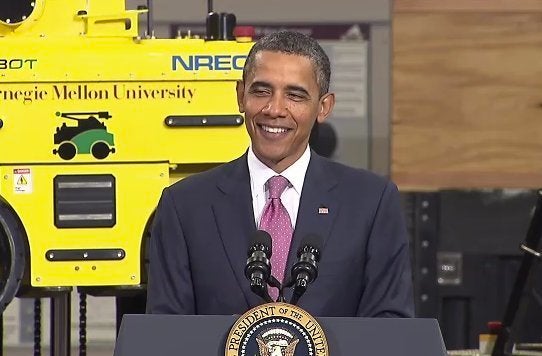 President Barack Obama joked that one of his responsibilities as the nation's commander in chief "is to keep an eye on robots" while speaking at the National Robotics Engineering Center at Carnegie Mellon University on Friday.
"I just met with folks from some cutting-edge companies and saw some of their inventions here in your National Robotics Engineering Center, but that's not the only reason I'm here," the president said. "You might not know this, but one of my responsibilities as commander in chief is to keep an eye on robots. And I'm pleased to report that the robots you manufacture here seem peaceful, at least for now."
The remarks from Obama drew laughs from his audience.
But Obama's main theme was that advanced manufacturing has the potential to fuel job growth. He called for a joint effort by industry, universities and the federal government to help reposition the United States as a leader in cutting-edge manufacturing.

With growing interest from the military, businesses and consumers, the Carnegie Mellon Robotics Institute has more than 500 technical experts and a $65 million annual budget. And its scientists aren't just asking questions – they're building robots that ask questions, too.
White House Press Secretary Jay Carney joked at a press conference earlier this year that Obama himself is "not a robot."
Below, video of the speech the president delivered on Friday via WhiteHouse.gov.