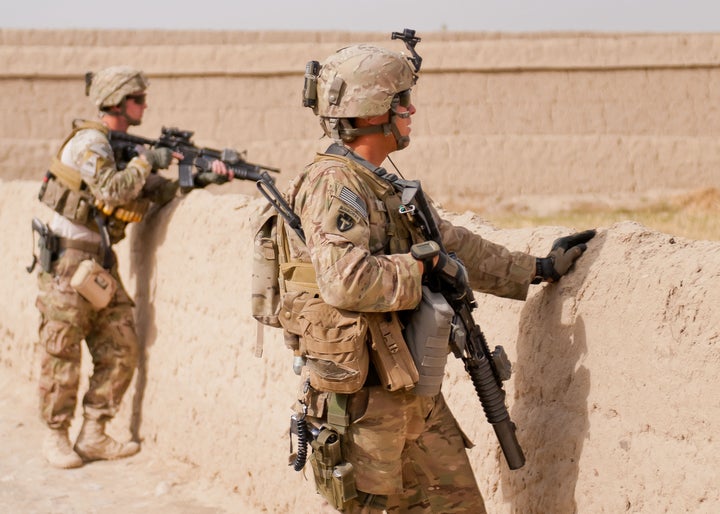 WASHINGTON -- Neither President Obama nor Mitt Romney will say it out loud, but the unpopular, 11-year war in Afghanistan is not drawing to a close. Instead, substantial numbers of U.S. troops likely will be committed there for years, no matter who wins, according to U.S. officials, campaign advisers and nonpartisan experts.
In stark contrast to the 2008 presidential campaign, when candidate Obama vowed to end the war in Iraq, this time neither candidate has mentioned actually ending the Afghanistan War. Instead, the two men vying to be the next commander in chief are studiously avoiding saying anything substantive about Afghanistan.
In particular, neither has spelled out what he envisions the American military and civilian responsibility in Afghanistan will be over the next five years to the 84,000 U.S. troops currently in Afghanistan or their families, or to the American or Afghan public.
As Obama put it to reporters Monday, "In the long term, we will see fewer U.S. casualties and coalition casualties by sticking to our transition plan and making sure that we've got the most effective Afghan security force possible. But we've got to do it in a way that doesn't leave our guys vulnerable."
Presumptive Republican candidate Romney echoed that vagueness in carefully crafted remarks this week in New Hampshire, promising to do "everything in my power to ... bring our men and women home and do so in a way consistent with our mission, which is to keep Afghanistan from being overrun by a new entity which would allow Afghanistan to be a launching point for terror again like it was on 9/11."
In the fine print of their policy papers, both men have vowed "never" to allow Afghanistan to become a safe haven for terrorists.
According to current plans, by the end of next month about 33,000 U.S. troops will have been withdrawn from Afghanistan this year, leaving about 66,000 in the fight. White House and Pentagon officials say the next move will be up to Gen. John Allen, the top U.S. and NATO commander in Afghanistan. He's due to make a recommendation to the White House later this fall on whether further cuts can be made.
Private assessments from senior U.S. field commanders and strategists suggest Allen is not likely to recommend deep cuts in the U.S. fighting force.
Indeed, after 11 years of war, the Taliban insurgents are not defeated. U.S. military officers say the Taliban cannot seize large chunks of territory, but they can and do mount bold attacks, such as Tuesday's rocket barrage on the heavily defended U.S. air base at Bagram, which damaged the official aircraft of Gen. Martin Dempsey, chairman of the Joint Chiefs of Staff. Dempsey was not hurt in the attack.
If they cannot seize and hold new territory, at least with the presence of 84,000 American military personnel on hand this summer, the Taliban can and are killing Afghan, U.S. and allied troops. American battle casualties are running at about 45 dead per month. Officials acknowledge they have made no progress in persuading Pakistan to eliminate safe havens within its borders that are enjoyed by insurgents such as the Haqqani network. The network is mounting vicious attacks against U.S. and Afghan forces in eastern Afghanistan.
And while the Obama administration had hoped that it could pressure the Taliban to begin political negotiations, that hope is now gone. Senior U.S. officials say there is no current prospect of negotiations to end the war.
"We can't make the Taliban come to the table," a senior Pentagon official glumly acknowledged last week.
Rather than being defeated, "the Taliban are getting stronger and there is more evidence of al Qaeda'' in Afghanistan, Richard Williamson, Romney's top foreign policy adviser, told The Huffington Post. "They are convinced they are going to win."
The Obama administration's plan is to transition combat responsibility to Afghan forces by the end of 2014, but even that goal is in doubt. Asked if Afghan forces can actually take over, the senior Pentagon official told reporters, "Too soon to tell. My sense is they're doing pretty well." The official, who insisted on anonymity in order to speak candidly, added: "The events of the past few years show the danger of making predictions."
Independent analysts believe more fighting could erupt as the Taliban seek to take advantage of the political turbulence certain to surround the next Afghan presidential elections, also scheduled for 2014.
Veteran U.S. diplomatic troubleshooter James Dobbins, who helped engineer the first postwar Afghan government in 2002, called this upcoming political transition a "dangerous and fragile" period for Afghanistan and the U.S.
"The Afghan army isn't going to run away in 2014, but the Afghan government might collapse as a result of inconclusive electoral process dividing the government into hostile feuding camps. Or [a divided vote] could so weaken the government that it would be very hard to hold the center even if the troops in the field remained stalwart," Dobbins told The Huffington Post.
To enable a robust U.S. military presence in Afghanistan, the U.S.-Afghan strategic agreement gives the United States "access to and use of" military bases in Afghanistan and commits the U.S. to "seek funding" each year to support the training, advising and support of Afghan security forces. Negotiations on a permanent agreement stationing U.S. forces in Afghanistan are supposed to begin by next May.
"It's certainly the case that while the administration hasn't emphasized it, they have laid the groundwork for a continuing, much reduced but substantial presence [in Afghanistan]," Dobbins said. "I haven't seen anything from the Romney camp that would deviate from that. It wouldn't appear to be an area where there are any differences."
Under a Romney presidency, given the candidate's vows to add "at least" 100,000 active-duty troops to the military, the U.S. might take an even harder line. Williamson, Romney's foreign policy adviser, said there is no need for additional U.S. troops in Afghanistan. "But to have a sustainable Afghanistan that crowds out the radical elements, a tremendous amount of work has to be done," Williamson said. In contrast, he said, "It would appear that President Obama just wants to put this behind him."
One of Romney's top advisers on Afghanistan, Ashley J. Tellis, recently laid out the case for "hardening" the Afghan state with more aggressive economic, political and military action. In a paper published last winter, Tellis, a senior associate at the Carnegie Endowment for International Peace in Washington, wrote that the U.S. must have "sufficient basing rights to deploy the appropriate mix of air and ground force necessary to conduct counterterrorism operations and support the ANSF (Afghan National Security Forces) as appropriate, well into the future."
Tellis did not respond to requests for comment. The Romney campaign's other senior adviser on Afghanistan, former CIA and Pentagon official James Shinn, declined comment.
The reluctance of the two presidential campaigns to spell out their war plans suggests that the electoral winner could find himself taking office next January without having built the public support for a prolonged new phase in the Afghanistan War. A clear majority of Americans now opposes U.S. participation in the war.
Not to worry, says Michael O'Hanlon, senior foreign policy fellow at the Brookings Institution, a Washington, D.C. think tank.
"While everyone is sick of this war, and most people have lowered their standards greatly compared with what we first hoped, there is little clamoring to accelerate the drawdown schedule or to leave completely after 2014," O'Hanlon said.
A newly elected president is going to have to make the case to stay in Afghanistan, he said, "but that's probably better done after the election," when the political pressures associated with the campaign have lessened.
Before You Go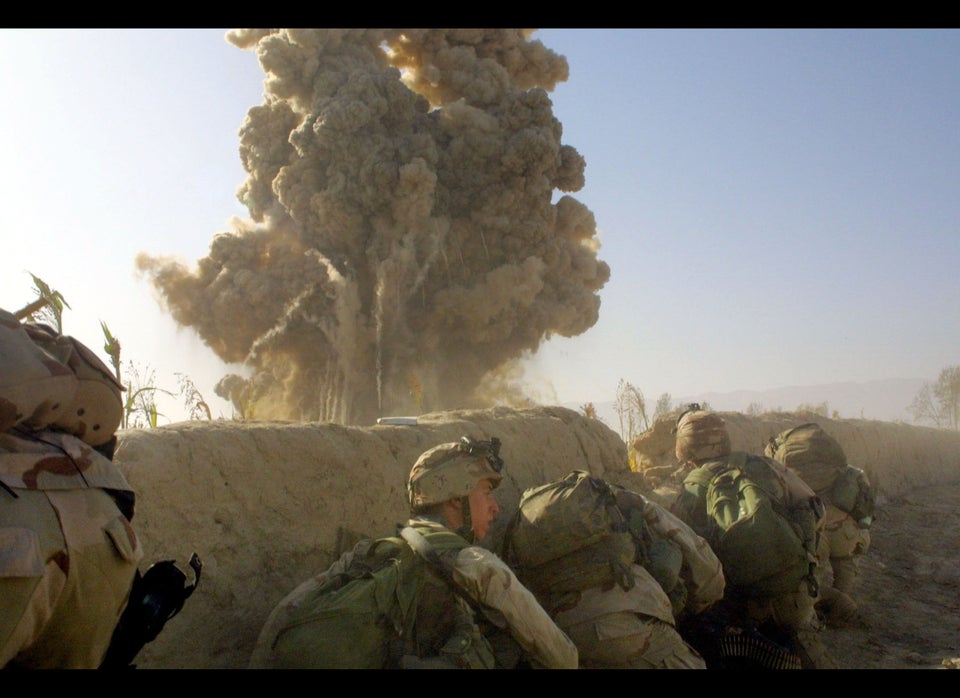 Afghanistan War, By The Numbers
Popular in the Community