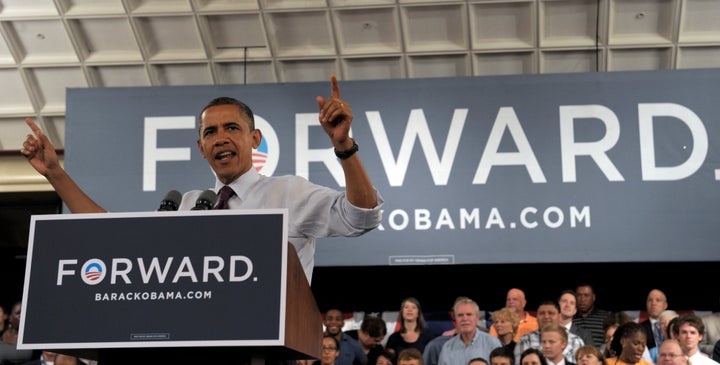 WASHINGTON -- The Romney campaign's web video Monday morning was the latest signal that the Republican party's presumptive nominee for president recognizes a needs to better communicate to working-class Americans that he would look out for their interests if he wins the White House.
"Lots of love for the donor class. What about the middle class?" the Romney video asked, alleging that the president has rewarded big-dollar donors with federal contracts, loan guarantees, subsidies and other such business advantages.
But Romney is clearly playing catch-up when it comes to honing a message aimed at the middle class. That's clear simply by comparing how often he and Obama have used the phrase "middle class" in their respective speeches.
The phrase has been a constant in Obama's speeches over the past several months, but has been popping up with increasing frequency in the last month. Romney has caught on over the past month, as well, using the phrase multiple times in speeches, though with nowhere near the frequency of the president.
Saying something, or using a phrase, does not equal action. But in politics, rhetoric signals values, and repetition can subtly help a candidate win over a voter.
Obama's June 14 speech in Cleveland marked the point at which the president went into overdrive in his effort to make clear his priorities for working-class voters, who are a key part of the electorate in the important swing state of Ohio and elsewhere.
The initial coverage of Obama's 53-minute stem-winder at Cuyahoga Community College focused on the speech's length. But according to the transcript of his remarks, Obama used the phrase "middle class" 23 times that day, nearly once every two minutes.
"I believe you can't have a strong and growing economy without a strong and growing middle class," Obama said to applause. "This has to be our North Star, an economy that's built not from the top down, but from a growing middle class, that provides ladders of opportunity for folks who aren't yet in the middle class."
Prior to that speech, Obama had been using the phrase "middle class" sparingly. He mentioned it only once during a 30-minute speech in Baltimore on June 12, did not use the phrase at all during his "private sector is doing fine" press conference on June 8, and again did not use the phrase once during a 38-minute appearance with former President Bill Clinton in New York on June 5.
"Middle class" was showing up an average of one to three times in Obama's average half-hour stump speech for all of May. Even in Obama's campaign kickoff events in Columbus, Ohio, and Richmond, Va., on May 5, he used the phrase four times in his 50-minute speech.
The president did use it more often in April: Nine times in an hour-long speech to the Associated Press on April 3, and seven times in a 34-minute April 10 speech on the economy in Boca Raton.
His highest incidence ever may have come when Obama said "middle class" nine times in 11 minutes while speaking about the "Buffet Rule" -- a move to raise taxes on wealthy individuals who make most of their income from investments -- at the White House on April 11.
But then, through a series of fundraisers in May and early June in California, Florida, New York and Chicago, the phrase disappeared for the most part. It then came roaring back on June 14 in Cleveland.
Since then, Obama has used the phrase at least five times in every campaign speech. In 11 speeches over the last two weeks, beginning with his July 5-6 swing through Ohio and Pennsylvania, he has used the phrase 116 times, an average of 10.5 times per appearance. He's also started talking about the economy growing from "the middle out," another way of saying "bottom up" that again hammers home the "middle" rhetoric.
Obama campaign spokesman Ben LaBolt declined to comment on the fluctuation in the president's rate of usage, but said the reelection campaign has "always thought that the essential question voters were asking during this election was, 'Who's got the best vision to restore economic security for the middle class, which had begun to slip away even before the economic crisis?'"
The middle class "will be a focal point every day in the weeks and months ahead," LaBolt said in an email to The Huffington Post.
For Romney, the focus on the middle class in his speeches has been more recent, according to a review of the prepared remarks sent out by his campaign ahead of his more formal speeches.
The day after Obama's June 14 speech in Cleveland, Romney used the phrase four times when he spoke in Stratham, N.H., to kick off a five-day bus tour. Prior to that, the former Massachusetts governor had mentioned the "middle class" a total of three times in seven speeches between April 4 and June 7.
"He should either fire his speech writer, or he honestly doesn't care about working class families in this country," said Jim Manley, a former adviser to Senate Majority Leader Harry Reid (D-NV).
Since his Stratham speech, Romney said "middle class" three times in his speech to the National Association of Latino Elected and Appointed Officials on June 21, and mentioned it six times in his speech to the NAACP in Houston last week.
In his speech to NALEO, Romney said that "the middle class has been crushed under President Obama."
"More Americans are living in poverty today than at any point in history. Over two million more Hispanics are living in poverty today than the day President Obama took office," Romney said, according to his prepared remarks. "Home values have plunged, our national debt is at record levels and families are buried under higher prices for food and gasoline."
Romney also said "middle class" twice in the first five sentences of his remarks on Friday, July 6, the morning of the latest jobs report.
On Monday morning, the Romney campaign's message of the day out of their Boston headquarters was captured in their video titled "Political Payoffs and Middle Class Layoffs."
Romney adviser Ed Gillespie mentioned the phrase a few times in a 15-minute conference call with reporters. And Romney, on his Twitter feed, flagged the video and wrote: "What about the middle class? VIDEO: The Obama record: political payoffs and middle class layoffs."
But Romney has a lot of work to do. On a recent trip to Ohio, working-class voters of different political persuasions consistently hit upon a common theme in interviews: Obama, they said, cares about the middle class.
They weren't so sure about Romney.
"I don't know how good he is for the middle class," said Kurt Trill, a 44-year old maintenance technician, who planted a McCain/Palin sign in his front yard so that Obama could see it when his motorcade drove by en route to a campaign event.
Trill was obviously not a supporter of the president's, but said he considered Romney the "lesser of the evils" in the presidential election.
Polling has shown Obama with a clear advantage over Romney among lower-income voters, while Romney does better with those with a higher annual income. The middle class, then, is the swing portion of the electorate.
Romney spokeswoman Andrea Saul told HuffPost that the Republican candidate "has been focused on his plans for the middle class since the start of his campaign."
"It could be that President Obama's continued economic failures in regards to the middle class bring it to the forefront even more," she said.
Before You Go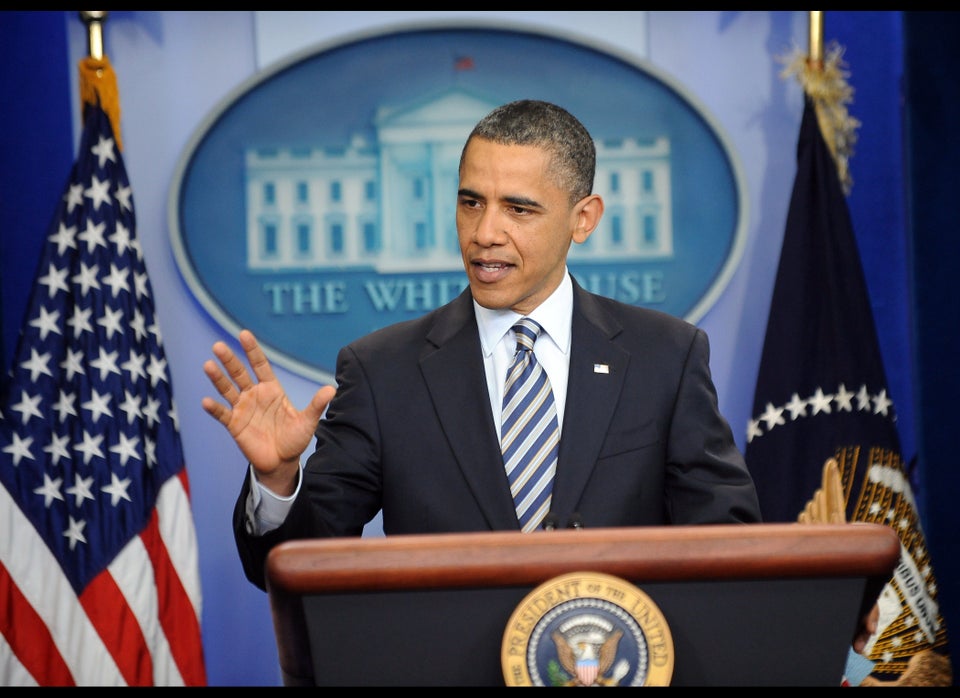 Barack Obama's Greatest Hits
Popular in the Community