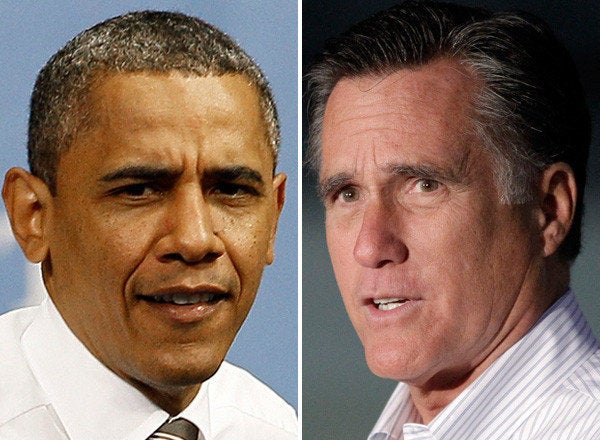 WASHINGTON -- Is the early wave of attack advertising driving up the negatives for the presidential candidates? The unfavorable ratings for both President Barack Obama and presumptive Republican nominee Mitt Romney are high, but on closer inspection, the trend has been less dramatic than some reports might have you believe.
Campaign strategists often watch the individual candidates' favorability ratings for evidence of the impact of campaign advertising, on the theory that such ratings may better reflect changes in voter attitudes than the less responsive vote choice.
Both presidential campaigns have been spending millions of dollars airing negative advertising in recent weeks. The bulk of it has been aimed at voters in eight battleground states (Colorado, Florida, Iowa, Nevada, New Hampshire, North Carolina, Ohio and Virginia), but some of the ads have been airing nationally, and the attacks and counterattacks have been covered by the national media.
Has this advertising had an impact? If we compile all the individual ratings across all the national polls into HuffPost Pollster trend charts, the recent changes appear to be glacial at best.
For Romney, the chart shows a significant increase in his unfavorable rating during the Republican primary campaign, but since April that rating has remained mostly unchanged. His favorable rating did jump significantly in March and April as he became the presumptive nominee of the Republican Party. Analyses by individual pollsters concluded that most of that gain came from Republicans.
For Obama, the trend lines have moved even less, with his positive and negative ratings remaining mostly flat throughout 2012. The HuffPost Pollster chart does indicate a roughly one-point drop in Obama's favorable rating and a roughly one-point increase in his unfavorable rating over the past month.
Both candidates now have negative ratings that average in the mid 40s. The key difference is that Obama's positive ratings are significantly higher than Romney's.
Some individual polls have found what appear to be more dramatic changes. The July CBS/New York Times poll, for example, showed Obama's favorable rating dropping from 42 to 36 percent. As Nate Cohn of The New Republic demonstrated, however, that poll's question typically obtains lower favorability ratings for public figures (because the format makes it easier for respondents to say they have no opinion). Cohn also showed that the apparent drop had not been "matched by other firms -- at least not yet."
Similarly, as reported by NBC News and the Wall Street Journal this week, their latest national poll found evidence that the negative ads run by both campaigns and their allies in recent weeks had "taken a toll." Pluralities of Americans said their impression of each candidate had worsened in recent weeks. Nearly half said they had become less favorably inclined toward Obama (44 percent) and Romney (43 percent), while far fewer said their impressions had improved of Obama (27 percent) or Romney (28 percent).
Consistent with that result, NBC also reported that the "very negative" ratings for both candidates have increased to "all-time highs" in the most recent poll, including 32 percent who now view the president very negatively.
But a more complete examination of the NBC/Wall Street Journal results shows that while the negative ratings of both candidates have increased slightly in July, the degree of change is modest.
Respondents were asked whether their impressions of the candidates were very positive, somewhat positive, neutral, somewhat negative or very negative. (The chart below plots trend lines for the very positive and very negative responses, as well as for the combined responses of very and somewhat positive and of very and somewhat negative.)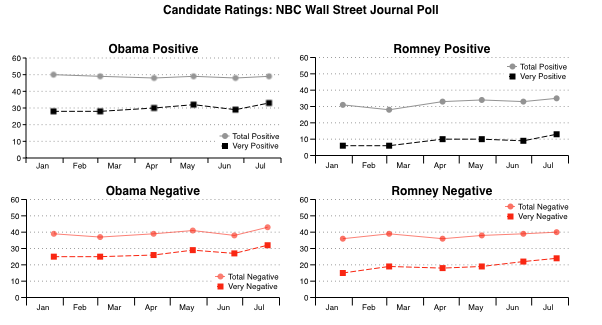 The very negative ratings for both men have risen -- to 32 percent for Obama and 24 percent for Romney in July -- but the changes have played out gradually over the last four months and do not appear to represent sudden jumps.
It is also worth noting that the candidate ratings from the previous NBC/Wall Street Journal polls represented the views of all adults, while the July numbers were calculated among self-reported registered voters only (typically about 80 percent of all adults). Since nonregistered adults typically skew Democratic, their exclusion for the first time in July may explain in part the apparent upward trend in Obama's very negative rating.
Still, increases in unfavorable ratings are to be expected after an exchange of negative advertising, as partisans on both sides typically grow more unhappy with the person attacking their preferred candidate.
Both candidates now have total negative scores of roughly 40 percent on the NBC/Wall Street Journal poll. "There is no precedent for that in the modern era," according to Republican pollster Bill McInturff, who conducts the poll along with Democratic pollster Peter Hart.
In the end, the bigger issue may be the big and thus far persistent difference in the candidates' positive ratings. On the NBC/Wall Street Journal poll, for example, Obama's positive rating hovers consistently at or just below 50 percent, while Romney's is mired in the mid 30s.
That means the Republican has plenty of room to drive up his positives -- and Obama's strategists would be quite satisfied if the real effect of all those negative ads was to keep Romney's positives down.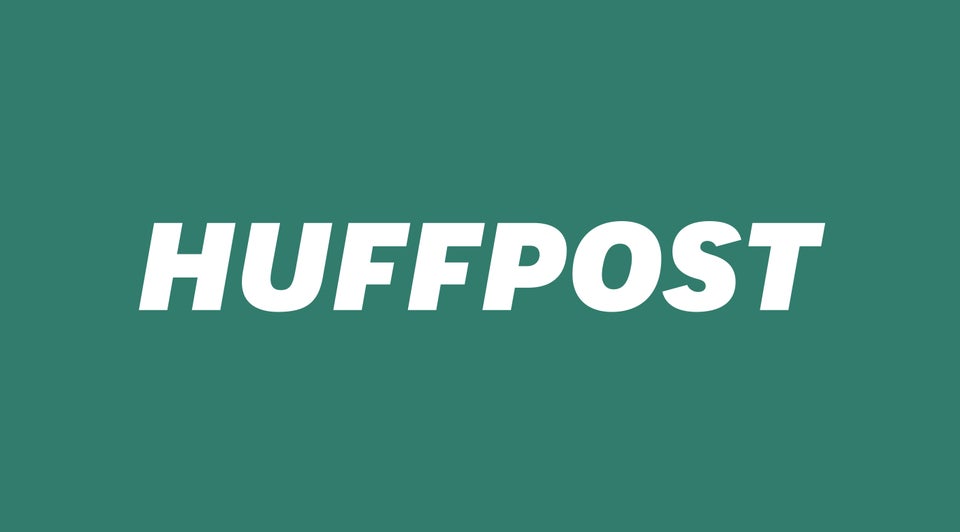 Romney Campaign Ads
Popular in the Community