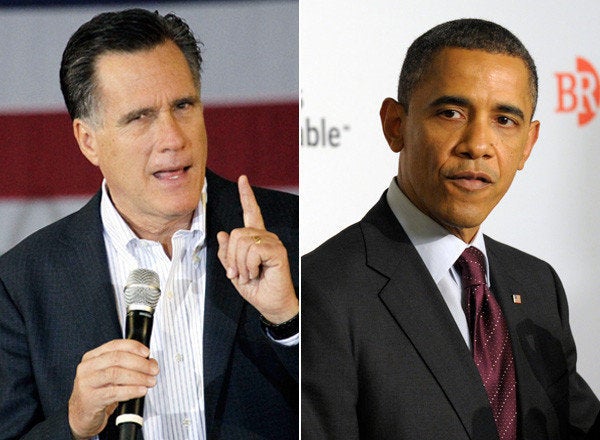 But a new national poll from CNN gives President Obama a nine percentage point lead. The contrast between the two and with other recent surveys highlights something even more important: With just under six months remaining before Election Day, voter preferences are soft and polls are apt to produce divergent results.
The release of Gallup's first wave of daily tracking results shows 47 percent of registered voters support Romney and 45 percent favor Obama. Gallup characterizes the two-point spread as a "statistical tie"; Romney's slight edge is not big enough to be considered statistically significant, even with 2,265 interviews of registered voters conducted from April 11 to 15.
The Gallup results are similar to those from two recent telephone surveys. An automated, recorded-voice Rasmussen Reports tracking poll, conducted April 13 to 15, shows Romney with a three-point edge over Obama (47 to 44 percent), and a Fox News phone survey, conducted from April 9 to 11, gives Romney a two-point advantage (46 to 44 percent).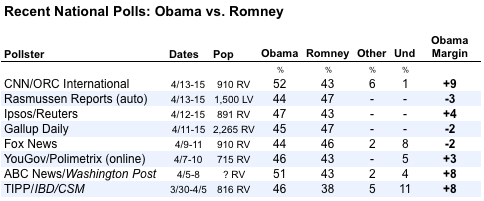 But the CNN/ORC International poll of 910 registered voters conducted April 13 to 15 tells a different story. It finds Obama leading by nine points (52 to 43 percent), a margin nearly identical to the eight-point Obama lead (51 to 43 percent) found in last week's ABC News/Washington Post poll.
A Ipsos/Reuters telephone poll, also released on Monday and conducted April 12 to 15, gives Obama a four-point advantage (47 to 43 percent).
The HuffPost Pollster chart, based on all the national public polls, shows the president (45.4 percent) nearly tied with Romney (45.2 percent).
Since seven of the last 15 surveys plotted on the chart were conducted by Rasmussen Reports, and since Rasmussen's polls have shown a modest but consistent "house effect" in Romney's favor compared to those of the other organizations, the current trend lines produce a result slightly more favorable to Romney than a simple polling average would. Use the chart's filter tool to remove Rasmussen from the average, and Obama's advantage grows slightly to just over two points (46.1 to 43.8 percent).
Gallup's and Rasmussen's tracking polls will both interview continuously between now and the November election. Gallup's survey uses lives interviewers to call random samples of both landline and mobile telephone numbers, essentially the same methodology now used by CNN/ORC, ABC/Post, Fox News and most of the other national telephone survey organizations. Rasmussen uses an automated, recorded-voice methodology that is blocked by federal regulations from calling the nearly one-third of U.S. adults who have only cellphone service.
With or without Rasmussen included, the trend lines show a slight decline in Obama's standing and a slight increase in Romney's in the week since Rick Santorum exited the primary race and the former Massachusetts governor became the presumptive Republican nominee.
While political junkies will obsess about every twitch in the daily tracking numbers, some caution is in order. The national horse-race polls have greater predictive value now that the Republican nomination is essentially settled, but their historical record is still spotty this far out.
Political scientists Chris Wlezien and Bob Erikson have examined that history for their forthcoming book on election forecasting, "The Timeline of Presidential Election Campaigns." A chart from the book (reproduced below with permission) shows that the predictive power of head-to-head polls increases gradually over the last 300 days of the campaign. (Simply put, the closer the adjusted R squared is to 1, the more perfectly the poll predicted the election.) In late October, polls will be highly predictive of the outcome, but now, with more than 200 days remaining until the election, the predictive accuracy of polling is less than 50/50.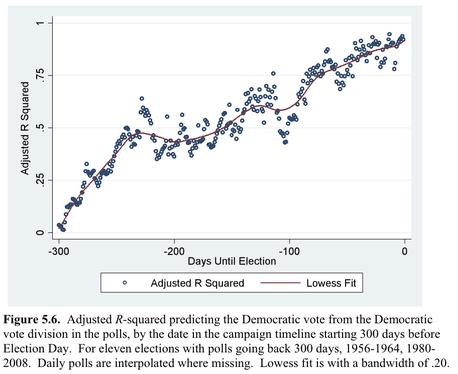 Moreover, the variation in current polls resists easy explanation. The random noise inherent in all surveys accounts for much of it, but some variation also results from differences in pollster methods. While many will search for a singularly "accurate" poll, the dissimilarity is telling us something important. The preferences among registered voters -- about which candidates to support and whether to turn out to vote -- are still unsettled.
"No one poll, indeed no two polls, enjoy a monopoly on truth," Democratic pollster Mark Mellman wrote in early April. Though he was discussing presidential job approval, his conclusion applies here: "When different polls lead to different conclusions, caution is well-warranted."
Popular in the Community