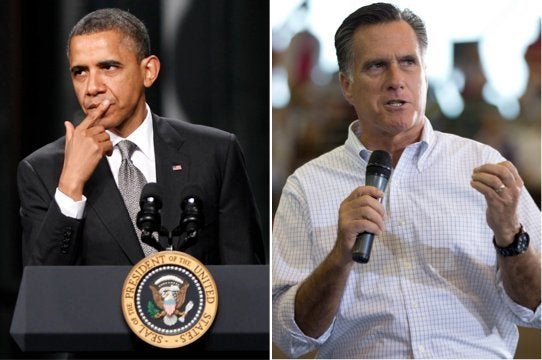 A vague plague on both their houses.
That's one message from a new comparison of the innovation and technology policies backed by U.S. presidential candidates Barack Obama and Mitt Romney. The 33-page report, released today by the Information Technology and Innovation Foundation (ITIF), concludes that neither candidate is crystal clear about how he would deal with a host of R&D issues, ranging from federal support for science to regulating the Internet.
Information on how each candidate would approach R&D is "a little thinner this year than it was in 2008 on both sides," ITIF President Robert Atkinson said in a conference call with reporters this afternoon. And "innovation and competitiveness policy really hasn't been a serious part of the election conversation to date."
Still, the ITIF analysis has teased out some general themes about each candidate's views on the federal government's role in R&D. Both men talk up the importance of federal investments in basic research, but diverge on how government should approach more applied activities. "We see Obama as being more willing to have government be an active partner with industry" in helping fund early-stage technology, for instance, while "Romney would take a lighter touch role for government and have the private sector take the lead" in many areas, Atkinson says.
In general, Romney tends to stress tax and regulatory reform, the analysis notes, while Obama emphasizes the need to improve the nation's digital infrastructure and worker skills. And on spending, the Obama Administration believes that agencies funding basic research should be exempt from spending rollbacks, while the Romney camp hasn't said whether those agencies would be shielded from the across-the-board budget cuts that it has proposed.
The Washington, D.C.-based ITIF doesn't take a position on which candidate would do a better job of sparking innovation. "We're a nonpartisan think-tank," says Atkinson, noting that it issued a similar comparison in the 2008 elections. But "ideally, you'd want a merged candidate" that embraced positions held by each party. "[N]either candidate nor political party gets it entirely right," the report concludes. "[I]f the United States is to maximize its innovation and competitiveness potential, it's going to have to adopt the best ideas from both parties."
The analysis looks at 10 issues, including tax and trade policy, biotechnology, and energy research. It is "encouraging" that both Obama and Romney "acknowledge the central role that science, technology, and innovation play in driving economic growth," it says. But both contenders come in for criticism.
"It's disappointing that the vast majority of the literature that the 2012 Obama-Biden campaign has made available on its science, technology, and innovation policies points to the Administration's past achievements and less so to the policies it would like to enact over a second term," it says. "In general, more specificity is needed regarding the Obama Administration's science, technology, and innovation goals should it win a second term." The report does give the Administration credit, however, for coming up with a detailed plan for reinvigorating high-tech manufacturing.
The Romney campaign is taken to task for issuing plans that "only addresses energy innovation and not the broader role of federal R&D investment in stimulating innovation in other areas, including life sciences, nanotechnology, or advanced manufacturing." And it notes that Romney's budget plan suggests that it is "likely" that civilian R&D agencies would see their budgets drop by 5% from current levels. How a Romney Administration would actually distribute those cuts if approved by Congress is "an open question," Atkinson says, "but the fact they don't call out science" for protection implies that the pain would be spread equally.
ScienceNOW, the daily online news service of the journal Science
Click through the slideshow below to see the ScienceDebate.org's top 14 science questions for the candidates, along with some science questions submitted by the HuffPost community.

What science questions do you want to see the candidates answer? Tweet us @HuffPostScience, using the hashtag #presquiz.
Calling all HuffPost superfans!
Sign up for membership to become a founding member and help shape HuffPost's next chapter