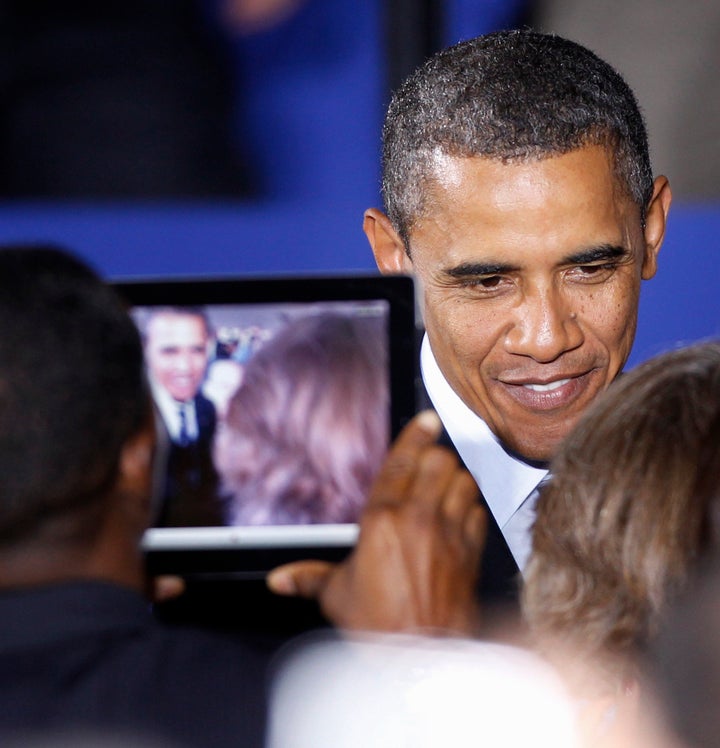 Social media sites Facebook, Twitter and Pinterest are critical for reaching women for the campaigns of both President Barack Obama and challenger Mitt Romney, according to a social media monitoring firm.
The candidates' online mentions of women were tracked by the website Meltwater Election Buzz, which found 38,000 tweets using the hashtag #waronwomen in April alone.
Kimling Lam, an analyst for Meltwater Group, has been tracking the campaigns online since November. She said women's issues rose to the forefront as Mitt Romney cleared the Republican field and began focusing on the general election.
"We've really seen the change once Santorum dropped out of the race. We're seeing the candidates really vying for the female vote," Lam told The Huffington Post.
Nearly 9 percent of Obama's Twitter feed and 8 percent of Romney's mentioned women's issues over the last month. On April 6, Obama's campaign sent eight consecutive tweets from his speech at the White House Forum on Women and the Economy, including a quote, "'Is it possible that Congress would get more done if there were more women in Congress? That is almost guaranteed.' —President Obama"
While Obama's tweets were largely positive statements, Romney's tweets criticized the president's record. "How about the facts: Women account for 92.3% of jobs lost under @BarackObama," he tweeted in April, linking to an infographic.
The candidates' wives are playing a role as well. Ann Romney's Twitter debut came shortly after Democratic adviser Hilary Rosen said Ann Romney "had never worked a day in her life," causing a flap that largely played out online. Michelle Obama, whose tweets often address women's issues, responded, "Every mother works hard, and every woman deserves to be respected."
The Obama campaign on Thursday morning released "The Life of Julia," an online tool highlighting his record on women's issues. By early afternoon, it had been tweeted more than 2,000 times.