In the first presidential debate Wednesday night, President Obama and Republican presidential contender Mitt Romney immediately dove into an often neglected topic on the campaign trail: education.
The issue came up early and often, starting when both candidates mentioned education in their opening statements. Obama called for increased investment in public schools; Romney said the U.S. needs to have "the best schools in the world."
Obama repeatedly hammered on the idea that he has supported education spending, while charging that Romney would reduce resources for schools in a quest to reduce the deficit. To emphasize his point, Obama told the story of a Las Vegas teacher who had 42 students in her classroom for the first two weeks of school and 10-year-old textbooks to teach them with.
"That is not a recipe for growth," Obama said. "Budgets reflect choices. And if we're asking for no revenue, that means we've got to get rid of a whole bunch of stuff. And the magnitude of the tax cuts that you're talking about, Governor, would end up resulting in severe hardship for people, but more importantly would not help us grow."
Romney rejected Obama's claim that he would cut education spending by 20 percent if elected - a figure extrapolated from his running mate Paul Ryan's proposed budget - and decrease aid for college students. "I don't have any plan to cut education funding and grants that go to people going to college," Romney said. "I'm not planning on making changes there."
In the past, Romney has discussed making the U.S. Department of Education a "heck of a lot smaller," although he has not specified what programs would be eliminated. During the debate, Romney called for getting rid of inefficient federal programs in all areas.
"I will eliminate all programs by this test, if they don't pass it: Is the program so critical it's worth borrowing money from China to pay for it?" he said. One item on the chopping block would be federal subsidies to PBS, even though Romney said he loves Big Bird and likes the debate's moderator and PBS NewsHour host Jim Lehrer.
Obama countered that he has ended 18 educational programs that were "well-intentioned [but] weren't helping kids learn."
The impact of teacher layoffs also came up, as Obama suggested that Romney would preside over more reductions in the teaching force. Obama's stimulus package saved or created 250,000 teaching jobs, but there still have been hundreds of thousands of teachers laid off during his administration. Obama proposed an additional $30 billion to save nearly 400,000 teacher jobs in 2011, but the bill never passed. "Romney doesn't think we need more teachers. I do," Obama said. "That is an investment where the federal government can help. It can't do it all, but it can make a difference."
Romney disagreed with that characterization. "I love great schools," he said, noting that when he was governor of Massachusetts the state had the highest-ranked school system in the country. "And the key to great schools, great teachers. So I reject the idea that I don't believe in great teachers or more teachers. Every school district, every state should make that decision on their own."
One of the few ideas the candidates said they agreed on over the course of the night was Race to the Top, Obama's signature education program that prompted 46 states to adopt education reforms in a competition for federal funds. The Democrats largely ignored the initiative at the Democratic National Convention, but Obama mentioned it three times during the debate.
Romney said he agreed with "some" of the ideas in Race to the Top. But he took the opportunity to promote his own school choice platform, which would allow federal funds to follow special needs and low-income students to the school of their choice, whether public or private. There is no guarantee, however, that a school would have to accept them.
Obama tried to paint Romney as out of touch when it came to education, though, particularly higher education.
"Governor Romney, I genuinely believe cares about education," Obama said. "But when he tells a student that, you know, 'you should borrow money from your parents to go to college,' you know, that indicates the degree to which, you know, there may not be as much of a focus on the fact that folks like myself, folks like Michelle ... just don't have that option."
Related
Before You Go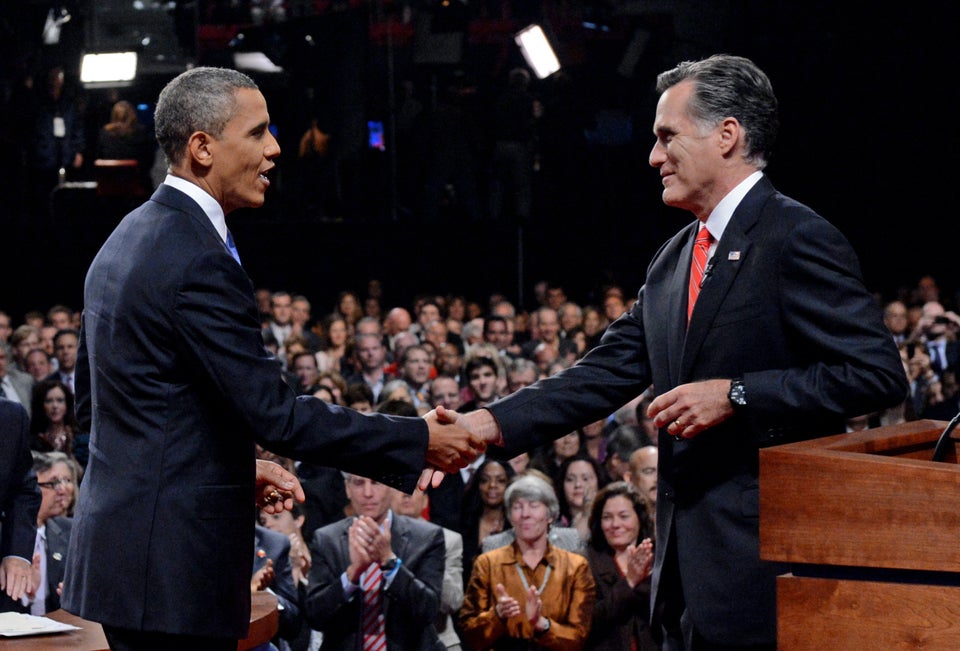 Obama v Romney
Popular in the Community