President Barack Obama said Friday that he spoke by telephone with Iranian President Hassan Rouhani, in what was the first communication between the leaders of the two countries since the Iranian Revolution in 1979.
The call came after U.S. officials said earlier this week that the two would not meet at the U.N. General Assembly. The officials said that a meeting would be too "complicated" for the Iranians given the country's internal politics.
"The two of us discussed our ongoing efforts to reach an agreement over Iran's nuclear program," said Obama. "I reiterated to President Rouhani what I said in New York: while there were surely be important obstacles to moving forward and success is by no means guaranteed, I believe we can reach a comprehensive solution."
"Resolving this issue could serve as a major step forward in a new relationship between the United States and the Islamic Republic of Iran, one based on mutual interest and mutual respect," he said.
will greatly affect region. If we can make progress on #nuclear file, other issues such as #Syria will certainly be positively affected 2/3

— Hassan Rouhani (@HassanRouhani) September 27, 2013
I wish you a safe and pleasant journey and apologize if you're experiencing the [horrendous] traffic in #NYC 3/3

— Hassan Rouhani (@HassanRouhani) September 27, 2013
A senior Obama administration official told reporters later Friday that the call was initiated by Rouhani's team, and that the Iranian president had expressed a desire to speak with Obama before he boarded a flight home to Tehran Friday afternoon.
The request came as a surprise, the White House said, especially after Iran had declined the U.S.' invitation to meet at the General Assembly. Nonetheless, the invitation to connect directly with Obama had remained "open."
The fifteen minute call took place around 2:30PM, said the official, who spoke on background in order to discuss ongoing negotiations.
Rouhani speaks fluent English, but the two leaders spoke through an interpreter, as is common practice for high-level diplomatic calls.
The White House released the below photo of Obama on the phone with Rouhani: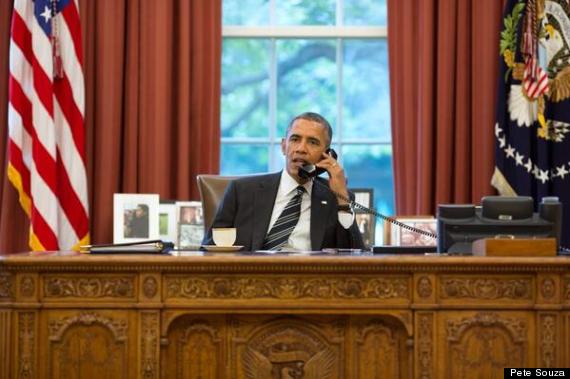 The official said that leaders in Congress were notified that the call would take place ahead of time, as was the government of Israel, a longtime U.S. ally that has hostile relations with Iran.
Obama opened the call by congratulating Rouhani on his election victory earlier this year. Both leaders went on to express their determination to resolve the issue of Iran's nuclear program peacefully and expeditiously, said the official. Overall, "the call was quite cordial in tone."
But some contentious issues were raised, including the whereabouts of three American citizens: Amir Hekmati and Saeed Abedini, both of whom are currently in Iranian custody, and Robert Levinson, who went missing in Iran in 2007. Obama urged Rouhani and the Iranian government to help the Americans get home to their families.
Going forward, the official said, it's unlikely that Obama and Rouhani will maintain regular phone contact, because the substance of any nuclear negotiations must occur within the international framework known as the P5+1. "There's a lot of technical discussion that needs to take place."
Both Rouhani and Obama have delegated future nuclear talks to their foreign ministers: Iranian Foreign Minister Javad Zarif and U.S. Secretary of State John Kerry.
UPDATE: 8:30 p.m. -- The six tweets describing Rouhani's call with Obama appeared to have been deleted from his Twitter account Friday evening. A spokesman for Iran's mission to the United Nations didn't immediately respond to an email inquiry from the Huffington Post about the deletions.
Earlier in the day, U.S. officials praised Rouhani's use of Twitter, and said they hoped his use of the social media site would help prompt Iran to end strict Twitter censorship inside the country. "We've noticed Rouhani's Twitter feed, and it's a welcome development," said one official.
"We'll be making use of our Twitter account as well. We'd like to see Iranians have access to Facebook and Twitter, and we believe [social media] is a positive means for expression and communication." The official said the Obama administration would continue to monitor Rouhani's Twitter feed.
Calling all HuffPost superfans!
Sign up for membership to become a founding member and help shape HuffPost's next chapter
BEFORE YOU GO
PHOTO GALLERY
Obama's Handshakes Around The World