President Barack Obama spoke out on a shooting that left at least 14 people dead and 17 people injured in San Bernardino, California, saying, "It is possible that this was terrorist-related, but we don't know."
"We don't know at this point the extent of [the suspects'] plans. We do not know their motivations," Obama said in a statement given from the Oval Office on Thursday.
Obama said he's spoken with San Bernardino Mayor Carey Davis about the incident and thanked law enforcement officers for their efforts. But the president also emphasized that every American has a part to play in reducing gun violence.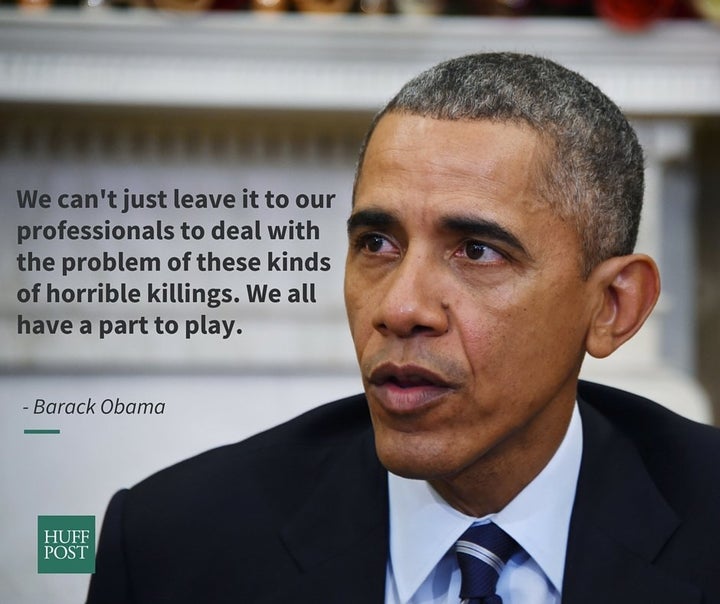 "So many Americans sometimes feel as if there's nothing we can do about it," Obama said. "We can't just leave it to our professionals [in law enforcement] to deal with the problem of horrible killings. We all have a part to play."
Police are still searching for a motive for the shooting, which took place during a holiday party at a social services center. The FBI, now in charge of the investigation, is exploring whether the shooting is a terrorist incident.
Read more on the San Bernardino shooting here.
Obama first spoke on the San Bernardino shooting as it was unfolding Wednesday, telling CBS News' Norah O'Donnell there are steps Americans can take to prevent the "pattern" of mass shootings in the U.S.
"We have a pattern now of mass shootings in this country that has no parallel anywhere else in the world, and there's some steps we could take, not to eliminate every one of these mass shootings, but to improve the odds that they don't happen as frequently, common-sense gun safety laws, stronger background checks," Obama said Wednesday.
Obama's no stranger to speaking on this kind of violence, having made comments after at least 15 mass shootings since he's been in the White House.
There have been more mass shootings in the United States this year than there have been days, with the San Bernardino shooting marking the 355th incident this year. Wednesday's shooting was the deadliest in the United States since the Sandy Hook shooting in 2012, when 20 children and six adults were murdered at an elementary school in Connecticut.
PHOTO GALLERY
San Bernardino Shooting Photos
Calling all HuffPost superfans!
Sign up for membership to become a founding member and help shape HuffPost's next chapter