 SAN FRANCISCO-- One of the funny things about being president is that a lot of very different groups can intensely hate you almost as much as they hate each other.
This dynamic was displayed in full force on Tuesday, when a crowd of about 50 protestors gathered in front of San Francisco's Merchants Exchange Building, where President Barack Obama hosted a sold out fundraising lunch with California Governor Jerry Brown that started at $5,000 per plate.
A mixture of Tea Partiers and anti-war activists carried signs supporting Mitt Romney, decrying military drone strikes, calling Michelle Obama "America's #1 Welfare Mom" and bemoaning "The Audacity of War Crimes." Scores of SFPD officers blocked off the area surrounding the intersection of Montgomery and California streets.
While the two groups remained united in their opposition to Obama, the tension between them was palpable. An older, white Tea Partier interrupted a megaphone-wielding anti-war protestor as she chided the president for supporting the war in Iraq.
"Why do you lock your house when you leave?" the Tea Partier asked. "So people don't steal your stuff. We preemptively invaded Iraq so they wouldn't steal our stuff."
The woman considered his statement for a moment before yelling in return, "preemptive wars are illegal," and "pay no attention to the Republican lunatics behind me."
The protestors in front of the Merchant Exchange Building weren't the only San Franciscans ticked off at the president. In light of his visit, a coalition of city Supervisors voiced opposition to his administration's ongoing crackdown on medical marijuana.
Supervisor Christina Olague penned a letter, co-signed by Supervisors Scott Wiener and David Campos, asking Obama to push U.S. Attorney Melinda Haag to stop going after pot clubs:
We believe strongly in addressing medical cannabis as a public health issue, and we will strive to fully implement state law by protecting not only our patients, but our property owners and dispensary operators as well. We want to work with President Obama on a public health solution for medical cannabis at the federal level, once he wins a second term. In the meantime, the Department of Justice must respect our laws and honor the President's commitment on this issue. Honoring this commitment can start by taking no further action against the nine landlords of City-permitted facilities here in San Francisco.
While San Francisco isn't exactly in danger of turning red in November (and if it is, the president likely has bigger fish to fry), Obama has consistently returned to the Bay Area's seemingly limitless campaign cash-dispensing ATM. He last swung through two weeks ago for a pair of fundraisers in Silicon Valley.
San Francisco residents have donated $2.2 million dollars to Obama so far this cycle, with the city's Castro neighborhood proving the most generous.
And it isn't just Democrats who love milking the Golden State for all its worth. "I think when the final tallies are done on the presidential campaign, Mitt Romney will have raised more money from California than any other state," former California GOP Executive Director Jon Fleischman told the Sacramento Bee.
Following his SF stint, Obama heads down to Los Angeles for a gala hosted by Ellen DeGeneres, where he will undoubtedly reap the rewards for his recent vocal public support of gay marriage.
Check out this slideshow of photos from the protest: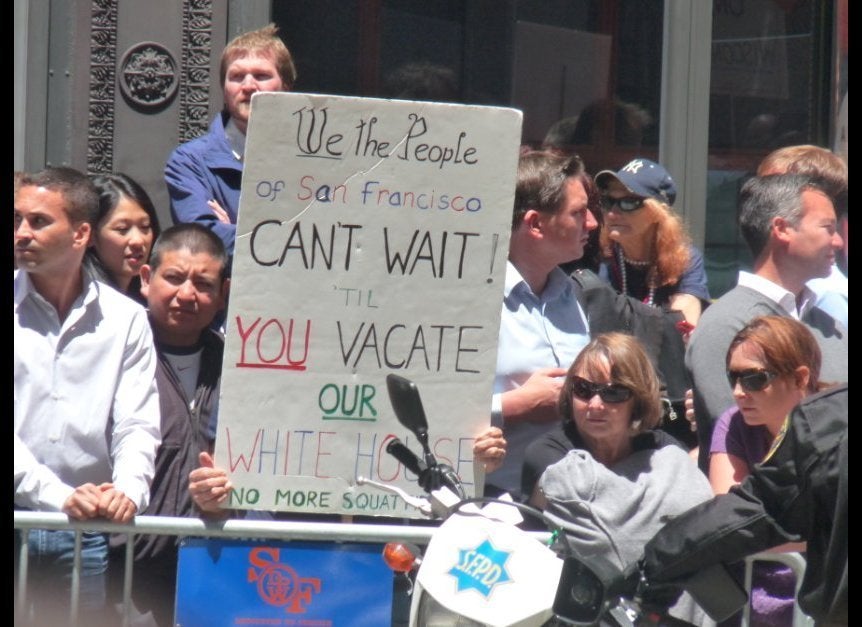 San Francisco Protests Obama
Related
Popular in the Community