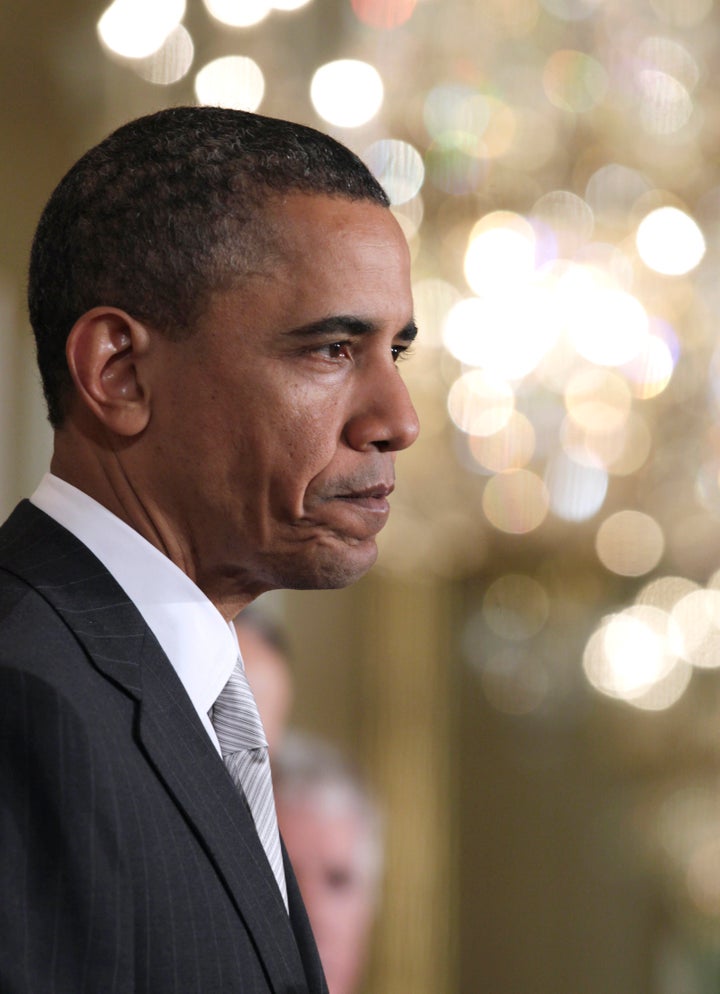 WASHINGTON (Reuters) - The United States on Friday slapped sanctions on Syria's intelligence agency and two relatives of President Bashar al-Assad in Washington's first concrete steps in response to a bloody crackdown on protests.
Assad, Syria's long-serving ruler, was not among those targeted under an order signed by President Barack Obama but could be named soon if violence by government forces against democracy protesters continues, a senior U.S. official said.
Mahir al-Assad, Bashar's brother, and Atif Najib, one of his cousins, were among the five targets of U.S. sanctions related to alleged human rights violations.
The action marks a more assertive approach by Washington, which has been criticized by human rights groups for not doing more to curb Assad's efforts to crush an uprising against his autocratic 11-year rule.
But another U.S. official said the White House is "not ready" to call on Assad to step down -- as it has done with Libyan leader Muammar Gaddafi -- because Obama and his aides "do not want to get out in front of the Syrian people."
The sanctions, which include asset freezes and bans on U.S. business dealings, build on U.S. measures against Syria in place since 2004.
There are questions, however, whether new sanctions against Assad's inner circle will have much tangible impact since they are thought to hold few U.S. assets. But U.S. officials said they hoped European and Asian governments would follow suit.
Washington is mindful of its limited ability to influence Damascus, which is closely allied with U.S. foe Iran.
The Obama administration is also worried about stoking instability on U.S. ally Israel's borders and wants to avoid another military entanglement in the Muslim world, where it is involved in wars in Iraq and Afghanistan.
In his executive order, Obama said the Syrian government had commited "human rights abuses, including those related to the repression of the people in Syria, manifested most recently by the use of violence and torture against, and arbitrary arrests and detentions of, peaceful protestors."
A U.S. official said the new sanctions were meant to show that no member of the Syrian leadership was "immune" from being held accountable. "Bashar is very much on our radar and if this continues could be soon to follow," the official said.
Mahir al-Assad is a brigade commander in the Syrian Army's 4th Armored Division that has played a key role in Deraa, where protesters have been killed by security forces.
Najib is described as a former head of the Political Security Directorate for Deraa.
The new sanctions also target the General Intelligence Directorate and its director, Ali Mamluk. The spy agency is accused by U.S. officials of repressing dissent and of involvement in the killing of protesters in Deraa.
The fifth target is Iran's Islamic Revolutionary Guard Corps - Quds Force, which is already under U.S. sanctions for supporting militant groups around the world.
The Quds Force is a branch of the Iranian government's principal security agency which operates outside Iran and has in the past been accused by U.S. officials of interfering extensively in political and insurgent activities in Iraq.
A source familiar with the new sanctions said the Quds Force is accused by the Obama administration of being the conduit for support Iran has provided to Syrian authorities in their crackdown on protesters.
The officials said the Obama administration was also revoking several licenses the U.S. government had granted for the export of equipment or other goods to Syria.
One of the licenses to be revoked, the officials said, would have allowed the Syrians to obtain a luxury aircraft believed to be sought for Assad's personal use.
The new measures supplement sanctions imposed on Syria by Congress and the administration of President George W. Bush.
The most sweeping earlier sanctions, in the Syrian Accountability Act of 2004, prohibit the export of most goods containing more than 10 percent U.S.-made parts to Syria.
In 2006, the Treasury imposed sanctions on the Commercial Bank of Syria, alleging it engaged in money laundering. Before Friday's actions, 20 individuals in Syria also had been designated by the U.S. government for sanctions. (Additional reporting by Tabassum Zakaria; Editing by John O'Callaghan and Eric Beech)
REAL LIFE. REAL NEWS. REAL VOICES.
Help us tell more of the stories that matter from voices that too often remain unheard.