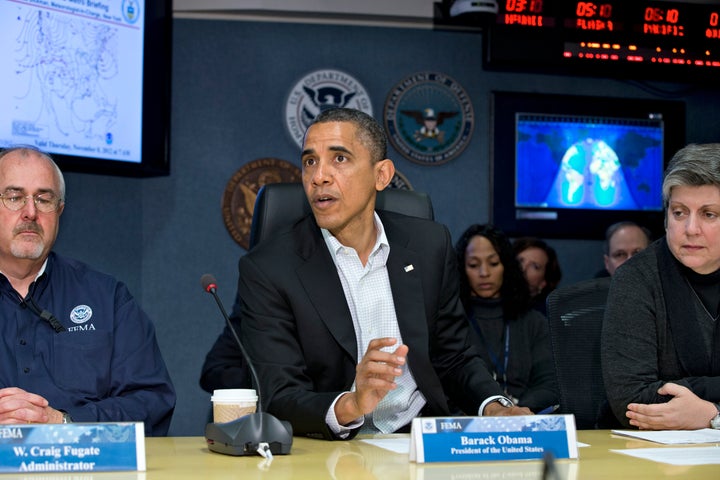 With President Barack Obama's reelection victory unfolding against the backdrop of an East Coast brought to its knees by last week's historically violent storm -- an event that in many minds is linked, directly or indirectly, to a rapidly warming planet -- environmental groups expressed guarded hope late Tuesday that a new opportunity was at hand to address climate change and a diverse menu of other green issues that they say the president proved either unwilling, or unable, to fully shoulder during his first four years.
"With his reelection, President Obama has the opportunity to fulfill the promise of his campaign and tackle the greatest challenges of our generation," said Andrew Steer, the president of the World Resources Institute, in an emailed statement late Tuesday night. "At the top of the list should be climate change -- which is already taking a serious toll on people, property, resources and the economy."
Just what the president might do on this and other environmental fronts is unclear. Congressional races across the country appear to have left Capitol Hill as divided as ever, and with a fiscal crisis looming, the president could conceivably face even stiffer winds as he enters his second term. That is unlikely, however, to stop the nation's environmental advocates -- newly energized by a storm that has put climate change at the forefront of many people's minds -- from pressing the president for bold action.
"The administration has been too fearful of taking on vested interests," said Wenona Hautner, the executive director of the group Food & Water Watch, who ticked off a list of agenda items that, in addition to climate change, she said she'd like to see Obama take up in a second term. These included clear labeling rules for genetically modified foods, improved water infrastructure, reform of confined livestock feeding operations and an end to horizontal hydraulic fracturing -- the controversial method for extracting oil and gas from deep underground layers of shale.
"My takeaway," Hautner said, "is that if we're going to get anything done, we're going to have to make him do it."
But the Obama administration has also endured withering criticism from some environmentalists for failing to develop or push aggressively for a comprehensive plan to address global warming, and for avoiding frank discussion of the issue with the American people -- particularly over the course of his 2012 reelection campaign. The president has also assiduously pursued an "all of the above" energy strategy that includes not just investments in renewable sources like solar and wind power, but a fulsome embrace of domestic oil and gas drilling, and continued support of so-called clean coal technology, which remains an oxymoron to most environmental groups.
"'All of the above' is guaranteed climate change," said Jacqueline Savitz, deputy vice president for U.S. campaigns with the group Oceana. "So if you're comfortable with that, then you'll have to just accept the fact that we're going to have more severe storms, more frequent storms, and weird weather, as well as shifts in agricultural production, shifts in species, complete turmoil in ecosystems. 'All of the above' means more climate change, and there's no way out of that."
Savitz added that the nation was in danger of "missing the boat" in addressing the global warming problem before it's too late. "The number one item on the agenda now has to be developing and initiating a plan for weaning us off of fossil fuels," she said.
Phil Radford, the executive director of Greenpeace USA, agreed -- though he added that an even more fundamental requirement for Obama in a second term would be seeking out Supreme Court candidates who favor ending corporate personhood, the legal concept that bestows businesses with a variety of person-like rights, including the right to influence elections by spending large amounts of money. Short of this, Radford argued, any environmental and climate policies implemented by Obama will prove very short-lived. "That needs to be number one," Radford said. "Otherwise he'll just watch everything he cares about erode over time."
Given the inability to move legislation through a gridlocked Congress, much of what the president has cared about environmentally over the last four years has been pursued, as a matter of necessity, through regulation -- typically through the Environmental Protection Agency. The odds are this trend will continue, said David Goldston, senior adviser for the Natural Resources Defense Council Action Fund. "If things work out as they appear, the chances for things moving legislatively over the next two years are quite limited," Goldston said, adding that under existing statutes, the administration still retains a good deal of authority.
The EPA has, after all, established historic new standards for cars and trucks that will effectively double fuel efficiency by 2024, and introduced measures that would curb greenhouse gas emissions from new power plants. But the regulatory route, some critics say, is too piecemeal and uncertain to tackle some of the nation's most pressing environmental issues -- including climate change.
In August, for example, a federal court struck down an EPA rule that would have governed pollution drifting across state lines -- known as the cross-state air pollution rule. In what was seen as a concession to major polluters, the Obama administration also abruptly dropped plans last year to vastly curb smog-generating emissions, angering environmentalists. And the EPA's proposed rule for curbing emissions by new power plants is seen by many critics as an empty gesture, given that new coal-burning plants -- the only facilities that would likely be affected by the rule -- are unlikely to be built anyway, given the cost advantage of natural gas.
"The cross-state rule was overturned, so that needs to be redone," Radford said. "The smog rule he punted on, and the carbon rules he did only for new power plants -- but there really won't be new coal plants, so it's really just a symbolic move that won't really have an effect on pollution."
Obama can use last week's superstorm -- which some scientists suggest could have been made more powerful by a climate already in flux due to humanity's burning of fossil fuels, and in any case is the sort of storm that many experts believe will become more common as the planet warms -- as a moment to press for a "more ambitious and more visionary about shift away from dirty energy," Radford said.
How such visionary leadership might stack up against infamously obstructive Republicans in Congress, who have spent the last four years diligently promoting the interests of the fossil-fuel industries, is unclear. But Fred Krupp, the president of the Environmental Defense Fund, suggested that one way around the Congressional gridlock would be to encourage better management of the prodigious amounts of methane that experts say leaks out into the atmosphere during natural gas production and transmission.
Unlike carbon dioxide, methane is not just a potent greenhouse gas. It's also a valuable commodity. Krupp believes that bipartisan support for capturing more of it could be an important first step in partisan detente on the climate issue -- and one that the president could help to foster. "Some people would support it because we don't want to waste precious American fuel," he said. "Others would support it because it's good for the climate."
Whatever the efficacy of that strategy, there was an overriding sense among many advocates ahead of Obama's victory last night that Hurricane Sandy and the volatile storm she ultimately became could prove galvanizing all on its own -- even for a divided Congress.
"I think one big unknown is whether Sandy proves to be a game changer," said Elliot Diringer, the executive vice president of the Center for Climate and Energy Solutions and a former senior policy advisor at the White House Council on Environmental Quality under President Bill Clinton. "We've seen many times how a high profile event can catalyze public concern and strong environmental action," Diringer said -- pointing by way of example to the 1978 toxic waste scandal at Love Canal, which led to the formation of the Superfund, and the Cuyahoga River catching fire, which led to the Clean Water Act.
"There's a pattern of Congress enacting strong environmental legislation in the wake of high-profile events," Diringer said. "And with the full impact of Sandy still mounting -- and if governors and mayors start pushing on Washington to do something, particularly if that's bipartisan -- then there may be a real opening here to deliver stronger action."
In his victory address early Wednesday morning, Obama said "We want our children to live in an America ... that isn't threatened by the destructive power of a warming planet."
A true test of that conviction, suggested Bill McKibben, the environmentalist and founder of the climate-action group 350.org, will be one other decision that Obama must soon make, and which activists will be closely watching: Whether to approve the contentious Keystone XL oil pipeline, which would deliver Canadian heavy crude oil to the Texas Gulf Coast.
"A year ago, he said they needed a year to study it," McKibben said of Obama. "That year turned out to be the warmest in American history, with a melted Arctic and a flooded Manhattan.
"We'll see if Obama has it in him," he added, "to actually keep some carbon in the ground."
Related
Popular in the Community