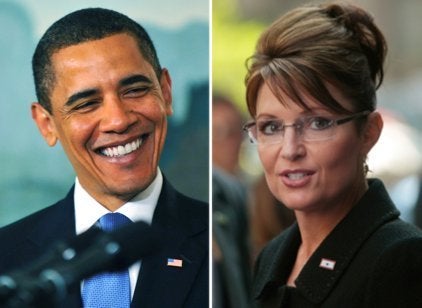 President Barack Obama is solidifying support among Democrats for their 2012 nomination, even as Sarah Palin is losing ground to other Republican candidates, according to a CNN/Opinion Research Corporation survey released on Tuesday.
In the battle for the GOP presidential nomination, the survey suggests Palin may have some work to do if she throws her hat in the ring. Only 49 percent of Republicans say that they are likely to support Sen. John McCain's running mate in 2008 for the Republican nomination in 2012.
"That's a huge 18-point drop since December of 2008, when two-thirds of GOPers said they were likely to support Palin," CNN Polling Director Keating Holland explained. "It also puts her well behind potential rivals Mike Huckabee and Mitt Romney, and a bit behind Newt Gingrich as well."
The lack of Republican support for a potential presidential run from Palin underscores an earlier Public Policy Polling survey, which found that the former Alaska governor is widely unpopular in her home state, not to mention in a variety of other key swing states.
HuffPost's Sam Stein argues that the poll results should be reassuring to the president, who has fielded some heavy criticism from progressives this year.
According to a CNN/Opinion Research survey, a full 78 percent of Democrats want Obama to win the nomination for a second term in office -- up five percent from late October. At roughly the same point in his presidency, only 57 percent of Democrats wanted Clinton to be re-nominated.
But if all the negative polling data dissuades Palin from running, the Democrats could be the ones to take the hit. In November, Vice President Joe Biden contended that a Palin challenge would leave Obama in "good shape."
REAL LIFE. REAL NEWS. REAL VOICES.
Help us tell more of the stories that matter from voices that too often remain unheard.