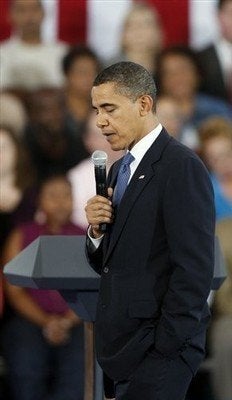 WASHINGTON (The Borowitz Report) - Marking the one-year anniversary of his historic election to the presidency, Barack Obama delivered a major speech today in which he said he had "fulfilled the vague and diffuse catchphrases laid out in my campaign."
Underscoring his point, Mr. Obama said, "When I was running for President, no one knew exactly what 'Change You Can Believe In' meant. One year later, I am proud to say that that is still the case."
The President said he was particularly proud of the way in which he had delivered on his "Yes, we can" slogan.
"One year later, can we say that we have change we can believe in?" he said. "Yes we can."
Mr. Obama, however, reminded his audience that much work still remained to be done, particularly in delivering on his ill-defined "fired up, ready to go" catchphrase.
"I have not yet accomplished that one because I do not fully know what it means," he said. "But let's be clear: I am fired up and ready to go." More here.
Calling all HuffPost superfans!
Sign up for membership to become a founding member and help shape HuffPost's next chapter