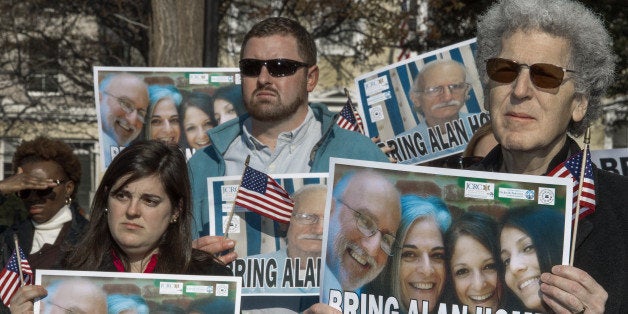 President Obama drew attention earlier this summer for reportedly describing his policy doctrine to reporters with four simple words: "don't do stupid shit." With the revelation this week of yet another sloppy USAID-backed scheme in Cuba, it's time to see how serious the president is about adhering to this principle.
The program was reckless and dangerous on multiple levels. According to documents obtained by the AP, workers used an HIV-prevention workshop for Cubans as cover, calling it the "perfect excuse" for their mission. Using health programs as cover for political change can have unintended and deadly consequences, as we're now seeing in other parts of the world. Already, aid groups like InterAction have blasted the program as "unacceptable" for sacrificing health services "to advance an intelligence goal." And they're right. Programs like these breach a trust with the very people we're trying to help. Whether it's promoting what should be universally welcomed initiatives like HIV prevention or providing Cubans with access to basic communications tools, we only impede our own goals by tying them to regime change policies like the Helms-Burton Act.
USAID's latest bungled program, much like the one that sent jailed U.S. contractor Alan Gross to Cuba, also showed a stunning disregard for the well-being of those it employed. Like Gross, the workers reportedly received little training on how to avoid detection by Cuban officials, with no apparent plan in the event of capture or arrest. And despite the fact the contractor responsible for the program, Creative Associates, has received hundreds of millions of dollars in government contracts, the workers in question allegedly received pay as low as $5.41 an hour. As Sen. Patrick Leahy of Vermont put it, "It may have been good business for USAID's contractor, but it tarnishes USAID's long track record as a leader in global health."

Yet despite achieving nothing, and increasing risk to health workers around the world, we shouldn't be surprised to see the usual pro-embargo crowd praising this as another fine moment in U.S.-Cuba policy. To defenders of the status quo, the fact that these programs exist - no matter how profoundly lousy they may be - is enough to give them the warm and fuzzies.
The rest of us should not be as content with mediocrity. Helms-Burton continues to produce convoluted, expensive, and potentially dangerous schemes incapable of replacing actual diplomacy.
The president should steer our Cuba policy away from wasteful government programs and immediately move to allow all American travel to the island, support its burgeoning private sector, and empower individuals, not government bureaucrats, to serve as catalysts for meaningful change.
To date, these programs have only served to give the Cuban regime a scapegoat to justify their denial of basic human rights, and continue to undermine our efforts to bring an increasingly ill Alan Gross home to his family. If President Obama is serious about cutting out the stupid stuff, then an overhaul of our current approach towards Cuba is long overdue.
Ricardo Herrero is the Executive Director of #CubaNow, www.cubanow.us (on Twitter @Cuba_Now). He lives in Miami, Florida.
REAL LIFE. REAL NEWS. REAL VOICES.
Help us tell more of the stories that matter from voices that too often remain unheard.