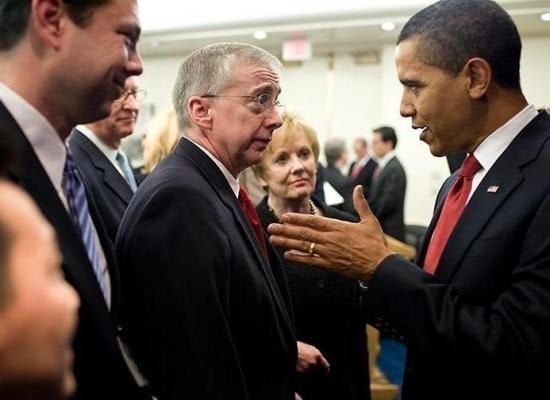 The Obama White House has put out a slideshow of 23 pictures documenting the process by which the President and Congress forged a voting coalition in support of the economic stimulus package.
And yet, looking through the album, one gets the sense that the White House photographer responsible for the package -- Peter Souza -- was trying to make a political point as much as serve as an official documentarian.
There are at least six photos in which the president is conferring either by conference, conversation or phone, with Republican officials over the past few weeks. One has the president talking in private with Minority Leader Mitch McConnell -- who passed up few opportunities to criticize the stimulus -- at the exclusive Alfalfa Club dinner in late January.
"Though [it] was a social affair," the caption reads, "the President took time out to talk with Senate Minority Leader Mitch McConnell."
Another has Obama talking with Florida Governor Charlie Crist, a stimulus supporter, with the caption: "Gov. Charlie Crist (R-FL), one of many Republican governors who support the economic recovery package, introduces the President at a town hall in Ft. Myers, FL."
The sharpest message of the bunch, however, comes with a photo of Obama being approached by Republican lawmakers after a meeting where he pitched the economic recovery package.
"House Republicans surround the President after the meeting," the caption read. "Many of them were seeking his autograph. Every House Republican eventually voted against the bill."
(In other words: there was one piece of paper they were happy to see him sign.)
The images of bipartisan outreach don't end there. In addition to the six pictures of Obama with or talking to GOP figures, there is one of him celebrating the Super Bowl with a group of Republican and Democratic lawmakers, two of him with state delegations on board Air Force One, and one of him talking to a group of centrist Blue Dog Democrats. In all, the public is treated to images of a post-partisan, gracious president who was rebuffed by the lawmakers upon whom he showered his time and niceties.
An administration official says that Souza -- who also worked for Ronald Reagan -- was responsible for the captions.
See all the photos and captions depicting Obama's Republican outreach:
Calling all HuffPost superfans!
Sign up for membership to become a founding member and help shape HuffPost's next chapter