WASHINGTON -- With less than two weeks until $1 trillion in across-the-board spending cuts will begin to take effect, President Barack Obama on Tuesday gave another push to Congress to pass his proposal to offset the sequester through spending cuts and tax increases on the wealthy -- an approach that still lacks Republican support.
"Our top priority must be to do everything we can to grow the economy and create good, middle-class jobs," Obama said during remarks at the White House, standing alongside a group of emergency responders. "That's why it's so troubling that just 10 days from now, Congress might allow a series of automatic, severe budget cuts to take place that will do the exact opposite."
Obama ticked off how "brutal" the cuts would be if lawmakers allow "this meat cleaver approach to take place." Among other things, they would hurt military readiness, slash investments in energy and medical research, result in thousands of teacher layoffs, and degrade the ability of emergency responders to respond to disasters, he said, motioning to the people behind him.
The solution, he continued, is for Congress to pass his proposal to offset the sequester with targeted spending cuts and by closing tax loopholes through comprehensive tax reform. Senate Democrats unveiled a proposal last week that reflects Obama's plan.
If lawmakers can't get get an agreement by next Friday, "At minimum, Congress should pass a smaller package of spending cuts and tax reforms ... to give them time to work together on a plan that finishes the job of deficit reduction in a sensible way," he said.
Obama dismissed the alternative solutions Republicans have put forward because they don't include the "balanced" approach of spending cuts with new tax revenue. He reiterated that he won't sign any legislation that doesn't include both pieces.
Republicans "ask nothing of the wealthiest Americans or biggest corporations, so the burden is all on first responders or seniors or middle-class families," Obama said. "They double down, in fact, on the harsh, harmful cuts that I've outlined."
"Republicans in Congress face a simple choice," the president added. "Are they willing to compromise to protect vital investments in education and health care and national security and all the jobs that depend on them? Or would they rather put hundreds of thousands of jobs and our entire economy at risk just to protect a few special interest tax loopholes that benefit only the wealthiest Americans and biggest corporations?"
But House Speaker John Boehner (R-Ohio) pushed back on Obama's speech almost immediately, saying the president is putting forth a proposal that simply echoes old calls for higher taxes.
"Just last month, the president got his higher taxes on the wealthy, and he's already back for more," Boehner said in a statement, referring to the fiscal cliff deal that let the Bush-era tax cuts expire on income about $400,000.
"The American people understand that the revenue debate is now closed," he said. "We should close loopholes and carve-outs in the tax code, but that revenue should be used to lower rates across the board. Tax reform is a once-in-a generation opportunity to boost job creation in America. It should not be squandered to enable more Washington spending. Spending is the problem, spending must be the focus."
Before You Go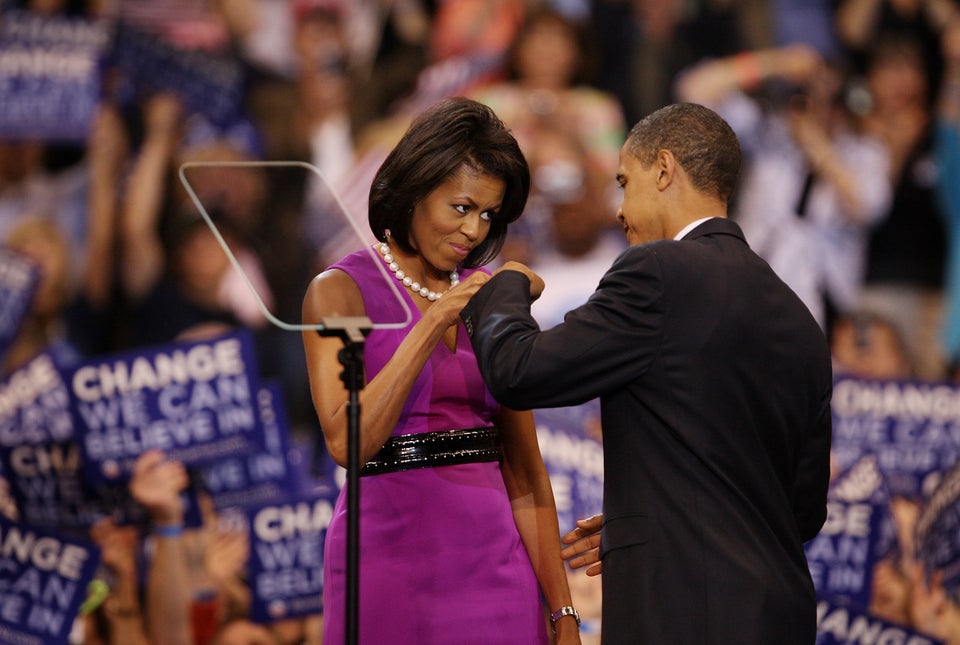 Obama's Fist Bumps
Popular in the Community