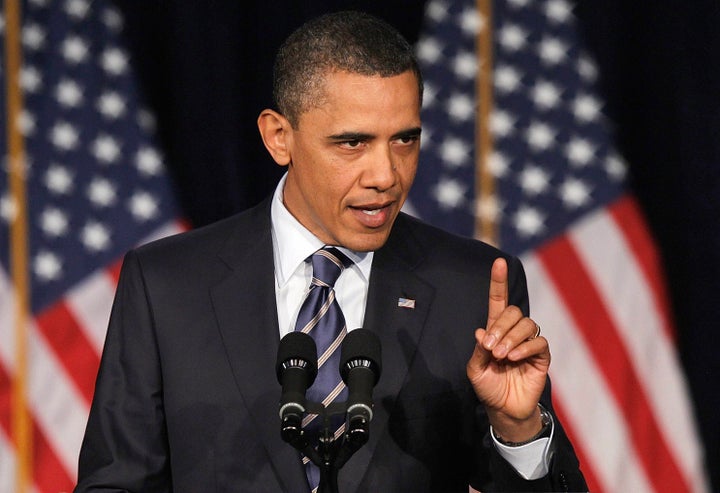 WASHINGTON -- President Barack Obama succeeded in uniting his party and reminding Republicans who lives in the White House with his first major fiscal policy speech Wednesday—a step forward on an issue already setting off a partisan firestorm on Capitol Hill.
Obama outlined a plan to reduce the deficit by $4 trillion over 12 years and said doing so will require a mix of tax hikes, drastic spending cuts and entitlement reforms. House Democrats hailed the president's tough talk on refusing to extend tax cuts for the wealthy, and several concurred that his tone constituted a veto threat in the event Republicans fight to preserve the Bush-era cuts.
"He drew a line in the sand today," said Rep. Emanuel Cleaver (D-Mo.), who chairs the Congressional Black Caucus. "I hope [Republicans] understand their ability to walk away from negotiations and say they won may have just ended."
Rep. Hank Johnson (D-Ga.), a leader of the Congressional Progressive Caucus, said he was "pleasantly reassured" by Obama's fiscal plan.
"The president's remarks were similar to ones I already made: To whom much is given, much is required," said Johnson. "He put the onus where it belongs in terms of long-term debt."
House Democratic Caucus Chairman John Larson (D-Conn.) lauded Obama's speech as "a defining moment for the principles and values of the two parties" and said it served as an opening salvo for Obama's 2012 presidential re-election campaign.
Asked if he had concerns about Obama conceding too much to Republicans in his efforts to cut spending, Larson said the president "has a more difficult job" than Democratic lawmakers. But he acknowledged some are frustrated with Obama's insistence on cutting deals with the GOP.
"Let's be honest: It's annoying to people, especially Democrats, when he's … constantly reaching out to the other side," Larson said. "He's bound and determined [to do so]. Is that frustrating to Democrats? You betcha. But it's part of the process."
Other Democrats said their more liberal colleagues aren't helping the party by bashing Obama for not embracing more progressive positions, whether it be in his fiscal policy or other major issues.

"Some on the left don't want to take any responsibility for the political dynamic we have to live with for the next two years," said Rep. Gerry Connolly (D-Va.). "It must be very special to be in that special corner."
The administration's efforts to play nice with Republicans were on full display after Obama's speech Wednesday when, shortly after the president slammed the House GOP budget plan put forward by Budget Chairman Paul Ryan (R-Wisc.), a White House official "rushed to the back of the room to shake Ryan's hand," according to pool reports.
And Obama also announced Wednesday that he tapped Vice President Joseph Biden to lead bipartisan meetings with Hill leaders in May to try to strike a deal on a deficit reduction plan by the end of June.
Meanwhile, House Republicans trashed the president's plan as not "serious" and a "non-starter" because it includes taxes, and, by their lights, ignores Social Security.
Not only were they not impressed; several invited to attend the speech griped that Obama had wasted their time.
"I don't know about my colleagues, but I thought to myself, 'Did I miss lunch for this?'" said Rep. Jeb Hensarling (R-Texas), the GOP House conference chairman. "This was not a speech designed to win the future; this was a speech designed for the president to attempt to win re-election."
Ryan said he went expecting an "olive branch" but got something "excessively partisan, dramatically inaccurate and hopelessly inadequate."
"What we heard today was not fiscal leadership from our commander-in-chief; what we heard today was a political broadside from our campaigner-in-chief," Ryan said. "This is very sad and very unfortunate. Rather than building bridges, he's poisoning wells."
House Majority Leader Eric Cantor (R-Va.) said the only concrete proposal was raising taxes. "That's unacceptable," he said. "That's not serious."
Ryan added that the event amounted to Obama trying to retreat from his own fiscal policy commission's work, led by Erskine Bowles and former Sen. Alan Simpson.
"This wasn't a plan; this was punting," he said. "He punted on his budget. He's now punting to a new commission to come up with smaller savings targets than what he came up with his last commission that he's disavowed."
Popular in the Community