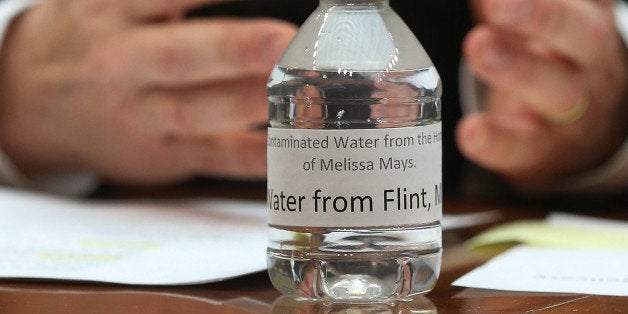 This is more than obscene.
Weeks after Rachel Maddow's reporting made the poisoning of Flint Michigan's children national news, months after the problem was a matter of local news, Michigan's Governor, Tea Partier Rick Snyder, has still done very little to stop, halt, prevent any further lead from assaulting the brains of Flint's children.
Reports indicate that residents are being told to going to their local firestations both for water and for tap-water testing, an extraordinary imposition on people who have limited means of transportation, and an inefficient use of time, for a problem created by the Snyder Administration. Ayn Rand, the right-wing muse, would be proud.
President Obama should immediately federalize the Michigan National Guard, just as President Kennedy did during the civil rights movement in the South when rejectionist governors refused to follow the law putting black citizens in considerable danger.
The Michigan National Guard can then be deployed to deliver clean bottled water, to take tap water samples and have them tested for lead content, to deliver filters to reduce the lead content, and to report back to families the results of that lead testing. Members of the Guard trained in blood-drawing can take blood samples from children right in their own homes.
This is a crisis. It is threat to public health. The Snyder Administration caused the problem through gross negligence, covered it up, and now is dilatory at doing anything about it.
It is time for the President to skip the niceties, nationalize the Michigan National Guard, and prevent the Governor from further poisoning Flint's children. Every day of inaction the effect on children grows worse.
And, if Republicans wail and moan about "tyranny," let them. Snyder has shown us what true tyranny is like.
At least we can start providing Flint's population protection against further poisoning.
Calling all HuffPost superfans!
Sign up for membership to become a founding member and help shape HuffPost's next chapter