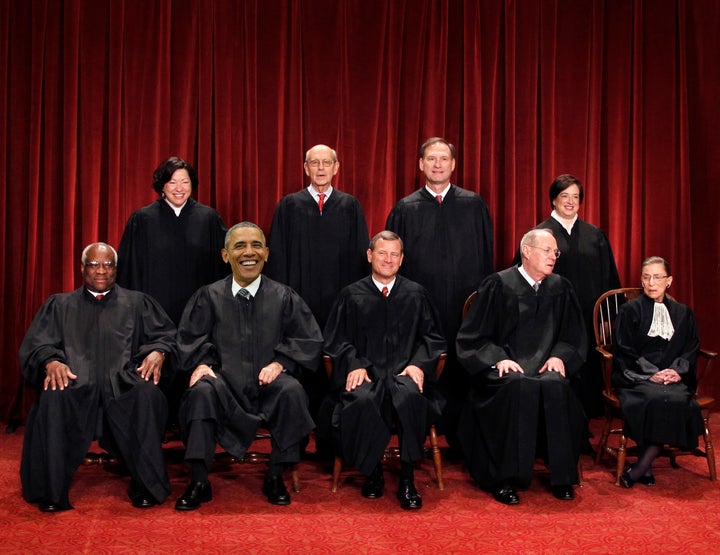 WASHINGTON -- Senate Republicans have insisted that no matter who President Barack Obama nominates for the Supreme Court, there will be no hearings, no votes, no nothing. But there may be one potential candidate that Republicans would have a hard time blocking: Obama could appoint constitutional law professor Barack Obama.
There's roughly a zero percent chance this'll happen, but here's why it makes sense: Appointing Obama would put the GOP in the position they've desperately wanted to be in since the man was inaugurated. They'd have the chance to vote him out of office. If he's truly as dangerous and illegitimate a president as Republicans say, then this is their opportunity to get him out of the White House by putting him on the court.
The move would also give Kentucky Republican Mitch McConnell a chance to virtually guarantee that he remains Majority Leader Mitch McConnell. (McConnell would have to persuade his colleagues not to filibuster.) Some of the most vulnerable Republicans would have their 2016 chances boosted by voting to confirm Obama. Sens. Pat Toomey (Pa.), Rob Portman (Ohio), Kelly Ayotte (N.H.) and Ron Johnson (Wis.) would be assured re-election if they could peel off a small portion of Democratic voters grateful for the bipartisan move.
With those four alone, Democrats would have 50 votes, a tie that could be broken by Vice President Joe Biden -- who would be all too pleased to cast the deciding vote to make himself president, even if he'd become one of the shortest-serving presidents in history. And Biden, of course, would then name his longtime ally and Senate successor Ted Kaufman as vice president. If Biden happened to meet the same sudden fate as Antonin Scalia did, Kaufman could quickly go about the business of breaking up the banks.
White House aide Eric Schultz, asked if Obama had considered nominating Obama, noted that the president "has said he's not interested in being a Supreme Court justice," citing a New Yorker article by Jeffrey Toobin and a recent interview on Ellen.
Sure, Obama may have said that, but what if the president himself called on him to serve? Wouldn't that change his thinking?
"The press corps is officially unhinged," Schultz suggested.
UPDATE: White House spokesman Josh Earnest, asked at a Wednesday press briefing about Obama nominating Obama, did not rule it out.
"I haven't asked him that direct question, but I think all of the available evidence indicates that that option is highly unlikely," he said.
Popular in the Community