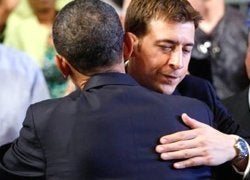 A double-back-pat man-hug during President Obama's speech in Quincy Wednedsay was loud enough to silence an army of media doom-prognosticators.
For days if not weeks running up to Obama's visit to Illinois, the buzz in political circles was about whether or not the president was backing the state's Democratic Senate candidate, Alexi Giannoulias. After the Giannoulias family bank collapsed, many speculated that the party would force Giannoulias out of the race.
First there were the worries that Obama hadn't invited Giannoulias to the Quincy event. Then, when it became clear that all state-level officials (including Giannoulias, in his capacity as treasurer) would be invited, the question was how much support Obama would offer, why he hadn't invited Giannoulias sooner, and how much information could be wrung out of a single tea-leaf.
And then there was all the talk of "hugs." In a story entitled "Giannoulias Should Wish Obama Wasn't in Quincy. No, Seriously,"NBC Chicago commented of Obama, "He'd better give his old friend another hug for all the viewers in Iowa, Missouri -- and Illinois."
Just before the event, reporters jibed Giannoulias, asking him, "Does your campaign need the equivalent of a presidential hug today to be successful?" Giannoulias laughed it off.
For better or for worse, it looks like Alexi and the Democrats are in this one together.
Watch the hug question, and the hug:
Related
Popular in the Community