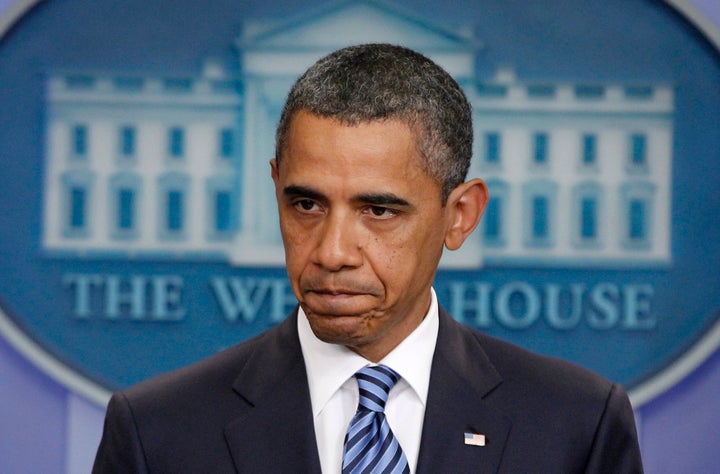 WASHINGTON -- President Barack Obama signaled Tuesday that he won't support a short-term solution to resolving deficit and debt woes when he huddles with Congressional leaders later this week.
"I've heard reports that there may be some in Congress who want to do just enough to make sure America avoids defaulting on our debt in the short term, but then wants to kick the can down the road when it comes to solving the larger problem of our deficit," Obama said during brief remarks at a White House briefing.
"I don't share that view."
The idea of only raising the debt limit for the short term is not what most Americans want and is "in fact what drives them nuts about Washington," the president said. "Right now, we've got a unique opportunity to do something big" in terms of tackling the deficit in a way that "forces the government to live within its means."
The president's remarks come in response to some Republicans—including Senate Minority Whip Jon Kyl (R-Ariz.) and Sen. John Cornyn (R-Texas)—pushing for a short-term increase in the debt ceiling to allow more time for work on a bigger package. House GOP leaders have not endorsed that approach, however, saying it wouldn't pass the House.
Obama made his comments just before announcing plans to meet with Congressional leaders Thursday for another round of talks on a deficit reduction package tied to a vote to raise the debt ceiling.
Vice President Joseph Biden, who joined Twitter on Tuesday, later echoed Obama's sentiments in his second-ever tweet.
"VP will join POTUS for mtg at WH w/House & Sen leaders on 7/7; agrees we need balanced approach & cannot continue to kick can down the road," Biden tweeted.
White House Press Secretary Jay Carney, who took over Thursday's briefing after Obama left, said all eight of the top House and Senate party leaders have said yes to Thursday's meeting with Obama. The meeting will likely take place in the White House, and not the Blair House across the street, he said.
Carney wouldn't say if Obama's tough talk on short-term solutions means he will outright reject anything but a long-term deal.
"The president is pretty clear he does not support going in that direction," he said. "The president believes we need to think big and have to act big."
Carney declined to give details on discussions Obama had over the weekend with Congressional leaders. During his remarks, the president said those conversations made progress but added that there are still major differences to work through. All parties are eyeing the Aug. 2 deadline for a deal, at which point the government is expected to run out of money to pay its bills and go into default -- an event the White House continues to frame as "catastrophic" and "Armageddon-like."
"My hope is that everybody's going to leave their ultimatums at the door," Obama said of Thursday's meeting.
"We know that it's going to take tough decisions. It's better to take them sooner rather than take them later."
Speaker John Boehner (R-Ohio) later applauded Obama's call for addressing long-term budget challenges, but he cast doubt that a deal can be worked out if new revenues -- namely, closing tax loopholes -- remain on the table.
"I'm happy to discuss these issues at the White House," Boehner said in a statement, "but such discussions will be fruitless until the President recognizes economic and legislative reality."
Senate Minority Leader Mitch McConnell (R-Ky.) expressed similar skepticism of reaching a deal as long as Obama and Democrats push for stimulus spending or tax increases.
Thursday's meeting is a chance "to talk about what's actually possible," McConnell said in a statement.
The question is "whether or not the President will finally agree to a serious plan to reduce the deficit," he said. "Or, if in the middle of a debt crisis, he'll insist on more stimulus spending; whether in the middle of a jobs crisis, he'll continue to insist on hundreds of billions in tax hikes that we know -- and he has acknowledged -- will kill jobs."
REAL LIFE. REAL NEWS. REAL VOICES.
Help us tell more of the stories that matter from voices that too often remain unheard.