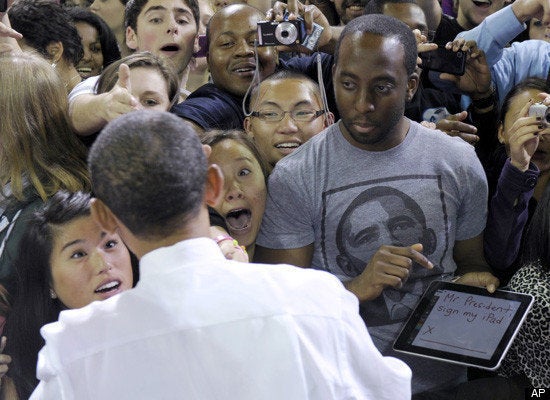 "I figured, 'Why not ask?'" explains Sylvester Cann, an iPad owner who says his boldness was rewarded with a presidential autograph.
Earlier this week, Cann brought his iPad to meet the President at a rally for Washington Senator Patty Murray at the University of Washington in Seattle. Cann opened his Adobe Ideas app, scrawled "Mr. President, sign my iPad," and presented the device to Obama as the Commander in Chief passed through the crowd. Obama smiled and signed the touchscreen with his fingertip, according to a statement Cann issued to TechCrunch, Wired and other blogs. (Earlier this year, Obama called iPads a "distraction," saying, "information becomes a distraction, a diversion, a form of entertainment, rather than a tool of empowerment.")
"Secret service was leery about the idea," Cann writes, "but they warmed up to the idea and the President thought it was cool. [...] This HAS to be the first time an iPad has received a Presidential autograph."
An AP photographer managed to snap a picture of the moment, in which Cann waits, iPad at the ready, while Obama approaches. You can view the photo (below), as well as a screengrab from Cann's iPad and a video (shot by another bystander) of what appears to be the President signing the device. You can view all three on Cann's "Obama Signing iPad" site.
Gizmodo seems to doubt the authenticity of the autograph, despite the multiple sources Cann presents. Do you believe it's the real thing? Let us know in the comments below!
LOOK: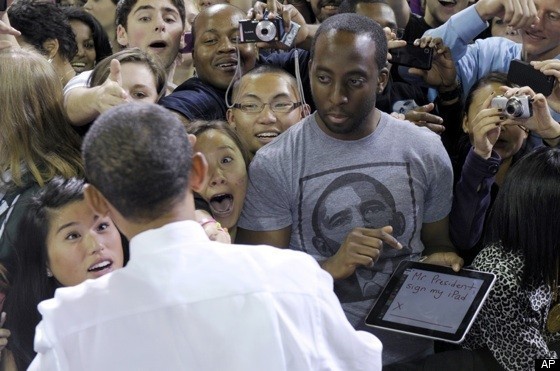 WATCH:
Related
Popular in the Community