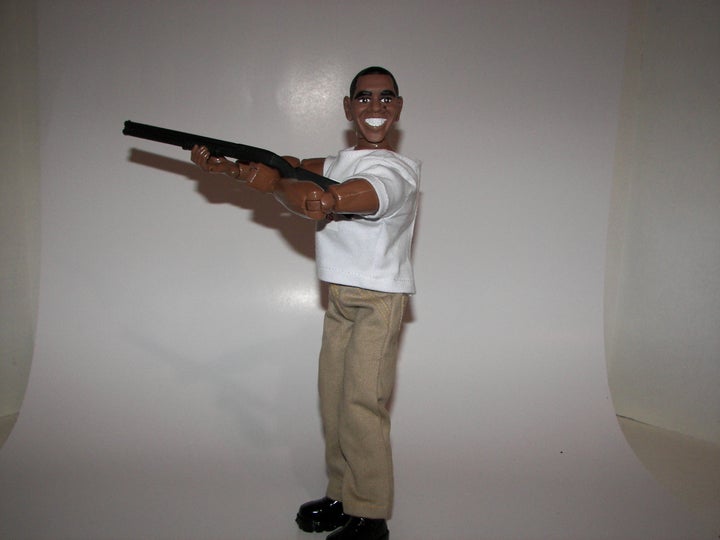 Barack Obama's recent admission that he enjoyed skeet shooting at Camp David -- and the subsequent photo -- have been shot around the Internet.
Now, Herobuilders, a Connecticut-based company, is gunning for some media attention by creating an action figure of the president shooting skeet.
The $19.95 doll features the commander in chief wearing a sweatshirt with the words "clay pigeons" on it and is accessorized with a hunting shotgun.
Although the head of the toy looks like Obama -- with a slightly more demented grin -- the muscle-bound arms seem to belong more to an 1980s-era action star like Dolph Lundgren than the comparatively skinny president.
Herobuilders head honcho Emil Vicale admits that it's difficult to make an accurate body when you're trying to turn around a product before the Internet forgets it.
"It's too complex and costly to make multiple bodies," Vicale told The Huffington Post. "Most action figures use just one body."
The skeet shooting Obama is the fourth that Vicale has done honoring the president. Others include one with him dressed as the Joker from "The Dark Knight" and one with him holding a machine gun.
Like the others, he expects the skeet shooting Obama to sell to both sides of the political spectrum.
Vicale has made somewhat of a career out of capitalizing on politics and pop culture. He's made previous action figure tributes to "tanning mom" Patricia Krentcil, "The Rent Is Too Damn High" guy and the man who asked a cop, "Don't Taze Me Bro."
While he expects the Obama skeet shooting doll to do well ("It's priced to sell," he said), it probably won't do as well as his all-time best seller.
"Sarah Palin was the biggest, but I don't think she'll ever sell that many again," he said.
Calling all HuffPost superfans!
Sign up for membership to become a founding member and help shape HuffPost's next chapter
BEFORE YOU GO
PHOTO GALLERY
Weird Presidential Election Gifts