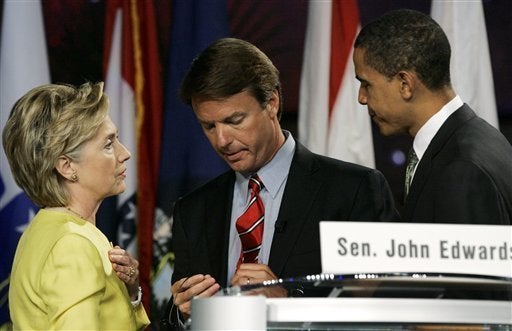 Des Moines, Iowa-- As the John Edwards campaign shows beefed-up muscle going into the last days of the caucus race, rival Barack Obama is concentrating most of his fire against the former North Carolina senator instead of confronting Hillary Clinton.
It's much more Obama versus Edwards than Barack versus Hillary.
During a Des Moines speech Sunday night to a heated crowd of 1,500 supporters, Obama vigorously rebutted statements made earlier in the day by Edwards that Obama was "too nice" to be an effective President. "I have to say, I've been doing this my whole life," Obama said, referring to his long record of personal political activism. "When you talk about change, you might just want to try the guy who's actually done it before," Obama said, implying that Edwards is a Johnny-come-lately to the arena of social reform.
Obama said that as a young man he was offered many lucrative choices but turned them down in favor of low-paid work as a community organizer and as a civil rights lawyer, a theme he has sounded repeatedly on the stump over the past weeks. For the first time, and in a direct shot at Edwards, Obama said one of the big bucks options he turned down was to work as a "trial lawyer."
Edwards has made millions as a trial lawyer and boasts of how he has used that position to take on bog corporations.
The increased friction between Obama and Edwards comes as a barrage of polls show both candidates, along with Hillary Clinton, in a virtual tie to win the first-in-the-country caucuses. Any expectations that Edwards, running third in most national polls, would eventually fade here in Iowa have dissipated as some surveys show him in the lead in the Hawkeye State.
Obama's senior campaign advisor, David Axelrod, denied to The Huffington Post that his campaign had until recently underestimated Edward's strength, especially in Iowa's rural areas. "We came into Iowa months ago knowing that Edwards had built a strong presence," he said. "Senator Edwards has been working those areas for six years. But I've been out there these last few days and can tell you our rallies are two, three times bigger than his."
On a Monday morning media conference call, Obama's national campaign manager, David Plouffe, virtually ignored Hillary Clinton in his discussion of Iowa, preferring to compare his campaign with that of Edwards. He also argued that growing crowd sizes for Obama were evidence of his superior positioning in the contest.
Admitting to "an amazing amount of volatility" in the Iowa race, Plouffe nevertheless expressed confidence that the Obama campaign was outdrawing and out-organizing the Edwards operation . "We just had the best weekend of the campaign in attracting new supporters, knocking on 90,000 doors," he said.
Plouffe excoriated Edwards and Clinton for benefiting from what he called a "blizzard of outside money," referring to independent expenditures made by so-called 527 groups not officially affiliated with the candidates. Plouffe denounced the support being given to the Edwards and Clinton effort by certain unions and women's group. "It's now one against seven," Plouffe said, portraying the Obama campaign as a David standing against special interest Goliaths.
In the past both Plouffe and Axelrod have worked for 527 fund-raising groups similar to those now supporting their rivals. While Plouffe would not say his campaign explicitly thought such 527's should be banned, he said on two different occasions during the call, that the link between some union-backed groups and the Edwards campaign "is an issue that deserves more scrutiny."
Calling all HuffPost superfans!
Sign up for membership to become a founding member and help shape HuffPost's next chapter