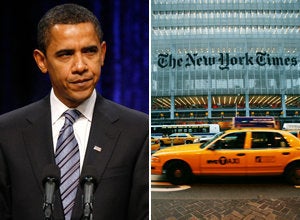 Although New York Times columnists David Brooks and Bill Kristol sat down with Barack Obama last night, the paper's White House team still hasn't had the opportunity to do so since Election Day.
Unlike recent White House occupants--such as George W. Bush and Bill Clinton--Obama has yet to provide The Times with the sort of free-wheeling, pre-Inauguration interview the paper's come to expect. And there's little expectation it will happen before Tuesday.
"We would certainly like it to happen," said Times political editor Dick Stevenson, "but the days are running short at this point."
Stevenson said that although The Times has put in multiple requests to the Obama team, and "pointed out the historical precedent for this," they've had no luck securing a sit-down.
Popular in the Community