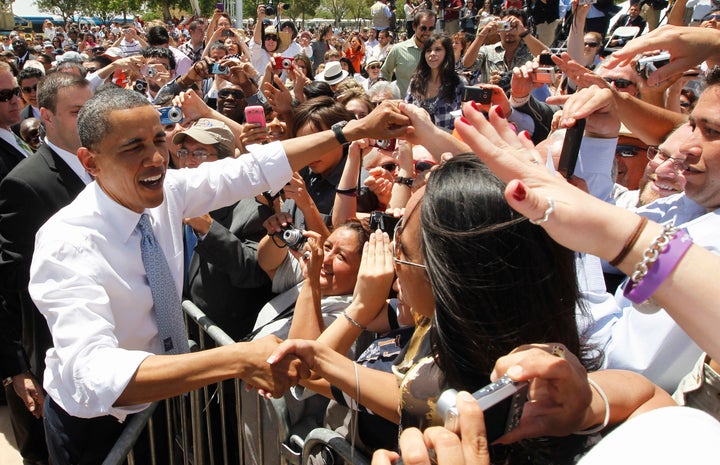 WASHINGTON -- In a show of his return to full campaign mode, President Barack Obama used a Tuesday speech in El Paso, Texas, to rally his base on the need for comprehensive immigration reform and to place the blame squarely on Republicans for the issue failing to advance on his watch.
In his first visit to the U.S.-Mexico border since becoming president, Obama said his administration has "gone above and beyond" what Republicans have demanded on border security in exchange for their support on broader immigration reform, but to no avail.
"Even though we've answered these concerns, I've got to say, I suspect there are still going to be some who are trying to move the goal posts on us one more time," he said. "They said we needed to triple the Border Patrol. Or now they're going to say we need to quadruple the Border Patrol. Or they'll want a higher fence."
"Maybe they'll need a moat. Maybe they want alligators in the moat," Obama said to laughter. "They'll never be satisfied. And I understand that. That's politics."
In reality, said the president, his administration has put more boots on the ground at the southwest border than at any time in our history. "So the question is whether those in Congress who previously walked away in the name of enforcement are now ready to come back to the table and finish the work we've started," he said.
But Senate Republicans who have played a key role in past immigration reform talks grumbled that Obama's latest moves on the issue are less about policy and more about the 2012 elections.
"I'm afraid this is probably more political theater than reality," Sen. Lindsey Graham (R-S.C.), arguably the White House's best hope for a GOP ally on immigration reform legislation, said of the president's speech.
Sen. John McCain (R-Ariz.), who sponsored bipartisan immigration reform legislation in 2005, said he hasn't heard from the administration at all on the issue this year and found Obama's claims about border security to be unsubstantiated.
"Of course not," McCain said, when asked if the border is secure. He called attention to a 10-point border security plan that he and Sen. Jon Kyl (R-Ariz.) put forward last year as his vision for reform.
"I have never even had any request from the administration to sit down and negotiate on that," he said. "I hope they will."
Kyl also called on the president to take the Kyl-McCain border security plan seriously if he expects action on immigration reform.
"I think everybody recognizes that until the border is secure, any hope of additional legislation dealing with immigration is not likely to succeed," he told reporters.
Sen. John Cornyn (R-Texas) noted Obama announced last year that Homeland Security Secretary Janet Napolitano would lead a task force with Republicans to come up with bipartisan immigration reform proposals—something that never happened.
"To me, it speaks to the insincerity of really of making this a priority," Cornyn said.
Democrats readily concede that immigration reform has next to no chance of getting through such a divided Congress, though they say they welcome Obama's stumping.
"It may not be realistic, but I think the president is right that the issue of immigration needs to be addressed," House Minority Whip Steny Hoyer (D-Md.) told reporters Tuesday.
Given the dwindling hope for action on their number one issue, Hispanic lawmakers have been calling on Obama to do more with his executive power to impact immigration policy in the absence of comprehensive reform.
The president should provide "some administrative relief along the way" as he builds momentum on immigration reform around the country, said Sen. Robert Menendez (D-N.J.).
Senate Democrats still plan to move forward with key immigration legislation this week, if not for anything but to publicly register their support on the issue. On Wednesday, Sen. Dick Durbin will introduce the DREAM Act, which would allow many undocumented youths to obtain legal residence under certain conditions. During his Tuesday speech, Obama rallied the crowds to register their support for the DREAM Act on the White House website.
"We need Washington to know that there is a movement for reform gathering strength from coast to coast," he said. "That's how we'll get this done."
Elise Foley contributed to this report.
Calling all HuffPost superfans!
Sign up for membership to become a founding member and help shape HuffPost's next chapter