"The difference between the king and the kingmaker is this: The king sits on the throne, the kingmaker is the power behind the throne."
Unknown
While deputy chief of staff for Chicago Mayor Richard M. Daley, Jarrett interviewed a Michelle Robinson, soon to become Michelle Obama, for a job opening which fatefully for this country would turn into a sweeping political partnership involving big party, Democratic, Chicago-style pols.
After getting the job offer, Robinson asked Jarrett for some time to think about the offer but then momentously invited Jarrett to meet her fiancé, Barack. After dinner, Jarrett "took the couple under her wing and introduced them to a wealthier and better-connected Chicago than their own." The rest, as they say, is history.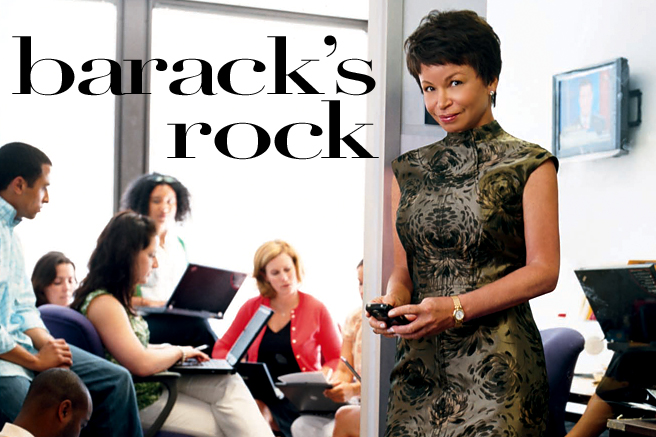 Valerie_Jarrett_in_the_West_Wing_corridor_cropped.jpg" src="https://images.huffingtonpost.com/2011-09-29-Valerie_Jarrett_in_the_West_Wing_corridor_cropped.jpg" width="220" height="187" />
Born to American parents in Iran, Jarrett's family moved back to Chicago when she was seven years old. Her father, James E. Bowman was a doctor who had been running a hospital for children in Iran. Her mother, Barbara T. Bowman co-founded the Erickson Institute.
Learning Persian and French as a child, Jarrett received a fine education including a BA in psychology at Stanford and a law degree from Michigan. Marrying Dr. William Jarrett in 1983, Ms. Jarrett and the doctor divorced in 1988 before her ex-husband died of a heart attack in 1993.
From 1987 until 1995, Valerie Jarrett cultivated political connections in Chicago at the highest level. Working for Daley as mentioned above and before that Chicago Mayor Harold Washington, Jarrett became a plugged-in political operator in Chi-Town.
Like Rahm Emanuel, David Axelrod, the now infamous but previously 'respected' Blago and others, Jarrett would be amongst the first contacted if one wanted to accomplish anything politically in Chicago: considered by many including this writer as "the most corrupt city in America."
Intriguingly, Jarrett did not have to testify at either of Blago's trials, though she was definitely in the thick of things as the named party who was to have been installed in Obama's vacated Senate seat in exchange for political favors and/or money. Could there have been political and judicial strings pulled by the Obama administration to get Jarrett out of the witness box, one wonders?
Valerie Jarrett was in my opinion, the main point person in assuring that everyone from Obama on down through herself, Axelrod and Emanuel were not called to testify in Blago's first trial. This saved crucial embarrassment and exposure to potential investigations of the Obama staff. It also ensured, in conjunction with the convenient "pushing back" of the second Blago trail date, that Rahm Emanuel could be elected and inaugurated as Chicago mayor before having to testify about his deep involvement in this messy affair. It seems Valerie Jarrett made a lot of things happen for Obama team that otherwise would've threatened the Presidency.
The dangerous irony of two Chicago politicians such as Emanuel and Daley having enough clout to just switch places at will between The White House and Mayor's mansion is not lost on this writer. What is this, 'Musical Chairs' with Valerie Jarrett stopping the music?
Like Richard Neville, the 16th Earl of Warwick, Valerie Jarrett can be considered a "Kingmaker." Like the original "Kingmaker" of the 15th century's War of the Roses, who 'made' Richard III, Valerie Jarrett plays the same role to Barack Hussein Obama. She's the key person who whispered into Obama's ear at the right moment, "You are the rightful heir to the throne."
She knew how to get him there and now she does everything in her formidable political power to keep him there.
"If the present Congress errs in too much talking, how can it be otherwise in a body to which people send one hundred and fifty lawyers whose trade it is to question everything, yield nothing, and talk by the hour?"
Thomas Jefferson (1743-1826)

Calling all HuffPost superfans!
Sign up for membership to become a founding member and help shape HuffPost's next chapter