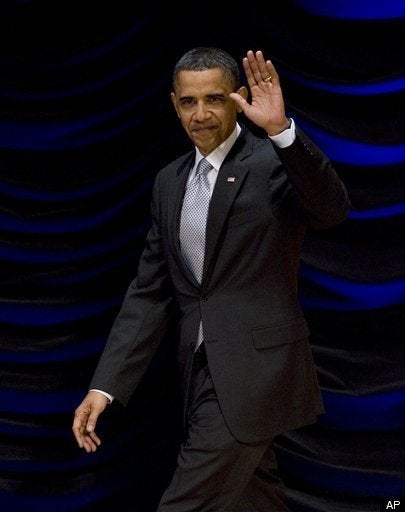 Over the weekend, the Obama administration continued the critical process of hiring health care experts to help carry out and sell the policy it passed into law.
On Monday evening, the newest member of a team filled with political and academic professionals was brought on board. In an email to colleagues and friends, which was passed along to the Huffington Post, Karen Pollitz, a Georgetown professor and onetime staffer to Sen. Jay Rockefeller, announced that she would be joining the Department of Health and Human Services in its Office of Consumer Information and Insurance Oversight. She will be charged with protecting consumers from abusive insurance industry practices.
"The challenges that lie ahead are exciting and I'm honored to have been invited to help with the implementation of health care reform," Pollitz, who has written extensively about the need for consumer protections in private industry, wrote in an email.
Pollitz's hiring, greeted enthusiastically in corners of the health care advocacy community, is just the latest in a series of staffing additions the White House has made in the weeks since health care passage. Earlier, former Obama campaign communications hand Stephanie Cutter was brought on board to help with the political process of selling the legislative package. The New York Time's Robert Pear, meanwhile, reported the following staff additions:
Jay Angoff, a longtime consumer advocate and nemesis of the insurance industry, will lead efforts to regulate insurers and insurance markets.

Jeanne M. Lambrew, an idealistic veteran of the Clinton White House, is carrying out provisions of the law aimed at expanding coverage.

And Phyllis C. Borzi, a top Labor Department official, will police the conduct of employers, who provide health benefits to more than 150 million Americans.
The task these officials face is, in many ways, as complex as that which faced the team of Obama advisers who helped write and shepherd the law through Congress. It's one of the most complex pieces of domestic legislation in decades. Already, its constitutionality is being challenged in courts. And unlike during the onset of the reform debate (when the notion of revamping the health care system was widely popular), the White House now faces a trust deficit when it comes to its handling of topic.


Calling all HuffPost superfans!
Sign up for membership to become a founding member and help shape HuffPost's next chapter