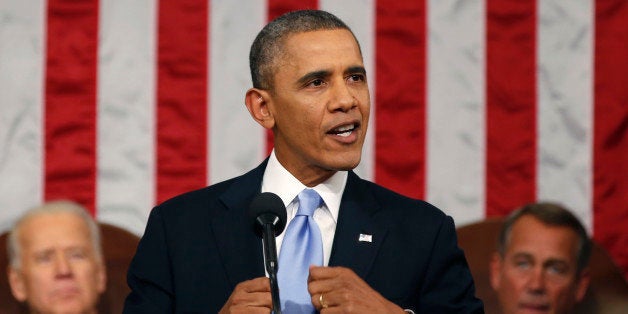 WASHINGTON -- In his fifth State of the Union address on Tuesday, President Barack Obama celebrated the efforts his administration has made to cut greenhouse gas emissions, while also praising recent increases in domestic oil and gas production.
Obama said early in his address that there is now more "oil produced at home than we buy from the rest of the world," for the first time in two decades. "The all-of-the-above energy strategy I announced a few years ago is working, and today, America is closer to energy independence than we've been in decades," he said.
He cited the increase in natural gas production in the U.S. as one reason for this shift. "If extracted safely, it's the bridge fuel that can power our economy with less of the carbon pollution that causes climate change," he said.
He promised to "cut red tape" to help spur the construction of natural-gas-powered factories and fueling stations for cars and trucks. "My administration will keep working with the industry to sustain production and job growth while strengthening protection of our air, our water, and our communities," he said.
He also noted that he has directed his administration to act in the coming months to set new fuel-efficiency standards for heavy vehicles. He also proposed incentives for shifting medium- and heavy-duty trucks to alternative fuels like natural gas.
Tuesday's speech also called for the phase-out of fossil fuel subsidies -– a familiar request from the president's previous State of the Union addresses -- and praised growth in the solar energy sector.
"The shift to a cleaner energy economy won't happen overnight, and it will require tough choices along the way," Obama said. "But the debate is settled. Climate change is a fact. And when our children's children look us in the eye and ask if we did all we could to leave them a safer, more stable world, with new sources of energy, I want us to be able to say yes, we did."
Environmental groups praised the president's climate goals, but were less enthusiastic about the oil and gas parts of his speech.
"We applaud the president's commitment to cutting carbon pollution from power plants -- the largest sources -- as well as his leadership in cutting carbon pollution from cars and doubling the production of wind and solar power," Environment America said in a statement Tuesday night. "However, we are disappointed that the president's and the nation's continued embrace of oil and gas ensure that we will continue to create global warming pollution."
Almost as an aside, Obama raised the prospect of taking executive action to protect new areas of public lands, an idea conservation groups were quick to praise. "And while we're at it, I'll use my authority to protect more of our pristine federal lands for future generations," he said.
Support HuffPost
The Stakes Have Never Been Higher
Related
Popular in the Community