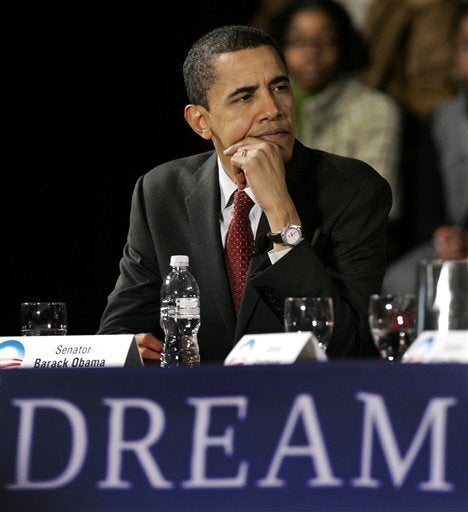 Barack Obama continues to make steady gains in every major Tsunami Tuesday state just three days before what is a virtual national primary but he still trails rival Hillary Clinton.
"All signs are the trends are moving in Obama's direction," said Columbia political scientist Robert Y. Shapiro in assessing numerous state by state surveys. These same trends are reflected in polls of all voters, he said, noting that "Gallup's website's tracking poll shows the same nationally. But no evidence for Obama overtaking Clinton. I would trust the trends but not the magnitude - [it] could be greater or less."
In order to pull even with Clinton on Tuesday, Obama would have to conclude the final three days of the contest with a burst of acceleration. Primaries are highly volatile and previous presidential candidates - Gary Hart, John McCain and Hillary Clinton in New Hampshire in 1984, 2000 and 2008 respectively - have made double-digit gains in the final days, but such phenomena are rare.
Clinton has a strong lead in two of the major delegate-rich February 5 states, New York and New Jersey, although Obama is spending substantial sums in the very expensive media markets serving these states in a bid to battle Clinton for delegates. After reporting a record-breaking $32 million in fundraising during this past month of January, the flush Obama campaign has plenty to spend on ads throughout the key Tsunami Tuesday battlegrounds.
Experts generally agree that while trend predictions have held up, in general polls this year are less reliable than they have been in the past, making public opinion surveys risky to use as the basis for forecasting election results: overall turnout is unpredictable; many first-time voters are casting ballots; unlisted cell phones have become more common; significantly lower response rates; and voters are changing their minds more often and more rapidly than in previous contests. On January 30, the Wall Street Journal laid out problems facing pollsters.
Despite the difficulties in collecting reliable poll data, most campaign strategists and political scientists interviewed for this article contend there is a trend in place that favors Obama, while predicting - cautiously - that Clinton would survive the onslaught.
"He's closing on her," observed a prominent Democratic strategist who supports Clinton, arguing that it is unlikely that the outcome on February 5 will settle the nomination either way.
The strategist noted that the next big event after Tsunami Tuesday will be the "Potomac Primary" on February 12 when Virginia, Maryland and Washington, D.C. hold primaries. "Obama looks like he will be strong that day," he said, pointing out that the District should be solid for the Illinois Senator, that the large African American voting blocks in Baltimore and Prince George's county should help Obama carry Maryland, and that Obama has the backing of former Governor Douglas Wilder and current Governor Tim Kaine in Virginia where 30 to 35 percent of the Democratic primary electorate is African American, and where many of the suburban Washington residents are the kind of well-educated professionals who tend to support Obama.
On Friday, Gallup released national tracking poll data showing Obama within three points of Hillary Clinton, 44-41 -- "as close as they have been since the polling program started at the beginning of 2008," as the official analysis of the survey stated. Gallup found that Obama gained five points, more than Clinton's two points, after John Edwards' withdrawal from the contest.
"Obama is closing the gap, but I don't think he has enough time to close it all the way," said University of California-San Diego political scientists Gary Jacobson. "He would be better off if he had another week."
Democratic operative Tom Lindenfeld, an Obama supporter, said: "Most of the movement is toward Obama. Whether it's enough to overcome the incumbent-based lead she has is doubtful. But we are going to close gaps they thought they had locked up."
Columbia political scientist Robert Erikson pointed to the following possibility: "If, as all accounts suggest, Obama is gaining, it is possible that he is surging even more than the polls suggest."
A total of 22 states hold primaries and caucuses on February 5, more on a single day than ever before. 1688 delegates will be picked that day, out of the 4323 Democratic delegates who will go to the August nominating convention in Denver. In order to win the nomination, a candidate will require the support of at least 2162 delegates.
With a total of 63, Obama has won the most delegates to date in primaries and caucuses. Clinton has collected 48 and has gained many more endorsements from so-called "super delegates," members of Congress, the Democratic National Committee and prominent local elected Democrats, to put her ahead in the overall race, 256 to 181.
In two southern states with large African American electorates, Alabama and Georgia, the Pollster.com charts show Obama recently pulling ahead of Clinton.
In most cases, however, Clinton appears to be maintaining or slightly increasing her support levels -- in the mid to high 40 percent range -- while Obama, in recent days and weeks, has moved up, often to the high 30s or low 40s -- reducing a substantial deficit to a more modest shortfall, possibly threatening Clinton's prospects.
Obama has begun to improve his position in New York , Clinton's home state, but her 20 point-plus advantage looks almost impregnable. The same is not true in a number of other states.
"Polls in New Jersey show a tightening race; the latest has a six point lead for Hillary," said SUNY-Binghamton political scientist Jonathan Krasno. "Obama stands an outside chance of winning, but I suspect he'd be pretty happy to lose by five [percentage points]. Doing well there is essential for Hillary since she's had a huge lead for the whole season, and has the support of nearly the whole political establishment."
Tim Vercellotti, Director of Polling at Rutgers' Eagleton Institute of Politics, reaches a similar conclusion, noting that "the race [in New Jersey] has become more competitive. Clinton had a 30-point lead over Obama in the polls for much of the fall," he said. "The widespread perception until recently was that the primary would offer little suspense, even after having been moved from early June to early February. Events have conspired to change all of that," Vercellotti added.
Here is the New Jersey graph from Pollster.com: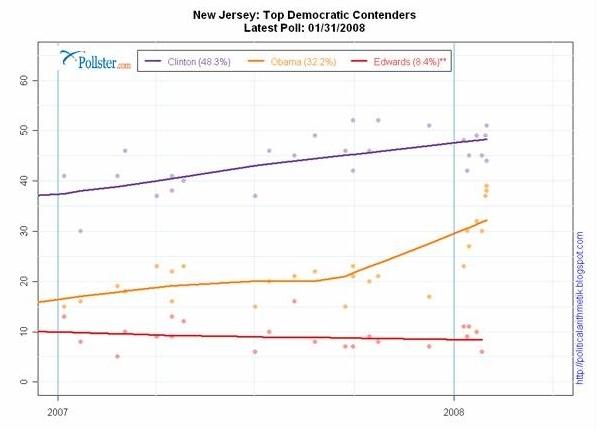 The pro-Obama trend in New Jersey will not be strong enough to give him a win unless he starts to gain at a much sharper rate in the closing days. The trend lines in California are slightly sharper. Not only is Obama moving up, but Clinton is moving down.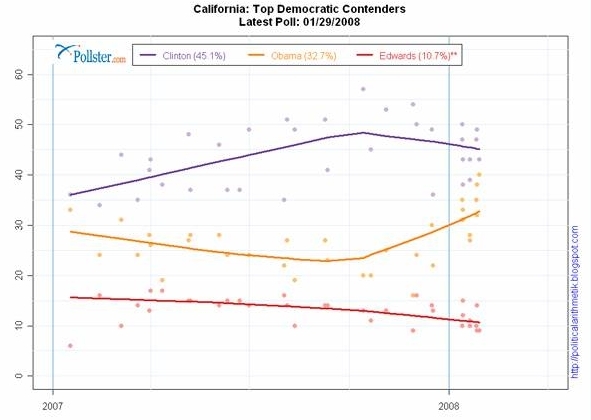 The trend in Connecticut shows Obama gaining strength very quickly, much faster than in neighboring Massachusetts where the state's three top Democrats, U.S. Senators Ted Kennedy and John Kerry and Governor Deval Patrick, have all endorsed Obama. Lindenfeld noted that Obama may be benefiting in Connecticut from the residual effects of Ned Lamont's successful Democratic primary challenge to Joe Lieberman, with many Lamont voters fitting the voter model targeted by Obama.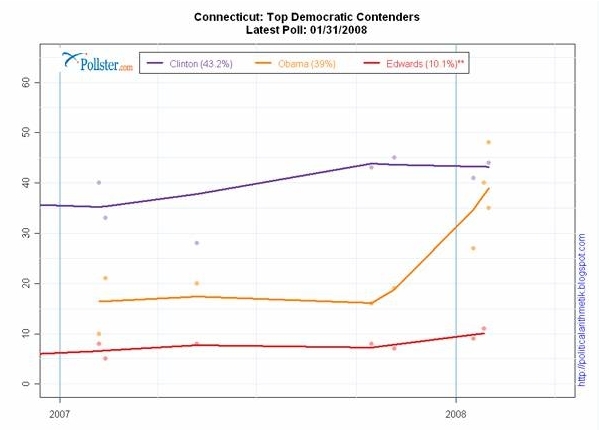 Popular in the Community