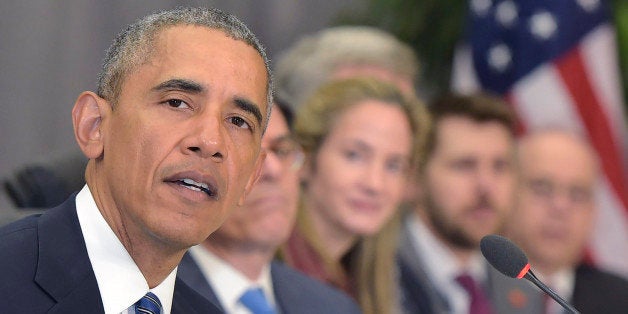 Seven years ago in Prague, the President boldly put the pursuit of global zero at the top of his foreign policy agenda. It brought new energy to the decades-long struggle to end the nuclear threat, and held all the promise of being a defining moment for a historic presidency.
Today, it is a promise unfulfilled. Neither his fine words in yesterday's Washington Post nor his fourth and final Nuclear Security Summit changes that.

To be fair, there are gains worth celebrating. Modest cuts to U.S.-Russian Cold War stockpiles. The unwinding of the Iranian nuclear program. New attention by world leaders to the threat of nuclear terrorism. As the President rightly notes, we made progress.
But we now risk losing ground.
There are still more than 15,000 nuclear weapons in the world. Beyond all reason, the United States and Russia keep thousands of them on hair-trigger alert, ready to launch at any moment. Other nuclear-armed states may soon tip-toe in their footsteps. The specter of nuclear terrorism will outlast the Nuclear Security Summits, which ignore nuclear weapons entirely as well as 98% of the world's weapons-grade material (all civilian plutonium and all military highly-enriched uranium and plutonium)--enough to fashion more than 200,000 bombs of the sort that flattened Hiroshima. And we are on the brink of a dangerous new nuclear arms race, fueled by the President's own outrageous plan to spend $1 trillion on a new generation of nuclear weapons over the next three decades.

On every front, the risks that nuclear weapons will be used are rising. Since 1945, we are more likely than any generation to witness another city wiped off the map. This would be a global humanitarian, environmental and economic catastrophe--and a point of no return.

Time is not on our side. While the President recites a familiar list of worthwhile pursuits, none acknowledge the fierce urgency of now. If we are to avert this nightmare scenario, it will take more than banning explosive testing or halting new fissile material production.
Big vision requires bold steps, not incremental ones. "Patience and persistence," but also acts of courage.

We must reverse course on a misguided nuclear spending spree that is utterly out of sync with the pursuit of a world without these weapons. We must retire insane Cold War policies that keep nearly half our nuclear arsenal locked and loaded, exposing the entire world to unacceptable risk. And above all, we must round up world leaders not merely for a Nuclear Security Summit to shore up civilian nuclear materials, but for a Nuclear Weapons Summit that for the first time focuses high-level political actors on the end game: the phased, verified elimination of all nuclear weapons globally.

This week's gathering of key governments in Washington should not be the President's final act, nor his op-ed the final word. He still has time to set something bold in motion--something worthy of the vision he laid out in Prague, something that the next administration can carry forward. For a little while longer, it's not too late.
Your move, Mr. President.
REAL LIFE. REAL NEWS. REAL VOICES.
Help us tell more of the stories that matter from voices that too often remain unheard.