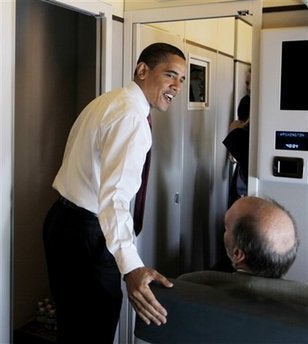 Robert Gibbs told reporters Monday that President Obama is adding a stop to his stimulus trip on Thursday in Peoria to visit Caterpillar. As for this evening's news conference, he said the president would make an opening statement of 8 to 10 minutes, then take 40 to 45 minutes worth of questions. According to the pool report, Gibbs went on to slap the "myopic viewpoint in Washington" when it comes to the economy and dismissed cable television as out of touch with America. Gibbs indicated no preference for Senate or House version of the economic bill, saying he would leave it to members of Congress to decide what is in the final product.
Also during the Air Force One flight to Indiana, David Axelrod came back to pitch the economic program, denying any worries about slipping public support. "There is strong support for this," he said. "I think the Gallup poll this morning reflects everything I've seen for the last couple of weeks."
"One thing that we learned over two years," Axelrod added, "is that there's a whole different conversation in Washington than there is out here. If I had listened to the conversation in Washington during the campaign for president, I would have jumped off a building about a year and a half ago."
He continued: "The American people are desperate for us to act. They understand that we're in crisis. They're living it every single day. "Obviously the place we are going to today is one of the more severely hit communities. But all communities are. They're not into the machinations that folks in Washington are. They're not sweating this detail or that detail. They're certainly not buying into the argument that, you know, the New Deal was a failure and we shouldn't intervene."
Popular in the Community